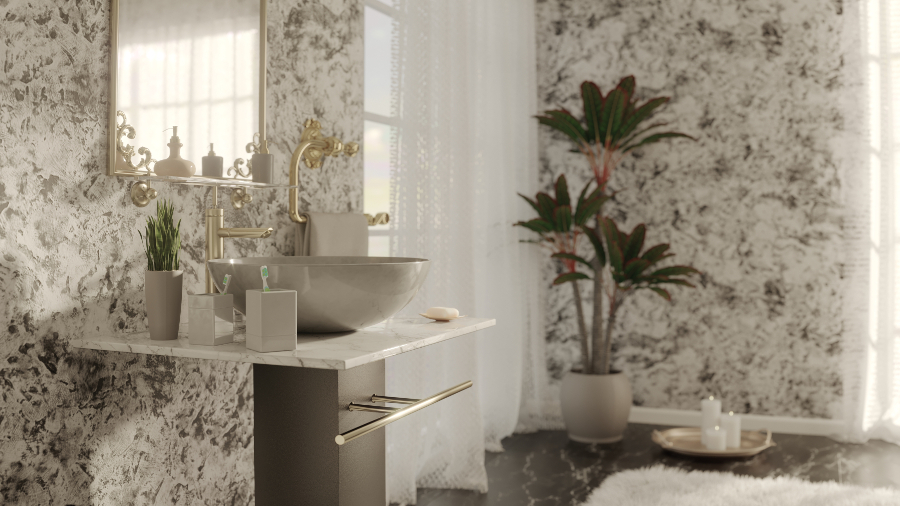 If you're thinking of refreshing your bathroom or wet room, it's likely you're seeking inspiration to help shape your ideal design. Your bathroom is your sanctuary – a place to escape and relax in your home, so you want to make sure it's designed to your preference. Take a look at our rundown of 2018's latest bathroom and wet room trends and get planning!
1) Copper and Rose Gold Accents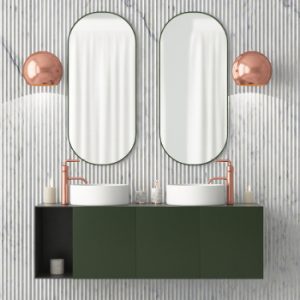 It's clear that rose gold and metallic accents aren't going anywhere soon! Copper and rose gold is continuing to be a popular choice in bathroom and wet room design this year. The trick is to incorporate metallic tones in the accents of the room, for instance taps and lighting fixtures.
When opting for rose gold and copper accents in your wet room, the last thing you want is to have your eyes drawn to a contrasting silver drain. That's why our linear screed drains' frameless grill is the perfect solution, leaving an invisible, seamless finish, without the contrast in metals.
2) Dark Colours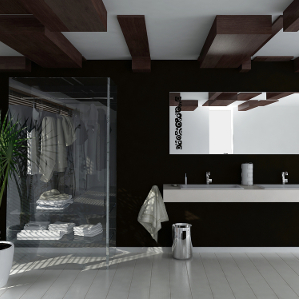 Not one you would necessarily expect, however more people are continuing to look into dark coloured bathrooms! It's common for people to want their bathroom or wet rooms light and bright, with white tiling and marble counters, but there are those bored of the bright whites.
For larger wet rooms, sophisticated dark tiles on the floors and walls with predominantly black and grey colour-schemes are very much on trend this year, and contrast perfectly with white sanitaryware!
3) Natural Stone
Naturally timeless. Utilising natural stone in your bathroom or wet room design is almost guaranteed to be on trend for many years to come. Additionally, the rawness and organic qualities of natural stone work perfectly in a wet room environment.
For wet room tiles, they are naturally more non-slip than other materials, and for sinks, they are a stunning centre-piece that will add the perfect wow-factor.
4) Subtle Storage and Units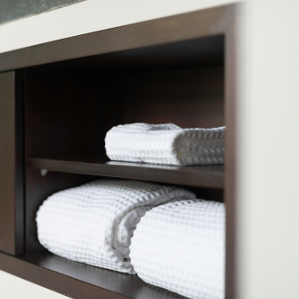 Today, we're looking for more clever storage solutions than ever, and the bathroom can often be a space most unutilised. It has more storage potential than you realise! By making use of sparse corners and bare walls with compact units, you create a whole new area to store towels and other bathing necessities, leaving your bathroom or wet room clutter free.
The key is to be 'seamless'. By removing the clutter and incorporating well fitted and matching storage, your bathroom or wet room will remain practical and stylish for years to come.


5) Seamless Design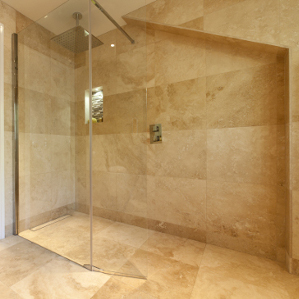 In addition to needing more storage than ever, we also want to make our bathrooms appear more spacious with the space we have available to us. Wet rooms are the perfect solution for this trend. Their seamless design opens up your showering and bathing space, letting in more light and presenting a more sophisticated and spa like atmosphere.
By incorporating frameless shower screens, frameless drain grills, and a subtle gradient rather than a shower tray, there are no harsh or obtrusive lines that break apart areas of your bathroom, making it look much larger than it is.


6) Greenery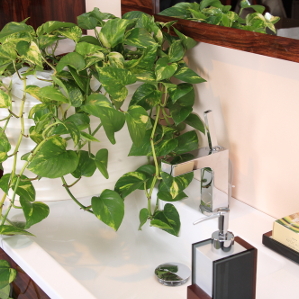 Plants in bathrooms and wet rooms are another trend on the rise in 2018. Bathrooms and wet rooms are a surprisingly good environment for certain plants to grow and thrive thanks to the humidity! Not only do they add a splash of colour, they also bring a tropical vibe to your bathing space – an immediate mood booster.
Some suggested tropical plants for your bathroom or wet room include: Boston Fern, Aloe Vera, Ivy and Dragon Plants to name a few.


If you're still stuck for inspiration for your bathroom and are looking for a change, check out our wet room design gallery, showcasing how wet rooms can transform your space into the perfect, on-trend bathing environment.