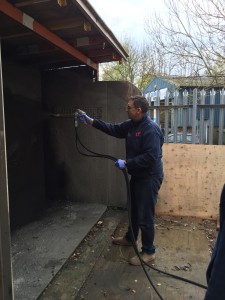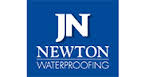 Cast Contracting attended a product training session with John Newtons' Waterproofing Systems last month to learn about their latest product – Newton 108 Hydrobond LM – a spray applied membrane for the external waterproofing of basements and foundation walls. 
The day included a live demonstration of the product by Rubber Spray Solutions, who have been spraying the membrane over the last year and have helped establish the best practices for applying the membrane to structures. There was also the opportunity for hands on spraying experience for the CCL team to see how the product should be handled on site. With initial investment required in new pumping equipment, the new product looks set to be extremely successful in delivering a high quality waterproofing membrane for basements and foundation walls.
Our thanks go to John Newton's for an extremely informative day and an ideal opportunity to discuss all aspects of developments within their waterproofing portfolio.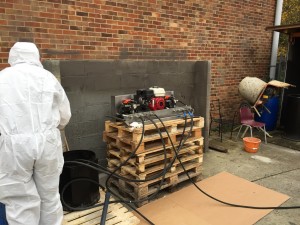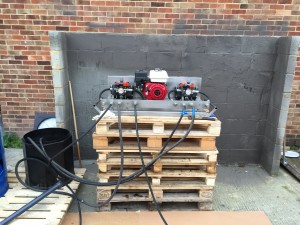 Key Benefits of Newton 108 Hydrobond LM
Fully bonded seamless membrane
Very flexible (1,100% elasticity with 95% memory) and so can easily deal with movement and settlement
No primer required
Very quick to apply – up to 1000m2 per day
Cost efficient – Low price of the membrane coupled with high application rates = very low installed rate per square metre
Solvent free, non-toxic and odourless
Non-flammable – No Volatile Organic Compounds (VOCs)
Typical Applications
HydroBond-LM is very quick to apply, up to 1000m2 can be applied per day, and is not subject to delays normally associated with liquid membranes as it can be applied in cooler and damper conditions and without a primer.
Waterproofing of basement walls as part of Newton HydroBond System sealing to Newton 403 HydroBond to form continuous membrane to the whole of the outside of the structure
A stand-alone waterproofing membrane for basement, foundation and earth retained walls
Suitable Substrate
Concrete
Concrete block walls with flush pointing
Insulated formwork walls (ICF)