What is a wet room?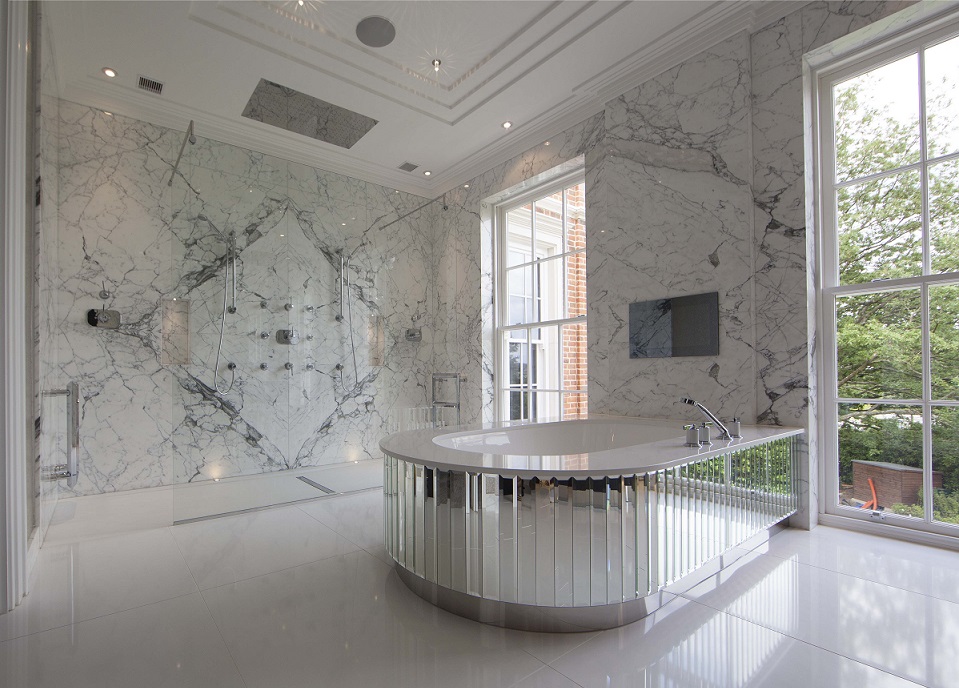 A wet room is a totally waterproofed or tanked bathroom with a shower area at the same level as the rest of the floor. The water drains away through a flush drain within the shower area.  As the walls and floor are sealed by a waterproof membrane, there is no risk of runaway water causing damage.
A truly open, fully tiled wet room removes the need for an enclosure for or tray walk in showers, although many people prefer to install a glass screen to prevent water splashing outside the shower area.
As the floor of the showering area is completely level with the rest of the room, wet rooms are ideal for those with mobility issues. This is especially helpful for those who need help to move effortlessly in and out of walk in showers. A wet room is a great way of utilizing space effectively and can be installed on both the ground and upper floors of your home, whether the floor is of timber or concrete construction. It requires less maintenance and cleaning than a usual bathroom thanks to the greater area reached by the shower water, and this makes a wet room a hygienic option and suitable for all the family.
What are the benefits of a wet room?
There are so many benefits of installing a wet room that we've put together a list of the top 10!  We think they'll help you understand how a wet room can transform yours or your clients' bathing experience.
There is something aspirational about a wet room! Unsurprisingly the demand for open plan living has increased as more homeowners are changing their outdated bathrooms into ultra-sleek, contemporary wet rooms, complete with walk in showers. This gives the illusion of greater space and the feeling of pure luxury.
---
Phil Spencer, best known for Location, Location, Location suggests that adding a new bathroom to your home will add an extra 2.88% to the value of it. A wet room is likely to add even more.
---
Thanks to the clean, minimal lines of a wet room, maintenance and cleaning are easier than a traditional bathroom, leaving you with more time to enjoy your luxurious shower.
---
Great for the whole family
You may have heard of the term 'Inclusive Design' which applies to the principal that a subject – in this case a bathroom – has been designed for use by anyone regardless of their age or ability. Put simply, thanks to the showering area of a wet room being flush with the rest of the bathroom, it provides easy access for all ages and abilities.
---
Greater design flexibility
The innovative Modular Wet-Floor system available from CCL Wetrooms enables any size or shape of wet room to be created and is not only versatile, but offers complete design flexibility at a cost effective price point.
---
 A wet room can be installed anywhere
It is a myth that wet rooms cannot be installed upstairs in your home. In fact, wet rooms can be fitted throughout the house on timber or concrete floors, using the appropriate floor formers and drainage systems depending on the floor build up. Wet rooms in loft conversions are fast becoming a popular choice for families looking to extend their living space. Key to ensuring any wet room is watertight, are effective waterproofing or "tanking" solutions.
---
Wet rooms are no longer solely for the rich and famous! Here at CCL Wetrooms we have introduced a new Modular Wet-Floor System which enables walk in showers or wet room solutions to be installed into any size of bathroom or en-suite cost effectively.
---
Maximise your space at home
A completely waterproofed wet room gives you more space to shower in! They are great for creating the illusion of space in even the smallest of bathrooms. By removing an old bath or shower enclosure you can further maximize the space in your bathroom and create a real haven of tranquillity.
---
10 year insured guarantee
For added peace of mind when installing your wet room, our sister company Wetrooms UK, offers a 10-year installation guarantee.
---
Peace of mind – 100% watertight
A wet room installation from Wetrooms UK means you can be guaranteed a 100% watertight wet room – just the kind of peace of mind you'd expect from the UK's leading waterproofing specialists.
---
For more information on wet rooms check out our wet room FAQs page.