What is a Wetroom?
A wetroom is a totally waterproofed or tanked bathroom with a shower area at the same level as the rest of the floor. The water drains away through a flush drain within the shower area. As the walls and floor are sealed by a waterproof membrane, there is no risk of runaway water causing damage. A truly open, fully tiled wet room removes the need for an enclosed or walk-in shower space, although many people prefer to install a glass screen to prevent water splashing outside the shower area.
A wetroom is a great way of utilising space effectively and can be installed on both the ground and upper floors of your home, whether the floor is of timber or concrete construction. It requires less maintenance and cleaning than a usual bathroom thanks to the greater area reached by the shower water, making a wetroom a stylish decision and a hygienic option, and one that is suitable for all the family.
As the floor of the showering area is completely level with the rest of the room, wetrooms are also an ideal environment for those with mobility issues. This is especially helpful for those who need help to move effortlessly in and out of walk-in showers.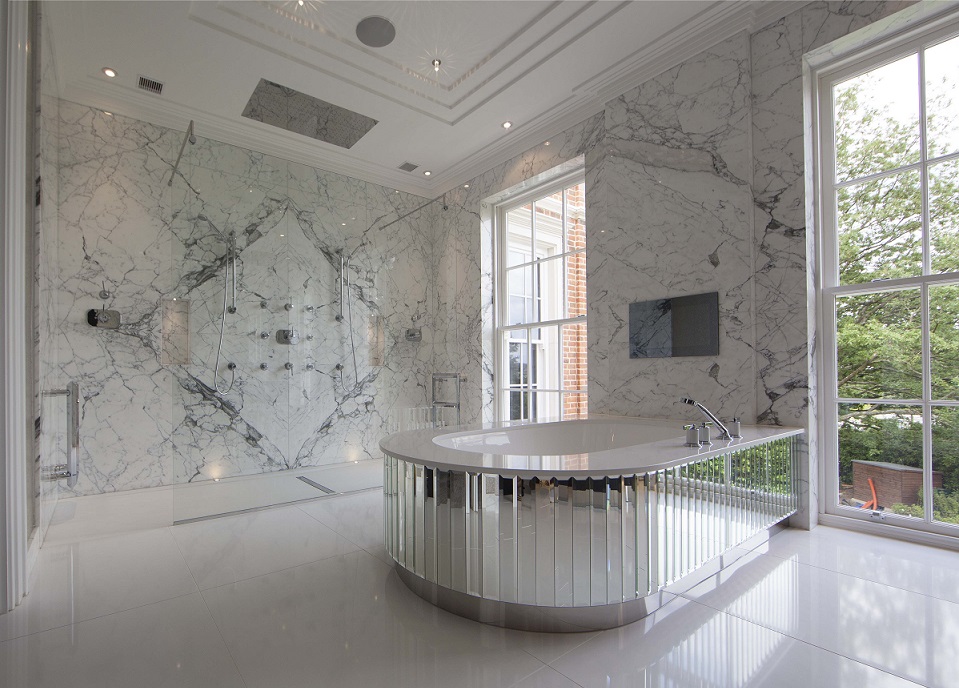 ---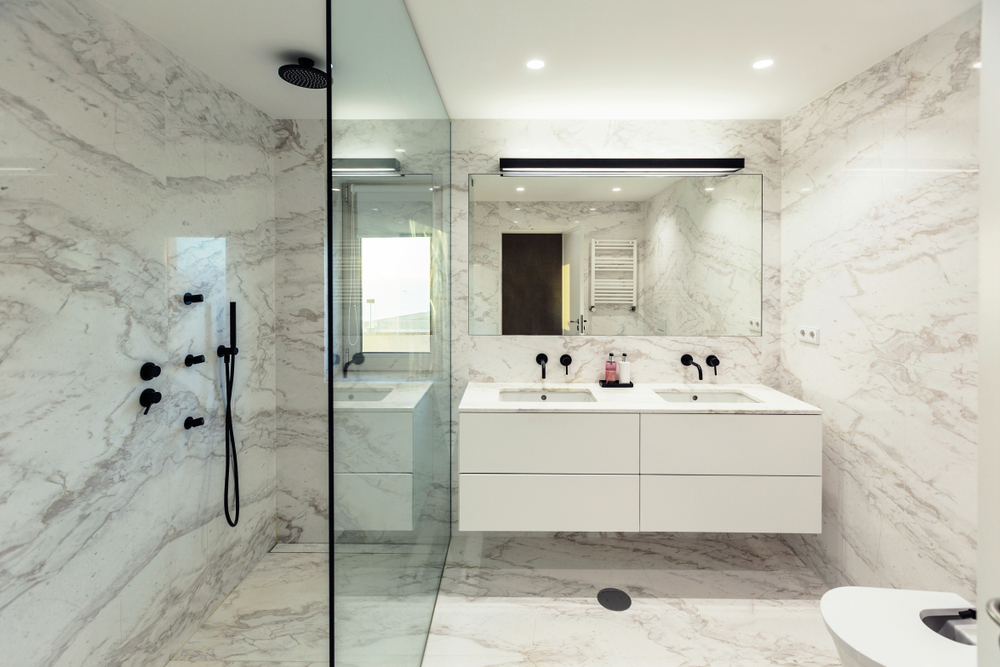 What's the Difference Between a Wetroom and a Shower Room?
The difference between a wetroom and a shower room is that a shower room will have a raised tray, whereas a wetroom is flush and level to the floor.
While both rooms may provide a modern alternative to a standard bathroom, a wetroom creates a truly contemporary space with minimal lines throughout, providing increased flexibility and accessibility.
---

What are the benefits of a wetroom?
From modernising the look of your property's space to helping increase the value of your home, there are many benefits to installing a wet room,
Stylish and modern
Unsurprisingly the demand for open-plan living has increased as more homeowners are changing their outdated bathrooms into ultra-sleek, contemporary wetrooms, complete with walk-in showers. This gives the illusion of greater space and the feeling of pure luxury: something a wetroom can easily achieve.
---
Adds value to your home
For domestic properties, a wetroom can even add value to your home. Various insurer studies and estate agents have estimated that an extra bathroom can add an additional 5% increase to the value of a home, and the modern luxurious space that a wetroom affords is a great way to do so.
---
Easy to clean and maintain
Thanks to the clean, minimal lines of a wetroom, maintenance and cleaning are easier than in a traditional bathroom, leaving you with more time to enjoy your luxurious shower.
---
Great accessibility for the whole family
You may have heard of the term 'Inclusive Design' which applies to the principle that a subject – in this case, a bathroom – has been designed for use by anyone regardless of their age or ability. Put simply, thanks to the showering area of a wetroom being flush with the rest of the room, it provides easy access for all ages and abilities.
---
Improved design flexibility
The innovative design of a wetroom enables any size or shape of wetroom to be created in your home and is not only versatile but offers complete design flexibility at a cost-effective price point.
---
Can be installed anywhere
It's a myth that wetrooms cannot be installed upstairs. In fact, wetrooms can be fitted throughout a house or commercial building on timber or concrete floors, using the appropriate floor formers and drainage systems depending on the floor build-up. Wetrooms in loft conversions are fast becoming a popular choice for families looking to extend their living space.
---
Affordable luxury
Continuous industry product development has meant that wetrooms are no longer solely for the rich and famous. For example, CCL Wetrooms' Modular Wet-Floor System enables walk-in showers or wetroom solutions to be installed into any size of bathroom or en-suite cost-effectively.
---
Maximises your space
Wetrooms are great for creating the illusion of space in even the smallest of bathrooms. By removing an old bath or shower enclosure you can further maximise the space in your property's bathroom and create a real haven of tranquillity.
---
100% watertight
Thanks to industry development and continued product modernisation, you can rely on wetrooms to be watertight. A wetroom installation from Wetrooms UK means you can be guaranteed a 100% watertight wetroom – just the kind of peace of mind you'd expect from the UK's leading waterproofing specialists.
Wetroom FAQs
Are wetrooms easy to clean?
Yes, wetrooms are easy to clean. In fact, they're arguably easier to clean than standard bathrooms. Their sleek design helps improve drainage and ultimately helps to reduce stains and marks left behind by poor drainage.
How much does a wetroom cost?
While professional installation of a wetroom can vary in price, wetrooms are now an affordable option for many. This cost-effective solution can help you to truly modernise your home or commercial property.
Can anybody have a wetroom?
Yes – anybody can have a wetroom. Contrary to popular belief, you don't need extensive space to install a wetroom. In fact, wetrooms can make a highly effective solution for when you're tight on space.
Are wetrooms really watertight?
Wetrooms can be entirely watertight when waterproofed, or "tanked", correctly. Ensuring a fully watertight wetroom is vital in the installation process before any tiling is done. Specialists like CCL Wetrooms will deliver reliable, high-quality waterproofing products to help ensure your entire wetroom is as watertight as possible.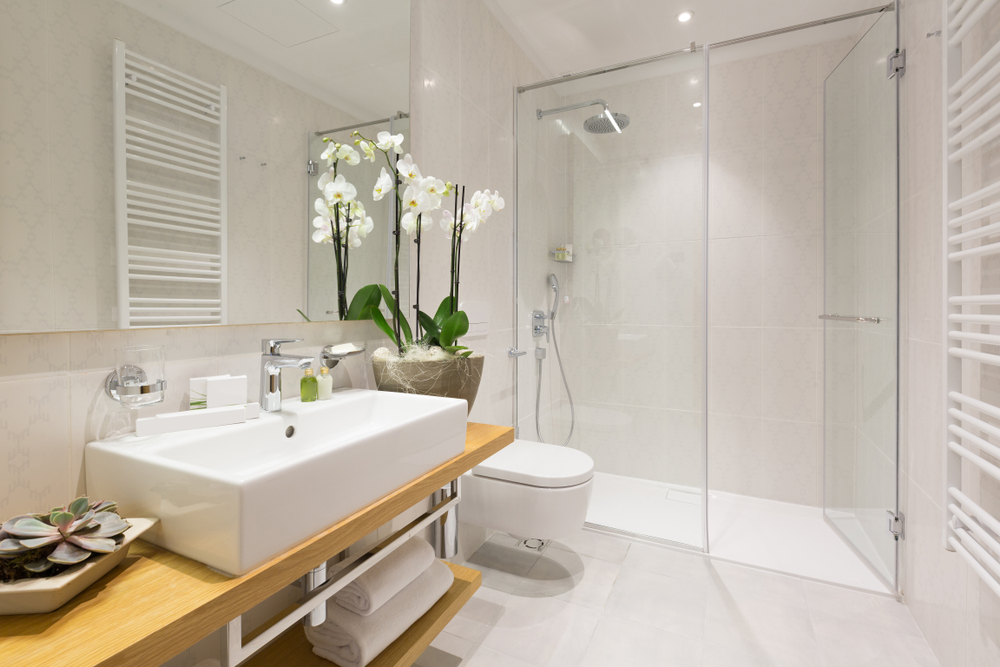 ---
Are you ready to install your wetroom?
For more information on wetrooms check out our wetroom FAQs page.