Designing and installing a wetroom is a more complex process than simply installing a shower cubicle. Unlike a traditional bathroom, a wetroom is a carefully constructed bathing area that depends on a variety of elements to ensure optimum performance, safety and waterproofing. Proper installation requires careful planning and consideration. Without it, you could end up with a finished wetroom project that doesn't fill the brief and lacks the necessary design sophistication for longevity. Moreover, without effective waterproofing, there's a real chance of it leaking and that could have disastrous (and costly) consequences.
In this guide you'll find all the key considerations that need to be explored when planning your wetroom.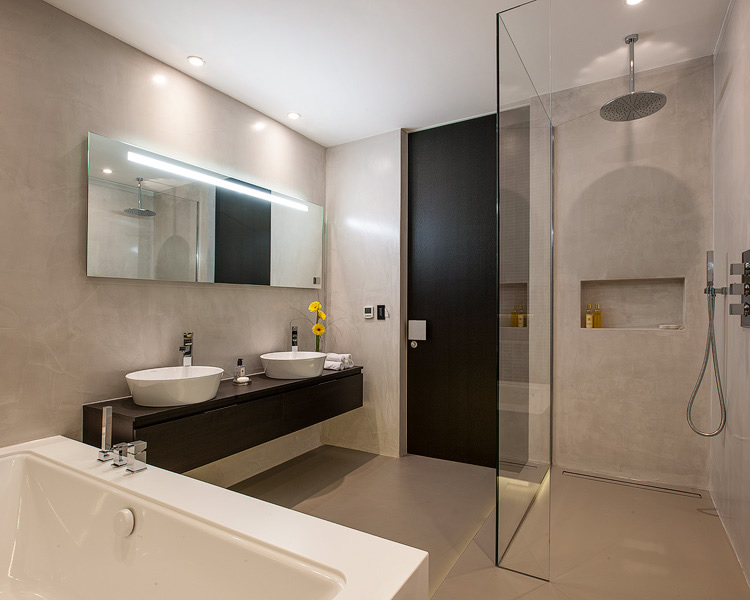 Location of the Wetroom
Thanks to technological advancements in the design of drainage systems, wetrooms can now be installed on any level or floor within houses, hotels and leisure facilities. The floor build up of the shower area will determine the type of wetroom products used and the construction methods involved.
Size and Layout
This will determine various aesthetic aspects of the wetroom design, such as the type of tiles to be installed or the desired finishing look of the wetroom. Practical elements, including the type of drainage system required, where the drain will be positioned, and the size of grill needed must also be considered.
Linear grills are no longer constrained to a set position within the shower area and can be located in the centre of the showering area, up against the shower wall and a new popular position, along the back shower wall. This creates a stylish one wall fall towards the drain.
Our Modular Wet Floor System can create any size or shape of wetroom thanks to its flexibility.
Type of Floor
The type of floor – timber or solid –will determine which wetroom products you need to use and the types of construction methods involved. Whether the wetroom is to be installed into a new build or as part of a refurbishment, the appropriate drainage system will need to be installed for your floor type.
Timber Floor – A floor former or 'dec' will need to be fitted underneath the floorboards, along with the relevant drainage system and waterproofing membranes.
Solid Floor – The installation methods will vary depending on whether it's a new build or a retro-fit wetroom. A gradient will need to be created (at a recommended minimum of 12mm) directly into the floor using the screed. Solid floor drainage systems include the Linear Screed Drain and the Linear Wall Drain.
Flow Rates
Establishing the flow rate required for your shower early on in the project, including taking water pressure into consideration, will help determine the number of drainage traps you need. While most standard showers require a moderate flow rate of 24llm, others – such as powerful monsoon showers – will need to pass a higher level of water at any one time, requiring a greater number of drainage traps.
It is a myth that high flow rates in wetrooms are achievable. In reality, wetrooms can never achieve a large head of water like a bath can, so the need to have drains that can cope with extremely high flow rates is not necessary for the average household. Don't forget to establish your desired flow rate up front, as once a screed drain is installed, it's not possible to add further drainage traps.
Drainage
Drainage is an important part of wetroom design and installation. Drainage positions are now very flexible and you're no longer constrained to a central drain in the wetroom. Solid, slotted and the very popular Stone Infill Grill options are available, and there's also the option to place more than one drain next to each other to create a larger drainage grill. At CCL Wetrooms we manufacture all drains in-house, and bespoke sizes are available.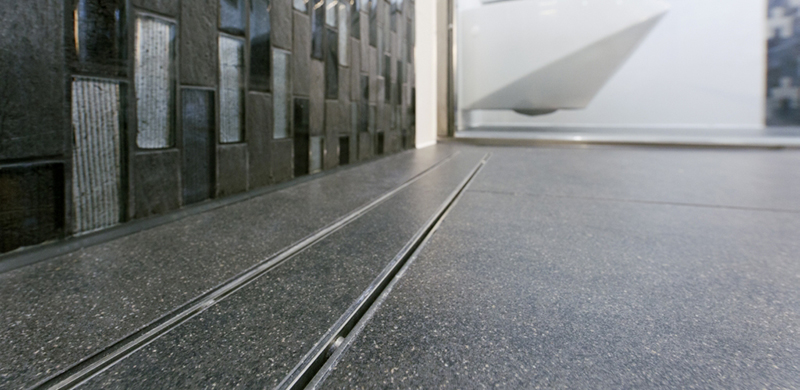 Waterproofing
The most important factor when fitting a wetroom is waterproofing. Get it wrong and your entire project is at risk. Waterproofing should be applied in the form of an impermeable membrane, which should stretch at least a metre beyond the showering area. You will need to ensure all corners and wall junctions have been completely sealed to make your wetroom watertight .
Tiling
Tiling is an important part of wetroom construction, and you will need to establish early the style of tiles you want for the walls and floor. Your decision will depend greatly on the layout and size of the wetroom, and the type of drainage system you intend to use. You may want to consider textured floor tiles to aid safety in the wet area.
Underfloor Heating
Underfloor heating is another consideration when it comes to wetroom planning and installation in modern builds. If your project includes underfloor heating, your construction methods should vary depending on the type of floor being installed on. Under solid floors, the heating pipe or cable is typically embedded in the floor screed. For wetrooms on timber floors, the process is more complex as wood is a natural insulator. At CCL Wetrooms we provide specialist drainage systems that can be installed in wet rooms with underfloor heating.
Ventilation
Like in a bathroom, condensation can build up very quickly in a wetroom. This can lead to paint damage and the build-up of damp, so ventilation is important. You will need to make sure the right ventilation system is installed to cope with the heat, water and steam to ensure appropriate airflow performance and energy efficiency.
Fittings
A wetroom project would not be complete without the additional fittings. As we mentioned, it's important to consider the type of shower head that will be used, as the flow rate and water pressure will determine the drainage system required. You will also need to ensure all electrical fittings are installed appropriately according to building regulations for bathrooms.
If your wetroom build is part of a Lifetime Home project, all fittings (toilets, light switches, vanity units, etc) will need to be installed at a certain height, with full accessibility to individuals of all ages. Shower rails and chairs may be needed if the wet room is being installed in an elderly residence.
Choosing a Reliable Service Provider
One of the most important considerations of a wetroom build is choosing a reliable and trusted supplier to assist you with the project. At CCL Wetrooms, alongside our sister company Wetrooms UK, we offer a complete wet room solution, including design, manufacture and a 10 year fully guaranteed installation package. Our waterproofing and drainage products embrace the latest technological advancements and market trends, and we even offer architects and designers free CPDs.
When you work with us, you can guarantee high levels of expertise and support to help you design and install a wetroom that not only looks good, but performs beautifully for years to come.
Contact us today for more information about our drainage and tanking solutions, or see our Wet Room Construction Details page for an in-depth guide to wetroom installation.