Designing a wet room involves careful consideration of the types of materials needed to ensure it not only looks great, but also functions well. Today, wet rooms can be installed in any home and their popularity looks set to continue. As a result, so too has the variety and standards of essential wet room components.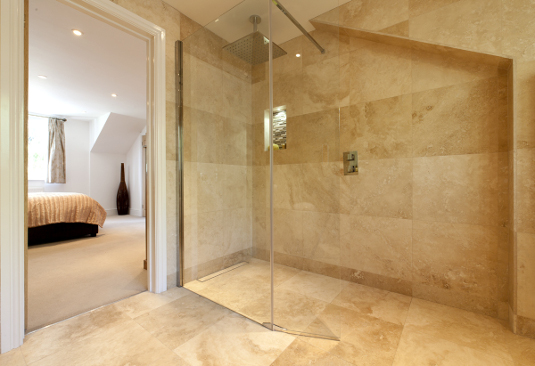 For many people, wet rooms are a stylish and more attractive alternative to traditional bathrooms, while for others they present a much more practical and efficient space for bathing. Whatever the reason for installing a wet room, the materials needed to complete the finished design will depend greatly on the structural variations, and on those using it.
Wet Room Floors Construction
Wet rooms can be constructed on timber and concrete floors. For timber floors, a "dec" or tapered board is installed within the shower area above the ply supported joists, where the original floorboards have been removed. The built in gradient creates the fall towards the drain. On solid flooring the falls are created within the screed or if the wet room is being installed into an existing property, the original concrete floor can be manually removed from the shower area and replaced with newly poured screed (and levelling compound) that creates the new falls.
Wet Room Flooring Materials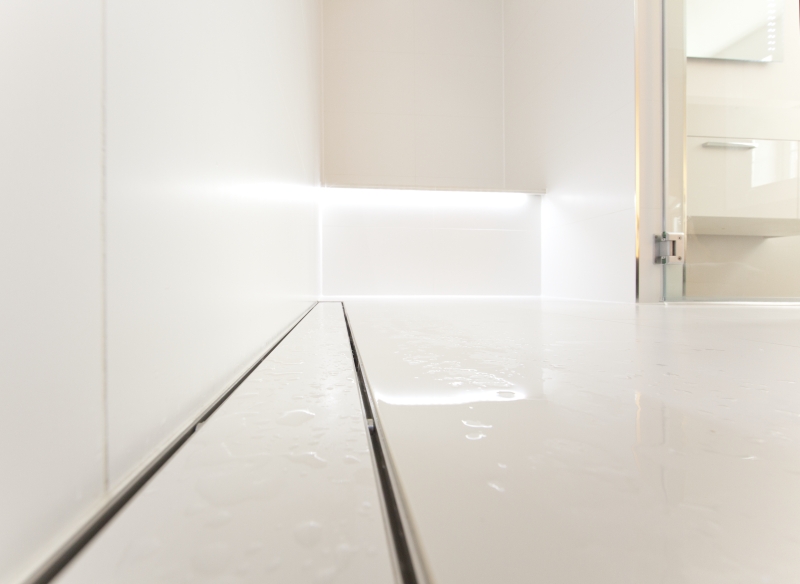 Appropriate flooring is a vital component of a wet room, particularly because it needs to fulfil the very important non-slip function. Choose wet room floor tiles that are practical and safe underfoot, such as natural stone tiles which are far more suitable than slippery, high-gloss tiles. However, it is possible to have certain wet room flooring materials designed with a slip resistant finish to ensure maximum safety.
Depending on the type of wet room flooring material you would like to use, prices will vary, but investing in quality tiles will make all the difference to the longevity and efficiency of your wet room. Just make sure they're properly grouted to avoid seepage, and most importantly, ensure that the whole wet room area is "tanked" or waterproofed.
Popular wet room flooring materials include:
Tiles – Natural stone and porcelain tiles are becoming the most popular choice in wet rooms as they give a beautiful, contemporary, hardwearing finish.
Vinyl – Cost-effective and available in a wide range of colours and styles, vinyl is a common choice for wet room flooring outside of the shower area. It's also water resistant and softer than other tiles.
Rubber – Durable, warm underfoot, and available in a range of patterns, colours and textures, rubber is a great option for slip resistant wet room flooring.
Tiling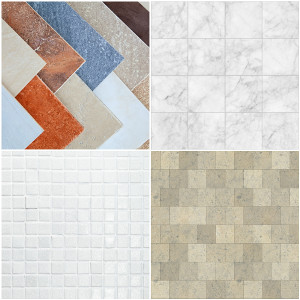 As well as wet room flooring, tiles are also used for the walls of a wet room. There are many different materials to choose from, and a lot more creativity to be had with design.
Popular wet room tiling materials include:
Ceramic – Made from clay, kiln-fired and finished off with a customisable coloured surface, ceramic tiles are a popular option for wet room tiling.
Marble – This natural stone comes in a variety of designs and colours and can add a unique, luxurious feel to your wet room. Marble is more expensive than other tile materials, but the aesthetic appeal is often worth the cost.
Limestone – Another natural stone, limestone is typically cheaper than marble and can create a rustic and traditional feel in your wet room.
Mosaics – Mosaic glass tiles are much smaller than standard tiles, and can be costly, but they elevate the style and sophistication of a wet room. Available in a wide range of colours and sizes, they allow for a great deal of creativity, but they are most suited to traditional style wet rooms with a four way fall (square) drain.
You can find out more about wet room tiles by reading our comprehensive wet room tiling guide.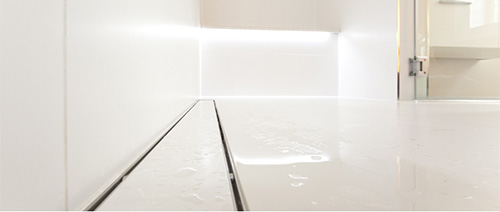 Explore Our Wetroom Products
CCL Wetrooms' extensive range of wetroom supplies include wetroom systems for timber floors, systems for solid floors and waterproofing membranes.
Non-Slip Wet Room Floors
The perfect wet room flooring needs to do more than work well aesthetically. It should also be a safe and secure surface for walking on, giving you complete peace of mind that the risk of a slip-related accident is greatly reduced.
Anti-slip flooring tiles are the perfect non-slip safety solution for your wet room; tiles made out of materials that are textured rather than smooth help to increase the friction underneath your feet, meaning you're less likely to slip. It's good practice to check the slip ratings of tiles you've decided on for a wet room to understand if extra precautions are needed.
If the floor tiles you wish to use in your wet room design are smooth and more prone to slipperiness in wet conditions, for instance porcelain, anti-slip coatings are an additional non-slip option. Aside from tiles, other optional wet room flooring materials such as vinyl and rubber work very effectively as non slip wet room flooring materials.
When identifying slip ratings, levels range from R9 – R13 – R9 being poor, R13 being the best at slip prevention in wet environments.
Wet Room Drains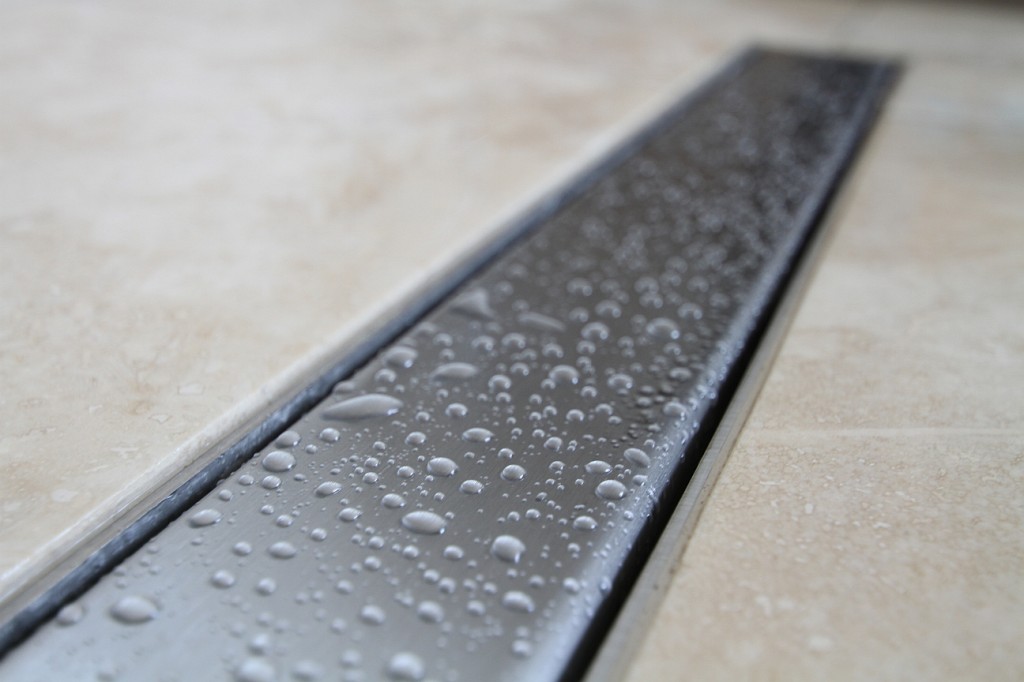 Drains are an essential part of wet room design and installation, and the style and look of the drain required (a linear or square drain), is often the best place to start. The type of drain needed for your wet room will also depend on the floor build up. If your wet room has been installed on a timber floor, drainage systems such as the Modular Wet-Floor System or the Linear Wet-Dec should be used. These use a horizontal or vertical trap that can be fitted anywhere within the central section of the trough (making it simple to avoid joists and other such obstructions).
Alternatively, wet rooms installed on solid floors will require shallow drainage systems such as the Linear Screed Drain which is suitable for use on shallow concrete floors. The Linear Screed Drain is the shallowest drain available on the market with a minimum height of only 67mm – specifically designed for installation on concrete or screeded floors. It is among the wide range of drainage systems we supply at CCL Wetrooms.
Waterproofing Materials
Wet rooms need to be watertight, so getting the appropriate waterproofing materials installed is crucial. There are several ways to tank a wet room, but the most effective method is having a membrane such as RIW Tilesafe installed underneath the tiles. This is a self-adhesive membrane that provides a consistent waterproof layer underneath wet room tiles. It has a thick rubberised waterproof layer that incorporates a glass fibre mesh on one side.
Waterproofing a wet room is no easy task, so it's important that you seek advice and materials from professional wet room waterproofing specialists. At CCL Wetrooms we have over 30 years' experience in the waterproofing industry and we work with a large list of clients to supply and install wet room tanking systems in their residential projects.
Other Wet Room Materials
The following wet room materials are optional extras that many people choose to have installed as part of their bathroom re-design:
Glass screens – These are not essential for a wet room, but sectioning off the shower area can help to prevent any mirrors or additional items from getting wet. It also adds a sophisticated touch to the design of a wet room and allows you to create different zones.
Under floor heating –Many people choose to have underfloor heating installed to keep their feet warm and to dry out the flooring after a wet room has been used.
For further advice on choosing the best materials for your architectural or commercial wet room project, get in touch with our expert team at CCL Wetrooms.