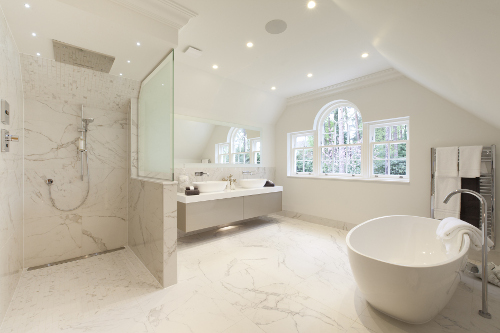 Wet rooms are one of the hottest trends in home design, industrial design and architecture. They are incredibly versatile, easy to clean and absolutely beautiful when installed correctly. Barrier free, wetrooms also offer new bathing opportunities to those with reduced mobility, for whom traditional bathrooms are no longer practical. Wet rooms also add value to homes and hotel businesses as they provide an added luxury that many buyers and visitors are looking for. With that in mind, CCL Wetrooms have created this comprehensive guide to help you design and install a stylish, watertight wet room. The first step is the layout of a wet room. This is where you will put together your floor plan and fixture placement. While this sounds like a relatively straightforward process, wet rooms present some unique design issues that need to be addressed.
Wet Room Layout Best Practice
Avoid placing windows inside the wet area of a wet room. Water tends to collect on the sills and bathers may draw unwanted attention. Instead, consider a skylight if possible. This provides great natural light without any of the drawbacks. You also need to consider your artificial lighting very carefully. Wet rooms can become dark and foreboding if you only have a few small directional lights in the bathing area. The best artificial lighting option is to give bathers multiple light sources so they can choose the level of light they would like. Wet rooms can also suffer if the wet area is too cut off from the rest of the bathroom as it will not give the same open and luxurious feeling. If walls are necessary, consider glass panels or half walls. Finally, move the toilet to another room if possible. This is a Japanese idea that is being adopted around the world. It gives the bathroom the feeling of a spa and allows someone to bathe while another person uses the toilet.
Splash in Small bathrooms
Wet rooms are often installed in small areas. This is a good use of space but splash can be a real issue. No one wants soggy toilet paper or towels that never dry, so you will need to consider installing a glass screen into your design or place the toilet and towels around a corner.
Ventilation
Wet rooms must deal with lots of moisture and humidity so proper ventilation is extremely important. However, improper design can lead to poor ventilation or unintended heat loss. The best way to ventilate a wet room is a combination of windows and exhaust fans. Windows provide good passive ventilation but exhaust fans are needed to quickly deal with humidity. The most common mistake is designing a room where the fans vent up or out to the side. The exterior vent for a fan should be lower than the interior fan intake. This prevents the stack effect while still providing proper moisture control.
Make a feature of the Wet Area
The wet room area needs definition to give the room some structure. This can be achieved with a glass panel or by using contrasting tiles. Without this definition, the wet room can look shapeless and lacking apparent divide between the shower and the rest of the room.
Shower Head and Screen Placement
When you are designing a wet room, it is important to remember that your fall only covers a certain area. That means any splash beyond that area can create puddles. Even if you install under floor heating, too much water outside the drained area will simply create a humid environment that can breed mould. You can use glass or other screens to stop this happening which works well if they are placed correctly. If you are using glass screens, make sure you take into account water deflecting off the body. It's worth noting that 70% of water used in a shower falls within 600mm of the shower head. Water hitting the body encounters any number of curves and angles so it will spray in nearly every direction. To counter this, place your glass deflector screens adjacent to the shower head. If you are working with an open plan bathroom you may not have the luxury of using a glass screen. If this is the case, try to position your shower head so you get the least water outside of the fall area. You can do this by using a ceiling mounted shower so water drops straight down, which will minimise splash, or position a wall mounted shower so that most of the spray remains in the tanked area. It is recommended that the entire shower area is waterproofed or tanked, plus an additional 1m outside of the shower area, to unsure excess spray is contained.
Traffic Flow
There is a natural flow of foot traffic in a bathroom. It is important to respect this when laying out your wet room. If your splash area abuts the sink, it could leave a wet floor that will be very unpleasant in stocking feet. Even with under floor heating, a wet room can cause traffic flow problems if multiple users are trying to utilize a bathroom at the same time. If your splash zone affects other users' ability to use the bathroom, it makes the room less versatile, so it's worth taking this into consideration when planning your wetroom.
Waterproofing Recommendations
The most important element of a wetroom is the waterproofing. A comprehensive waterproofing or tanking solution is to apply a sheet waterproof membrane to the whole wetroom floor area or to a minimum of at least 1 metre beyond the shower area. A waterproof membrane with decoupling properties (such as Tilesure) will also ensure that any movement in the floor substrate caused by expansion or contraction is accommodated. This will bridge the tension, acting like a cushion to stop the transfer of movement through to the tiles, that could cause them to break.
Never let any membrane come into contact with any type of solvent. This includes stone sealer, paint thinners, dry cleaning fluid, turpentine, white spirits or other caustic cleaning fluids. This can do serious damage to the membrane.
Use only C1 or C2 cementitious tile adhesive. This should meet the requirements of BS EN 12004. Any tile grout should be water resistant and meet the BS EN 13888 requirements.
Always ensure that there are no voids under the tile by using the solid bed method of tile installation for a wet room. This will stop water tracking underneath the tiles and causing them to de-bond.
Wetroom Floor Construction
Installing the correct wetroom system for the floor construction is vital to ensure that the wetroom is not only watertight, but that it has a strong enough sub base on which the wetroom gradient is formed.
On newly constructed concrete floors in new build properties, the drainage and connection to the mains needs to be installed prior to the screed being poured. In older properties, the old screed needs to be removed or 'scabbled out' before the drainage system can be installed. The new screed is then laid on top.
On timber floors, a wetroom former or dec is installed prior to the drainage and waterproofing systems. As the floorboards will need removing to allow the former to be installed, it is important that the former is strong enough to withstand significant weight. We always recommend that our decs are installed on top of ply support for added strength.
Plan for Pipes
Standard drainage solutions may not be enough for a wet room. Customers who want steam showers, high flow fixtures or multi spray shower systems need high flow drainage solutions. In this instance it may be necessary to install 2 or even 3 traps to meet the necessary demand. If this is ignored in the design phase, adding additional drainage can be costly and cause delays.
Under Floor Heating
Under floor heating is a must for wet rooms. Even with a proper fall directing water to the drain, there will always be some moisture left on the floor, particularly once you have showered. Under floor heating takes care of this quickly and provides a more comfortable bathing experience. It prevents cold feet during winter morning showers and drastically reduces the potential for mould development while helping to remove the risk of slipping and falling.
Drainage
There are a large number of drainage solutions available for wet rooms. Many people automatically opt for the standard circular or square floor drain but there are other options available that enable you to create a contemporary wetroom in a variety of shapes and sizes, whilst managing flow rates efficiently. Linear drains are now the "must have" requirement in a wetroom, thanks to the stylish minimal look that can be achieved. Linear drains come in a variety of finishes including stainless steel options and stunning Stone-Infill Grills, which allow natural stone or porcelain tiles to be inserted directly into the grill, to match the tiling in the wetroom. It also helps to give the illusion of a continuous stone floor. The position of wetroom drains has also seen a shift towards drains along the back wall of the wetroom, offering greater flexibility to architects and house developers. Remember to look at the flow rates for your drain and ensure they match the flow rates of your shower. Mismatched flow rates can lead to standing water or flooding.
Once the layout of the room has been planned it is time to start choosing your materials. You want to fulfil the wetroom brief while making the space an interesting and enticing place to be. This process starts with choosing different and exciting new materials. Ditch the tired old bathroom standbys of white tile and porcelain sinks for something interesting. A wet room is the perfect place to consider materials that incorporate different looks, colours, textures and reflective abilities. Check out this great list of interesting materials that you can incorporate to make your next wet room design more aesthetically pleasing.
---
Floor Tiles
There are a number of factors that go into choosing the perfect tile for your wetroom. The first is grip. Natural stone like slate has a riven texture which provides adequate friction even when wet. It is crucial to use a material that either provides natural grip or can be altered to give enhanced traction. Another factor is durability. This is a room that will be used every day, subjected to high traffic and potentially harsh or abrasive cleaning agents. It is important that the tiles can stand up to this abuse well. Finally there is comfort. Flooring should feel good underfoot. Some of the best flooring materials have pleasing textures. This creates interest in the bathroom.
Ceramic Tiles
Ceramic tiles come in every colour imaginable and will last for the lifetime of the wetroom. They are one of the most perfect options for wet room flooring because they are water proof, colourful and easy to install. What makes ceramic tiles even more appealing is their green credentials. They can be made in an environmentally friendly way, recycled and maintained without ever having to harm the environment. 
Natural Stone and Porcelain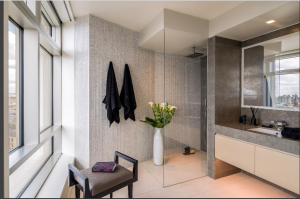 Natural Stone is a very popular material for wet room flooring. It comes in a range of colours and finishes and can be cut to any size. You can also get stone tiles designed to look like pebble beaches or other new and interesting options. If you are thinking of using stone flooring remember to avoid porous stone and stay away from high gloss stone like finished marble. It is also important to remember that stone adds significant weight so this needs to be factored into your decision. Being a natural material it has some green credentials too. Full bodied porcelain tiles are ideal for use in frameless grills, which as the name suggests, do not feature a frame around the edge of the drain. Since the edge of a tile is visible in a frameless grill, it's important to use a full bodied porcelain tile that has a consistent texture when cut.
Glass Tiles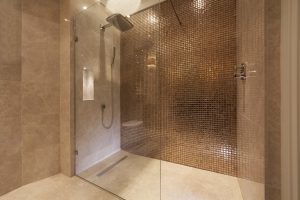 Glass tile is tough, infinitely recyclable and comes in every colour and opacity you could want. It is gaining popularity in wet rooms because it can give an otherwise ordinary room an etherial feel. Glass is also easy to clean and, depending on the finish, can be high traction as well.
---
Wall coverings
A good wall covering has to meet most of the same criteria as flooring. The difference is texture, grip and interest. Texture can vary widely in wall coverings for a bathroom. You can use many different types of mosaic and other tiles that are either too rough or jagged to be suitable under foot. While the walls should not be sharp or potentially catch loose clothing, they can be far more variable than the flooring. Grip is another factor that is far less important. This means you can use things like polished glass tile that would simply not supply the friction needed in flooring. Finally there is interest. The walls of the wet room will be one of the first things a person sees and adding a playful splash of colour or design can really add something to the overall finish of the bathroom.
To ensure the walls are waterproof, it's important to apply a liquid waterproof membrane to the walls to a minimum height of 2000mm within the shower area, linking onto the floor membrane with a minimum overlap of 60mm. Shower niches, built in benches and other similar details within the shower area should also be waterproofed with a liquid wall membrane.
Stone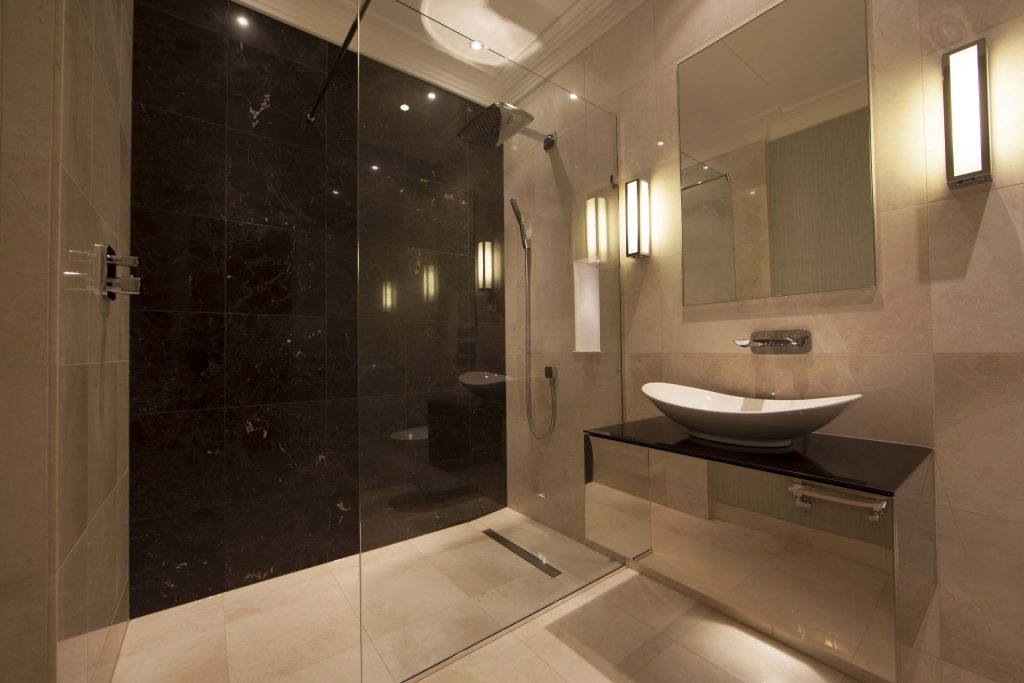 Stone tile slab or pebble mosaic is a great option for wet rooms. Stones surfaces can give a variety of different textures to play with and the shades and colour varieties make it very versatile. Just make sure the stone is not porous.
Glass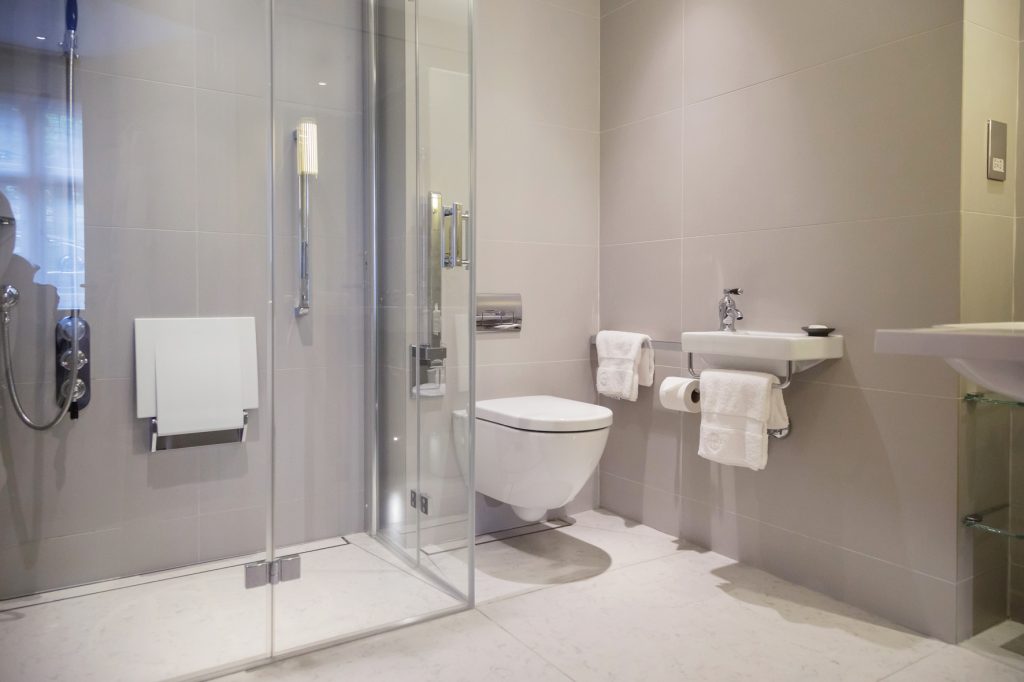 Glass can be used in panes or tiles. Panes can be used to create splash guards or to cover walls that are decorated with materials that are not waterproof. If you are using tiles you can also add any number of colours. Glass is also very recyclable. Finally, glass is opaque so you can actually shine light through it as an external design element and help to increase the feeling of light and space in the wetroom. 
Mosiac Tile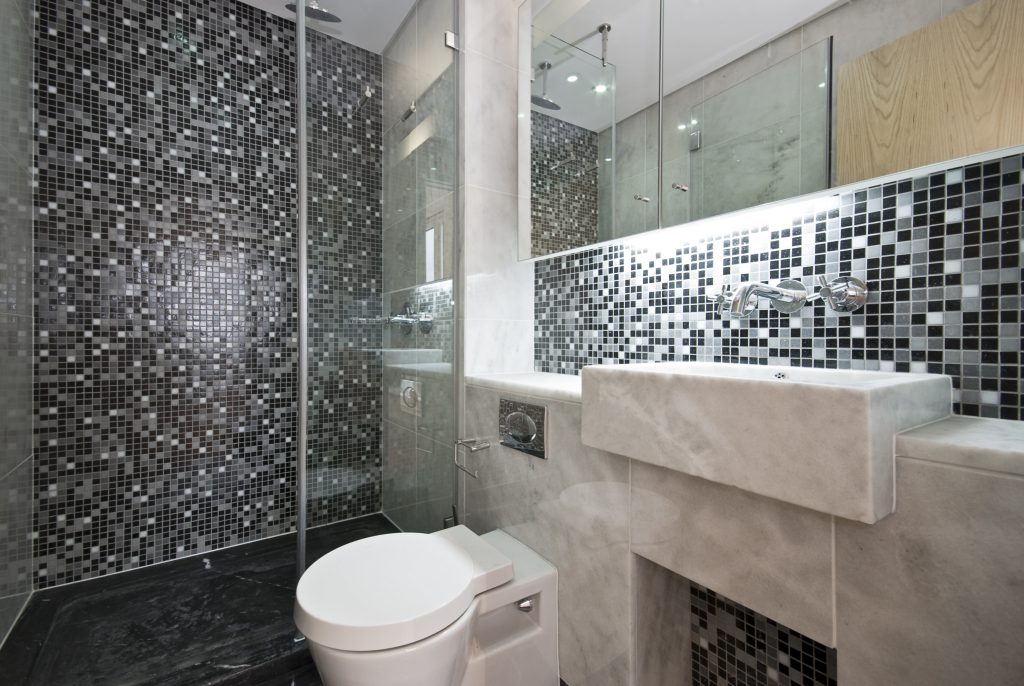 Mosaic tiles have great texture and can combine a number of different colours to create a great source of visual interest. Many of these tiles have green credentials. 
Wet Room Care and Maintenance
Maintaining a wetroom is no different to maintaining a regular shower room. Harsh solvents should never be used to clean a wet room. They can damage the waterproof membrane, seals or other drainage components. Solvents can also produce harmful chemicals or vapours which are not safe in confined spaces like bathrooms.
Routine cleaning of your wet room only requires mild soap and a brush or other non-abrasive cleaning tools. This will prevent damage to the wet room and keep the bathing area clean. No other chemicals are required.
If your wet room uses porous stone, make sure to seal the stone regularly or it will begin to leak. If you have used a non-porous material, you can ignore this step.
Any other maintenance should be undertaken by qualified wet room specialists to prevent damage. This will ensure your wet room lasts for years to come.
Selling A Wet Room
Many architects and designers have said that they really struggle when it comes to selling the idea of wet rooms to a client. It seems every client has a story of a wet room going wrong. In response to this, CCL Wetrooms have prepared some information to help architects prove the value of a good wet room.
Do Wet Rooms Leak?
The most common issue when selling a wet room is the idea that they leak. This concept has been a real problem for wet rooms over the years. The myth that all wet rooms leak is caused by the large number of wet rooms that are installed by unqualified bathroom fitters, handy men or DIY enthusiasts. In the last ten years, there have been a number of stores that have started selling DIY wet room kits. These appear to offer a cheap alternative to a professionally installed wet room. The problem is that they are often installed by homeowners who have little experience of wetroom waterproofing and installation.
The best argument to counter this is to look at the wet rooms in hospitals, hotels, swimming pools and gyms. These are all installed by professionals and last for decades without any problems. Using a professional installer can make all the difference when it comes to a wet room's quality and lifespan.
Wet Rooms Only Work In Large Bathrooms
Wet rooms are often used in large bathrooms because they are a great way to create a beautiful and functional statement bathroom. However, they are actually very practical in many small bathrooms as well. A wet room is better able to take advantage of minimal space and can actually use space more efficiently than a normal shower.
Wet Rooms Never Dry
Poorly designed wet rooms have a tendency to get everything damp and stay wet for a long time. This is usually because they are badly laid out or simply too small to function. A well laid out wet room will keep splash to a minimum and use corners or glass screens to prevent towels or fixtures getting damp. The best wet rooms will also have under floor heating to help minimise any residual water.
Still Have Questions?
If you follow these rules you should have no trouble designing a great wet room. Just remember that any installation should be done by wet room professionals to ensure the wet room looks and performs perfectly. If you have any more questions about designing a wet room, are looking for professional installers or would like to book a Wetroom CPD please contact CCL Wetrooms today.
 Telephone: 0844 327 6002
Address: CCL Wetrooms Lodge,
Farm Hook Road,
North Warnborough,
Hook RG29 1HA