Linear Wet-Dec
The Linear Wet-Dec pre-formed shower base has been developed specifically by our team at CCL Wetrooms to allow the installation of a wet room on a timber floor. Available in a range of sizes, this linear wet room drain has a built-in gradient to ensure water from the shower is directed towards the integral linear drain, giving a sleek and stylish finish. The key feature of the Linear Wet-Dec is its two way fall which allows the tiling to be laid without diagonal cuts, therefore making it ideal for use with large format tiles. The integrated linear wet room drain is available with one, two or three traps and a choice of stylish grill finishes.

CONTACT US
Dec

The Linear Wet-Dec is manufactured using a high density XPS foam with a mineral coating on both sides, making them both lightweight and easy to handle, whilst maintaining good thermal properties and compressive strength. The dec has a pre-formed 12mm fall, providing a consistent two way gradient every time. The clever design allows for far higher flow rates than a traditional four way fall Dec, whilst the linear drain makes it ideal for the installation of format tiles. Each Linear Wet-Dec is supplied with a stainless steel trim for detailing the difference in tile heights where the dec meets the remainder of the bathroom floor (see image for details).
In addition to our range of stock sizes, CCL Wetrooms are also able to offer a bespoke design service to fit your linear wet room drain – please contact our technical team to discuss your requirements.
Key Features
Designed for timber floors
Two way fall
– suited to large format tiles
Trimmable
Lifetime guarantee
Stylish Linear Drain
Variable waste position
Flow rate up to 68 L/min
Height adjustable grill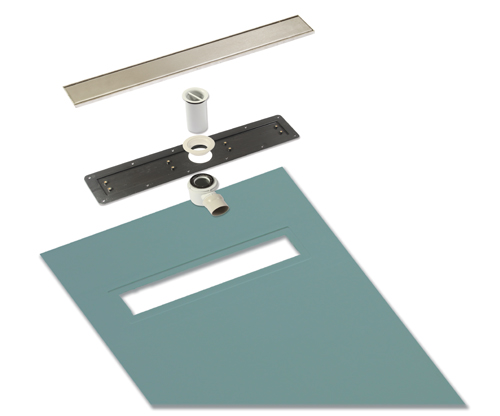 Dec Sizes

The Wet-Dec is available in 9 standard sizes:

A
B
900mm
x
900mm
End Drain
1200mm
x
900mm
Centre Drain
1200mm
x
900mm
End Drain
1200mm
x
1000mm
End Drain
1500mm
x
900mm
End Drain
1500mm
x
1000mm
End Drain
1800mm
x
900mm
End Drain
1800mm
x
900mm
Centre Drain
1000mm
x
1000mm
End Drain

Trap

The trap of this linear wet room drain has an adjustable ball joint and comes with removable dip-tube. For ease of installation, it can be fitted anywhere within the central section of the trough, making it simple to avoid joists and other such obstructions.

Multi-directional outlet
Variable position
50mm Water seal
50mm Outlet, supplied with 50mm-42mm reducer
BS1455/1566
Easy to maintain
Vertical trap available

Number of Traps

A single trapped Linear Wet-Dec has a flow rate of up to 27 L/min (see flow rate chart below for full details). The trap can be fitted anywhere within the trough. When a higher flow rate is required a double trap version is available allowing up to 50 L/min. For higher flow rates a triple trapped drain is also available.

Grill Finish

The grill is available in various different finishes. All are manufactured in 316 marine grade stainless steel, ensuring a stunning high quality finish. Type A Solid Grill is supplied as standard unless otherwise specified. The stunning Stone-Infill Grill enables natural stone and porcelain floor tiles to be inserted into the stainless steel grill.

| | | | |
| --- | --- | --- | --- |
| | | | |
| Type A – Solid Grill: Grained stainless steel with a 3mm gap around the grill for a sleek stylish finish. | Type B – Oblong Slots: Three rows of oblong slots in a grained stainless steel finish. | Type C – Square Holes: Three rows of squares in a grained stainless steel finish. | Type S – Stone-Infill: Allows a section of tile to be inserted to provide a sleek continuous look. Suitable for 10 – 12mm stone/porcelain tiles. Bespoke depths available to order. |

Height Adjustment


The grill is height adjustable in 1mm increments to suit tile thicknesses of 6mm to 20mm. Additional spacers are available upon request for tiles thicker than 20mm.

How to Specify

To specify your Linear Wet-Dec, first select the required number of traps (depending on the required flow rate), followed by the grill length and finally the grill finish.

Example: A single trap, 1800mm x 900mm, Linear Wet-Dec with solid grill would have the code: LWD 105/Type A
Membrane It is essential that the floor is waterproofed or 'tanked' using one of the waterproof membranes. For timber floors we would recommend that RIW Tilesafe membrane is applied to the entire wetroom floor. RIW FWM should then be applied to the walls of the shower area plus an additional 300mm and overlapped onto the RIW Tilesafe Reinforcing Tape.

Floor Build Up