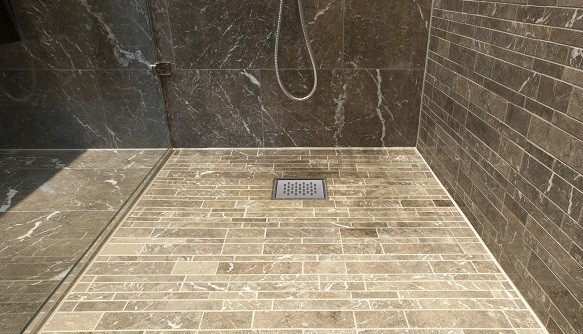 Tanking is the most important part of any wet room installation and it's crucial that high-quality waterproofing products and systems are used to ensure optimum performance and longevity. At CCL Wetrooms, thanks to over 30 years' experience in wet room design, manufacture and specification, we specialise in the supply and installation of highly effective waterproofing systems. Our knowledge ensures the most effective waterproofing systems are used throughout domestic and commercial wet room projects.
Our expert guide below explores the basics of wet room tanking and the core elements and processes involved to ensure a fantastic finish that will stand the test of time.
Wet Room Tanking Product Materials
The humid conditions of a wetroom means that specially designed tanking systems are needed to ensure an effective waterproofing solution. Choosing a specialist provider can give you peace of mind that your chosen tanking products meet the exacting standards of a wet room and are designed with the following crucial elements:
Flexibility– Wet room floors are susceptible to a certain amount of movement between the tiles and the substrate, so waterproofing products and systems need to be flexible with effective de-coupling properties to prevent any cracks and avoid tensions.
Temperature – Tanking products must be able to cope with the wide variations of temperature that occur in a wet room. This is particularly important if underfloor heating is installed.
Wet Room Tanking Products from CCL
Screedsure for Screeded and Concrete Floors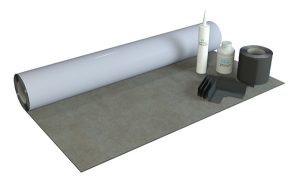 For concrete floors, a simple 1mm thick membrane is sufficient for preventing leaks and Screedsure is simple and quick to apply. The membrane itself consists of a 1mm thick butyl-based waterproofing membrane, incorporating a fabric top layer on one face. This membrane should be installed across the entire wet room floor to ensure optimum waterproofing and has been designed so that you can tile immediately after installation. Screedsure comes with a lifetime guarantee.
Tilesure for Timber and Solid Floors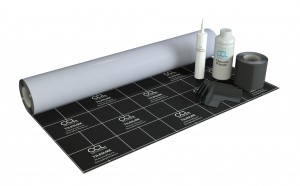 For timber and solid floors, a thicker membrane is required to prevent leaks and incorporate decoupling properties. At 1.4mm thick, Tilesure is a highly effective waterproofing system that features a butyl-based membrane with a copolymer top layer. . This too is self-adhesive and can be tiled immediately after installation. We recommend installing Tilesure across the entire wet room floor in small wet rooms and at least one metre beyond the shower area in all directions for larger wet rooms. Like Screedsure,  Tilesure also comes with a lifetime guarantee.

Flexible Wall Membrane
For the walls, an additional tanking system is needed. Flexible Wall Membrane is a ready-to-use flexible liquid membrane that should be applied using a brush or short pile roller, to provide a protective, waterproof layer of at least 1mm thick. Reinforcing tape should also be used to reinforce all junctions and flat joints on walls and corners within the shower area.
Wet Room Tanking Process
Priming
First and foremost, you must ensure the wet room space is dry, clean and dust-free and that you carefully prime the area. Priming is essential for both absorbent and non-absorbent floors, as it seals the foundations of a wet prior to the application of tanking products.
Reinforcing Tape
Next, you will need to apply the reinforcing tape to provide added strength for your waterproof membrane in your wet room. This should be applied over all major joints, the edges of the drain, wall corners, soap recesses and any areas where the wall/wall and floor junctions meet. If there are any electrics or pipes in the way, they too should be carefully sealed with the tape.
Waterproof Membrane Application
The primer must be dry by the time you start applying your tanking products.
Starting in the shower area, apply the Tilesure membrane to the entire floor area. (For larger wet rooms on timber floors, the membrane should be applied to the floor area finishing a minimum of 1 metre outside the shower area in all directions). Additional Reinforcing tape should be applied to all wall junctions, soap recesses etc within the shower area. Flexible Wall Membrane should then be applied to the wetroom walls to ensure a waterproof wall surface prior to tiling. Once the tanking and drainage systems have been installed, the wetroom is ready to be tiled.
Has this wet room tanking guide been helpful? If you have any questions regarding our products or would like more advice on how to tank a wet room, feel free to get in touch with one of our wet room experts.
For more wetroom technical information check out our technical section.