Wetroom floor formers, also known as wetroom shower trays, are an essential part of any wetroom installation and come in a variety of shapes and styles to match all tastes. They act as a floorboard replacement and enable the successful creation of a wetroom on a timber floor.
All wetrooms require a secure, waterproof surface with an effective shower drain to take wastewater away. Once installed, wetroom floor formers allow for tanking, flooring, and finally, the completion of a wetroom floor. Wetroom floor formers come pre-formed, hence the name wetroom 'former', and can be easily installed and sealed so they blend seamlessly into any wetroom design.
CCL's Wetroom Former Products
Wet-Dec
Our Wet-Dec floor former product is designed for a four-way fall, ensuring a consistent gradient, perfect for mosaic tiles. Coming in eight preformed sizes, it can be trimmed to fit any size floor.
Finished with either stainless steel or stone infill grill.
Flow rate up to 27 L/min
Flexible drain outlet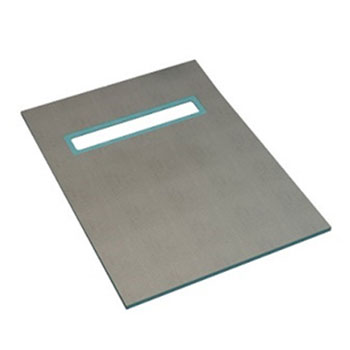 Linear Wet-Dec
Suited to large form tiles, our Linear Wet-Dec floor former is designed with a two-way fall. Consistently providing a two-way gradient, it allows for far higher flow rates than other products.
Multi-directional outlet
Flow rate up to 60 L/min
Height adjustable, to 1mm, floor grill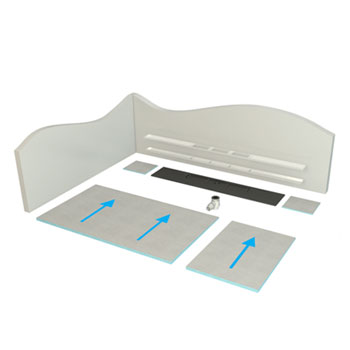 Modular Wet-Floor
A totally unique concept in wetroom technology, our Modular Wet-Floor system is designed for use on timber floors and is is created using three simple components; drainage, tapered board, and wall or floor grill.
Unlimited choice of layout
Easily trimmedable on site.
Flow rate up to 70L/min
Wetroom Floor Formers – Uses & Installation
If you are installing a wetroom in your bathroom space, you'll need a wetroom tray floor former to take away the wastewater. Floor formers provide a pre-made fall to the drain and are designed to work in conjunction with the existing floor.
When your floor former is embedded into your existing floor, it can then be tiled over or covered in vinyl sheets to create a level surface for easy access for all users including those with restricted mobility.
The installation of a wetroom floor former in your bathroom can be undertaken by DIY enthusiasts. However, it is recommended to hire an experienced professional wetroom installation service to do the work and ensure your wetroom is fully waterproof and functional. Not only that, but our own bespoke wetroom services also come with a unique 10-year installation guarantee for added peace of mind for our customers.
Wetroom Floor Formers FAQs
A wetroom floor former, also known as a wetroom shower tray, is a floor system that is used to help waterproof the floor on a timber base. They come 'pre-formed', hence the name floor former, which greatly reduces installation time. Their design also makes them quicker and easier to install than traditional screed methods.
No, a wetroom floor former only needs to cover the wetroom showering area. We recommend the larger sizes of floor former such as a
linear Wet-Dec
are used in open wetroom designs where there aren't any shower screens.
Yes, you can use underfloor heating with wetroom floor formers, but it's best to use a lower watt system in the shower area, or simply use warm water from the shower to heat the floor.
Yes, they're just different names for the same thing. The Wet-Dec is a pre-formed shower base that allows you to build a wetroom on top of a timber floor. A Wet-Dec has a built-in gradient which directs water from the shower towards the drain outlet. They are available in a range of sizes to suit any floor size and dimension.
Yes, wetroom floor formers can be cut or trimmed to size. For example, our Wet-Dec and Linear Wet-Dec solutions can be adapted to fit any floor. Additionally, our Modular Wet-Floor is unique in the industry and constructed from only three components. It is also trimmable on site.
As our wetroom formers require the floorboards to be removed, additional support under the former should be used. This will help improve the longevity of the wetroom, regardless of the tiles that are fitted on it.
Yes, you can install wetroom floor formers directly onto wooden joists. However, if you do this you will need to provide additional support around the outer edges of the former tray to avoid potential leaks. Most floor formers are rigid in design, so wooden battons are often fitted to support these outer edges which allow the former to flex in unison with the floor itself.
Yes, you can use a floor former on a
solid floor
such as concrete as long as you create a channel in the concrete floor for the wastewater gulley and pipework.
Yes, wetroom floor formers are ideal for wheelchair users and those who are disabled. Floor formers are specifically designed for point loading and can accommodate shower seats with supporting legs, for a safer shower experience. As each floor former has a different load capacity, it is important to select the right one for your project.
Most wetroom floor formers use a standard drain to take wastewater away. However, a linear drain, which runs along the length or width of the former, is more suitable for use with showers with heavy water flow, such as a mixer shower.
Most tile designs can be used with a wetroom floor former. Mosaic tiles are a popular choice as their flexible backing sheet can follow the contours of the former. If you are using larger tiles, they may need to be cut to shape to maintain the drain's performance.
Need Help Selecting the Right Wetroom Floor Former?
With over 30 years' of wetroom design, installation, and waterproofing experience, our team of knowledgeable experts at CCL Wetrooms are ready to answer your queries. Contact us today.