CCL Wetrooms have over 30 years' experience working with architects, interior designers and house builders on a wide spectrum of luxury wet room projects. Our range of wet room drainage and waterproofing products help to create beautiful, yet functional wet rooms, designed to meet your individual requirements.
Since our inception, our complete wet room solutions have helped bring to life some of the most elegant wet room design projects across the UK. Working on projects for luxury houses and apartments, hotels, leisure centres and spas, our solutions adapt to the specific needs of each project.
Examples of our Luxury Wet Rooms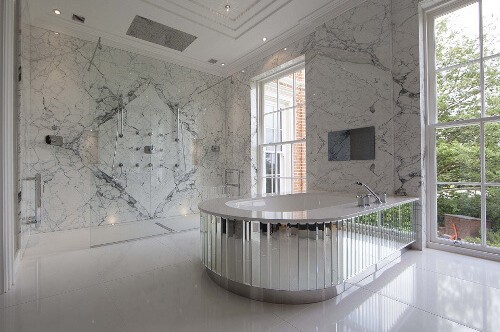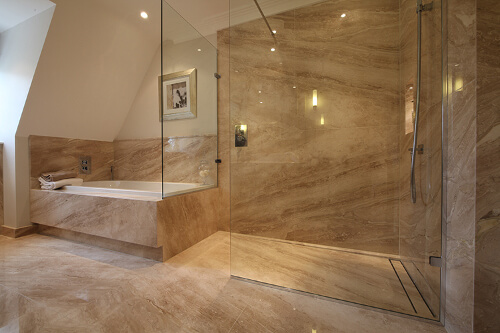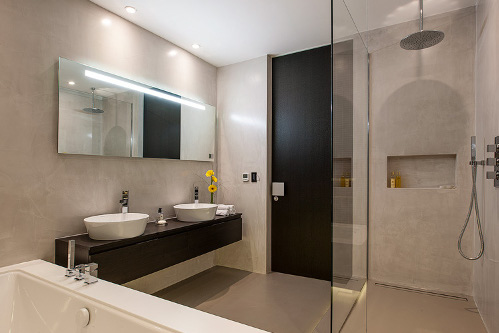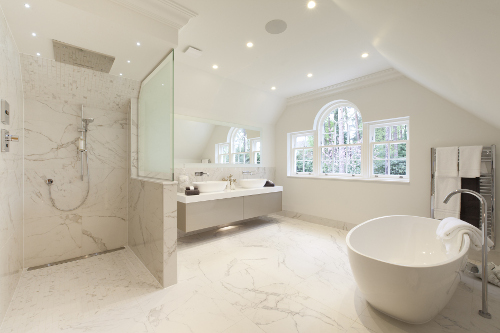 Take a look at our Luxury Wet Room Design Gallery for more examples
Luxury Wetroom Design – Drainage Products
The aesthetic appeal and level access nature of a wetroom, helps to create contemporary straight lines and a feeling of space throughout. For this reason, appropriate drainage and waterproofing products are needed that will not only create the minimal look required, but will also provide effective drainage and tanking solutions underneath the tiles, keeping your wetroom watertight. CCL Wetrooms' range of drainage systems are specifically designed to do just this. Our wetroom systems have been designed to create the required gradients (or falls) for your wetroom, which effectively drain water away with minimal maintenance and cleaning.
We're flexible when it comes to your luxury wet room design. CCL Wetrooms' waterproofing and drainage systems are suitable for use on both timber and solid floors.
Sleek Systems for Timber Flooring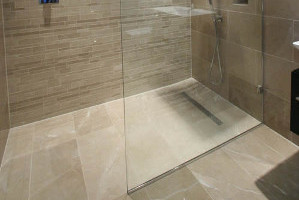 If you're looking for sleek aesthetics and effortless drainage, our Linear Wet-Dec pre-formed shower base is the ultimate necessity for luxury wet room design. Developed to work cohesively with large format tiles (see image), there is a built- in gradient to effortlessly direct the water towards the drain.
If you're working with mosaic tiles, then our pre-formed shower base – Wet-Dec is ideal. With a four way fall, the gradient works well with smaller, delicate tiles such as these.
Our popular modular wet-floor system can be used to configure any size or shape of wetroom on a timber floor, giving you endless design possibilities.
Luxurious Systems for Solid Flooring
Suited for contemporary, shallow concrete floor construction projects, CCL Wetrooms' Linear Screed Drains are able to offer an elegant and luxurious finish to any wetroom. Our Linear Screed Drains,come with three different trap options, enabling high flow rates of up to 70 L/min to be achieved.
If you would prefer a flush finish against a wall, then our Linear Wall Drain can offer just that.
Waterproofing
To ensure your wet room remains watertight, you need to use the most appropriate waterproofing or tanking materials for your project. CCL Wetrooms' range of self-adhesive waterproof membranes and liquid wall coatings are used alongside the drainage, underneath the wet room's tiling, providing optimum water protection from water ingress on both timber and solid floors.
Luxury Tiling
Wetroom wall and floor tiling can make all the difference when it comes to creating a luxurious and relaxing bathing environment. Marble is the obvious choice for many when planning a luxury wet room, with its clean and lavish aesthetics. However, it can be more costly than other alternatives. If you are seeking something with a warmer, more rustic feel then natural stone is a good choice. For more information on wet room tiling check out this page.
Finishing Touches
The finishing touches can truly transform your luxury wet room from a vision to a reality. Glass Screens are a popular choice to section off parts of the wet room to prevent splashing and add a hint of sophistication.
Underfloor heating is also an additional option to consider – not only will it help dry out the wet room floor but it will keep feet warm, particularly in the winter.
To find out more information on our wet room products, please get in touch and speak to one of our experts who will be happy to help.