Our tile backer boards make an excellent foundation within any wetroom, ensuring total waterproofing from the start. You'll find our XtraBacker construction boards are water-resistant and suitable for use alongside a range of materials. The boards are ideal for use with tiles and natural stone and can be used on solid concrete, block or beam flooring.
Look no further for a moisture-resistance, fully supportive solution for your wetroom.
Wetroom

Tile Backer Boards by CCL
Xtrabacker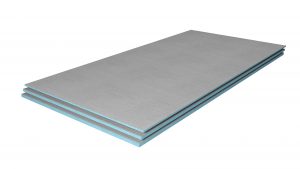 XtraBacker is a water-resistant construction board suitable for use with tiles and natural stone. It is ideal for wall tiling as it offers a stable wall background, which is both strong and dense.
Lightweight and strong
Resistant to fire (Class E – EN 13501-1)
Can be trimmed down
---
Tile Backer Board FAQs
What is a Tile Backer Board?
A tile backer board makes up the foundations of a wetroom by ensuring a waterproofing solution. It is designed to be fixed before any tiles are laid. Tile backer boards are moisture-resistant, making them ideal for wetrooms.
What are the Benefits of Tile Baker Boards?
Offering an excellent waterproofing solution for your wetroom, tile backer boards are designed to be strong and resistant to moisture. As it is the foundation of any wetroom, it ensures a waterproof base is placed before decorative features are applied. This solution ensures that your wetroom can always maintain a clean and damp-free atmosphere.
Can I Cut Tile Backer Board to Shape?
Yes, tile backer boards are designed to be trimmable so they can best fit the shape and requirements of your wetroom. After knowing the exact measurements required, you can score a line along the surface of the board and snap it in a similar way to cutting drywall. However, tools such as a jigsaw or circular saw can come in handy. If you need the full wetroom installation solution, CCL Wetrooms can also deliver this support for you.
Why use Backer Board for Tiling?
Using tile backer board has a lot of benefits, including:
Waterproofing for wetrooms
Makes tile and plastering easier as it provides a flat surface
Good source of insulation for a wetroom
Can be used alongside underfloor heating to improve efficiency
Versatile and durable
Is it Easy to Install Tile Backer Board?
Installing tile backer board couldn't be easier. As the material can be cut down to the size of your wetroom, it is easy to manipulate tile backer boards around the areas you wish to use it. Boards can be fastened using specified nails or screws to ensure it is secure. However, you'll need to consider the wall you're aiming to install the tile backer board on first.
What Can Tile Backer Boards Be Used in Place of?
Tile backer boards are an excellent alternative to plywood or plasterboard, ensuring a moisture-resistant and waterproof solution for bathrooms. They offer greater longevity as they do not deteriorate over time as plywood does, meaning they also require very little maintenance too.
Is Tile Backer Board Non-Combustible?
Our XtraBacker tile backer board is compliant with British Standards 5383 Part 1:2018, which regulates wall and floor tiling products. It is also Fire Resistant Class E (EN 13501-1).
How Long Do Tile Backer Boards Last?
Tile backer boards, like the XtraBacker supplied by CCL Wetrooms, can last a significant amount of time without maintenance or intervention. In fact, undamaged and preserved tile backer boards do not need to be replaced during renovation or redecoration projects. Their strength also means they can hold considerable weight without sustaining any damage.
Can You Tile Straight Onto a Tile Backer Board?
As tile backer boards require no treating, it makes an easy solution when tiling a bathroom or wetroom. As long as the board remains undamaged and preserved, it can be reused during renovation or tiling projects.
---
Want to Order Our Tile Backer Board?