The UK's leading Wetroom, Drainage and Waterproofing Specialists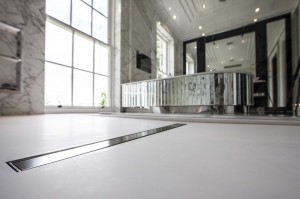 CCL Wetrooms are the UK's leading wetroom specialists offering an unrivalled range of innovative products designed to create stylish contemporary wetrooms. All of our products are backed up by our unique lifetime guarantee. We offer customers a complete wetroom solution including design, manufacture and the option of a 10 year fully guaranteed installation. Thanks to over 30 years experience in the waterproofing industry, we lead the way in luxury wetroom design that embraces the latest technological advancements and market trends.
Our comprehensive range of wet room products include wetroom floor formers, market leading drainage systems and waterproofing membranes that are suitable for use on timber and concrete floors. All have been designed to offer Architects, Designers and Housebuilders a variety of solutions, that will overcome the challenges presented by today's modern floor structures.
At CCL Wetrooms, we want to help you create the perfect wetroom. Whether you are an Architect or Interior Designer designing a wetroom for a luxury hotel, a House Builder installing walk in showers in a luxury housing development or a budding DIYer planning a wet room in your own home, CCL Wetrooms are here to help you through the specification process. Our technical helpline is here to provide you with exceptional customer support throughout the wetroom specification and installation process. Our involvement in a project from conception to completion ensures quality is never compromised.
At CCL Wetrooms we deliver peace of mind – guaranteed.