Linear Screed Drain
The Linear Screed Drain has been developed specifically for concrete or screeded floors for use on concrete slabs, planks and block and beam floors.

The key feature of the Linear Wet Room Screed Drain is its height, the total height from the base to the top of the trough being only 55mm, making it perfect for today's modern construction methods.

The drain incorporates our unique Lo-Seal waterless trap technology which has been granted BBA approval and is supported with a lifetime guarantee.
Available with one, two or three traps and a choice of stylish grill finishes the Linear Screed Drain will suit any application.
CONTACT US
Drain Key Features
Minimum height 55mm with Standard Brackets
Minimum height 38mm with Extra Shallow Brackets
BBA Approved
Lifetime Guarantee
Lo-Seal Waterless Trap
360° Rotatable outlet
Centre, left and right handed trap position
Flow rate up to 70 L/min
Height adjustable brackets
Height adjustable grill
Grill lengths up to 2000mm
Fast Track Bespoke service – manufactured & delivered in 3-4 days
How To Build Your Linear Wet Room Drain
There are two components required to specify a Linear Screed Drain – the drain body and the grill. To specify the drain body, select the required number of traps along with the bracket type. Then simply choose the grill, selecting the desired type, length and finish.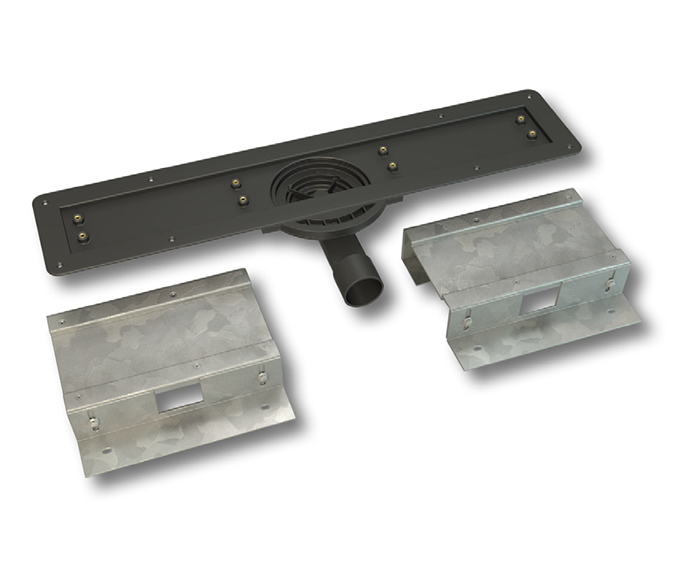 Wet Room Drain Body
Number of traps
Single Trap – flow rate up to 29 L/min
Double Trap – flow rate up to 56 L/min
Triple Trap – flow rate up to 70 L/min
Bracket type
Standard Height – adjustment 55mm-88mm
Extra Shallow Height – adjustment 38mm-57mm ‡¹
‡¹ Extension brackets are available for floor depths above 88mm.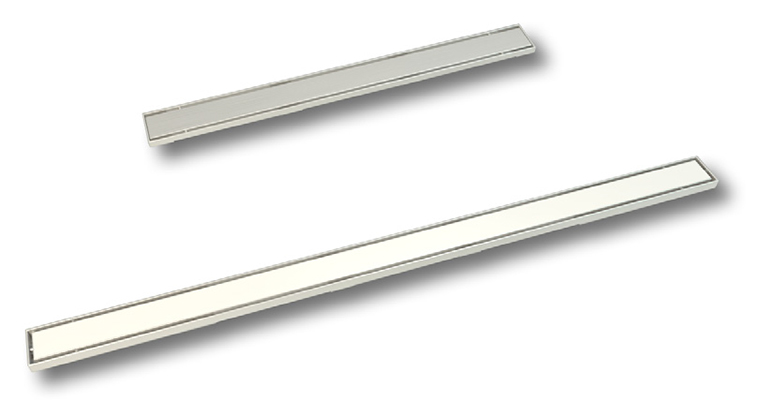 Grill
Grill type – Wall or Floor
Floor Grill – for installation off the wall
Wall Grill – positioned neatly up against the wall
Grill length
15 Standard lengths
Bespoke lengths from 600mm – 2000mm
Fast Track Bespoke service – delivered in 3-4 days
Grill Finish
Wetroom Waterless Lo-Seal Trap

The unique Lo-Seal waterless trap has been specially designed with a spring-loaded mechanism which keeps the trap sealed when not in use.
This ensures that even when left unused for prolonged periods the trap cannot dry out, making it ideal for situations where the shower is not in everyday use.
The smart design of the linear trough allows the waste position to be rotated through 360° enabling installation in most scenarios with ease.

Easy to clean and replace trap
Trap remains closed when not in use
No siphoning of the trap due to other appliances
No chance of smells or gases entering the room
BBA approved
Lifetime guarantee

---

Number of Traps

Single Trap

Flow rate up to 29 L/min ‡1
Centre trap position (shown)
Left and right handed options also available
Outlet position rotates through 360°

Double Trap

Flow rate up to 56 L/min ‡1
For medium-high performance showers
Outlet position rotates through 360°

Triple Trap

Flow rate up to 70 L/min‡1
For high performance showers
Outlet position rotates through 360°

‡1 Flow rates indicated are a guide only, based upon 42mm waste pipe and swept bends.

Brackets

The standard bracket allows the drain to be set as low as 55mm, with height adjustment up to 88mm. Extension brackets are available for floor depths above 88mm.The extra shallow bracket allows the drain to be set as low as 38mm, with height adjustment up to 57mm. This requires the drain outlet to be recessed into the slab.

| | |
| --- | --- |
| Standard Bracket . | Extra Shallow Bracket |

Height Extension Bracket

Use extension brackets where the required height of the drain body exceeds 88mm.
Each bracket will increase the height by 30mm, multiple brackets can be used if necessary.

Grill Type – Wall or Floor

There are two types of grill available with the Linear Screed Drain, both fit onto the drain body using 8 pre-set fixing points.
Both the Floor Grill and Wall Grill are independently height adjustable, enabling the grill to be positioned precisely to suit the tile thickness being used.

The final position of the Wall Grill is also independently width adjustable by up to 38mm, allowing the grill to be neatly positioned up against the wall tile after the drain body has been installed, for a perfect finish every time.

All grills are manufactured in 316 grade stainless steel ensuring a stunning high quality durable finish.

 
 

Height Adjustment

The Floor Grill is independently height adjustable in 1mm increments to suit different tile thicknesses.

The Wall Grill is independently height adjustable in 1mm increments to suit different tile thicknesses.

The final position of the Wall Grill is also independently width adjustable by up to 38mm.

 Grill Length

All grill types are offered in 15 standard lengths ranging from 600mm to 2000mm, with the majority available from stock on a next day delivery service.‡1
Where a standard grill length is not suitable we offer a FAST TRACK bespoke design service, manufactured and delivered in as little as 3-4 days.‡1 Excludes grill types B & C greater than 1500mm.
The drain body is always installed first, prior to the application of the waterproofing membrane, with the grill installed at the point of tiling.
Regardless of the length of grill, the drain body always remains the same at 660mm. Where the grill length exceeds 660mm the ends of the grill overhang the drain body and are supported with tile adhesive – see image below.





The following standard grill lengths are available:
• 600mm
• 700mm
• 800mm
• 900mm
• 1000mm
• 1100mm
• 1200mm
• 1300mm
• 1400mm
• 1500mm
• 1600mm
• 1700mm
• 1800mm
• 1900mm
• 2000mm

For grill types S & F greater than 1500mm; the Insert is supplied in two equal sections. Offset grill position available as a bespoke.

 Fast Track Bespoke

Bespoke Grill Design

Where a standard grill length is not sufficient to meet the requirements of a project, such as when designing the drain to fit exactly between two walls, a bespoke length may be required.

We understand the exact grill length required may not be known until the shower has been tiled, therefore to meet such requirements we offer a unique production service, where we can manufacture and deliver a bespoke length grill in 3-4 days.

We can achieve this due to the unique design of our drain, with the drain body supplied separately, with the grill to follow.

Any Length grill between 600mm-2000mm
Manufactured and delivered in 3-4 days
Grill types A, S8, S12, S20 & F
No drawing required‡2


‡2 Subject to drain body being installed centrally within the shower area

We also offer a bespoke design service where we can manufacture a grill to a specific width or height, or to a completely unique design, usually within 2-3 weeks. Please contact our technical team for further information.

Wall to wall grill

Where a wall to wall grill finish is required it is recommended to take a measurement on-site from the face of the wall tiles, therefore ensuring there are no gaps either side of the grill. The grill is manufactured and delivered in 3-4 days using our FAST TRACK Bespoke grill service.

---

GRILL FINISH

 
Ultimately the grill finish is the only visible element of our wetroom system and as such, is often the defining factor of the overall design.
From the contemporary Stone-Infill or ultra-stylish Frameless, to the simplicity of the Brushed stainless steel, we have a grill finish to complement any design style.

We manufacture all of our grills using only 316 marine grade stainless steel, ensuring a stunning high quality durable finish, complete with our Lifetime Guarantee.
The grill insert is easily removed for cleaning and maintenance, using the key provided with the grill.

Brushed Stainless Steel

Choice of designs in a metallic finish

Type A – Solid
With a 5mm gap around the grill for a sleek stylish finish.

 
Type B – Slotted 
Holes with a brushed stainless steel finish.
Type C – Square
Designed with a brushed stainless steel finish.
Stone-Infill

Allows a section of matching stone or tile to be inserted.

Type S8 – Stone-Infill ‡1
Suits 6-8mm stone thickness.

 
Type S12 – Stone-Infill ‡1
Suits 10-12mm stone thickness.
 
Type S20 – Stone-Infill‡1
Suits 18-20mm stone thickness.
Type F – Frameless Grill ‡1
Ensures a stunning almost invisible finish, using a section of matching stone or tile. Frameless design matches all brassware finishes.
Suits any stone thickness.

‡1 For grill types S & F greater than 1500mm, the insert is supplied in two equal sections. Suitable for stone and porcelain tiles only

Product Codes – Drain Body with Standard Brackets

Type
Drain
Flow Rate
Traps
Code
29L / min
1: Centre
LSD-1C/ST
29L / min
1: Right
LSD-1R/ST
29L / min
1: Left
LSD-1L/ST
56L / min
2
LSD-2/ST
70L / min
3
LSD-3/ST

Drain body with Extra Shallow Brackets

Type
Drain
Flow Rate
Traps
Code
29L / min
1: Centre
LSD-1C/ES
29L / min
1: Right
LSD-1R/ES
29L / min
1: Left
LSD-1L/ES
56L / min
2
LSD-2/ES
70L / min
3
LSD-3/ES

Height Extension Brackets

Type
Bracket Type
Suitable for
Code
Single Trap Centre (LSD-1C/ST)
LSD-IC/EXT
Single Trap Handed (LSD-1R/ST or LSD-1R/ST)
LSD-1H/EXT
Double Trap (LSD-2/ST)
LSD-2/EXT
Triple Trap (LSD-3/ST)
LSD-3/EXT

Use extension brackets to increase the height of the standard drain above 88mm.
Each bracket will increase the height by 30mm, multiple brackets can be used if necessary.

Product Codes – Wall Grill

Wall Grill
Length
Code
Grill Finish
600mm
SWG-600/–
Add code for Grill Finish:
Stone-Infill options:
S8 = Suits 6-8mm tile thickness
S12 = Suits10-12mm tile thickness
S20 = Suits18-20mm tile thickness
F = Suits any tile thickness
Brushed stainless steel options:
A = Solid
B = Slotted
C = SquareExample:


Grill Type – Grill Length / Grill Finish


SWG – 1100 / S20
700mm
SWG-700/–
800mm
SWG-800/–
900mm
SWG-900/–
1000mm
SWG-1000/–
1100mm
SWG-1100/–
1200mm
SWG-1200/–
1300mm
SWG-1300/–
1400mm
SWG-1400/–
1500mm
SWG-1500/–
1600mm ‡1,2
SWG-1600/–
1700mm ‡1,2
SWG-1700/–
1800mm ‡1,2
SWG-1800/–
1900mm ‡1,2
SWG-1900/–
2000mm ‡1,2
SWG-2000/–
Bespoke ‡2,3
SWG -FT/–
Bespoke ‡1,2
SWG -BES/–

---

 Product Codes – Floor Grill

Floor Grill
Length
Code
Grill Finish
600mm
SFG-600/–
Add code for Grill Finish:
Stone-Infill options:
S8 = Suits 6-8mm tile thickness
S12 = Suits10-12mm tile thickness
S20 = Suits18-20mm tile thickness
F = Suits any tile thickness
Brushed stainless steel options:
A = Solid
B = Slotted
C = SquareExample:


Grill Type – Grill Length / Grill Finish


SFG – 1100 / S20
700mm
SFG-700/–
800mm
SFG-800/–
900mm
SFG-900/–
1000mm
SFG-1000/–
1100mm
SFG-1100/–
1200mm
SFG-1200/–
1300mm
SFG-1300/–
1400mm
SFG-1400/–
1500mm
SFG-1500/–
1600mm ‡1,2
SFG-1600/–
1700mm ‡1,2
SFG-1700/–
1800mm ‡1,2
SFG-1800/–
1900mm ‡1,2
SFG-1900/–
2000mm ‡1,2
SFG-2000/–
Bespoke ‡2,3
SFG -FT/–
Bespoke ‡1,2
SFG -BES/–

‡1 For grill types B & C: 2-3 week lead-time
‡2 For grill types S & F greater than 1500mm, the insert is supplied in two equal sections.
‡3 Fast Track Service: Manufactured and delivered in 3-4 days, maximum length 2000mm


Typical Detail with Wall Grill

Standard Height Brackets

Extra Shallow Height Brackets

Floor Build Up – Wall Grill With Standard Brackets

Floor Build Up – Wall Grill With Extra Shallow Brackets

Typical Detail with Floor Grill

Standard Height Brackets

Extra Shallow Height Brackets

 
 

Floor Build Up – Floor Grill With Standard Brackets

Floor Build Up – Floor Grill With Extra Shallow Brackets

One Way Fall

Having a single one-way fall has some significant advantages in both the design and installation of a wetroom shower.
The linear drain is neatly positioned up against the wall, ensuring a sleek, unobtrusive finish, whilst at the same time making it simple to create the gradient using our pre-formed Linear Screed-Dec.
It is also simple to tile, especially when using large format tiles, with no difficult or unsightly cuts required around the drain.

Products to achieve one-way fall Drainage

• Linear Screed Drain
• Linear Screed Line

Products for Floor build-up

• Linear Screed-Dec
• HBL-50 Hi-Build Latex

bespoke service available, delivered in 3-4 days

---

Two Way Fall

With the linear drain positioned off the wall, a two-way fall design maintains a sleek look with the gradient formed in two directions, either side the drain.

Products to achieve two-way fall Drainage 

• Linear Screed Drain
• Linear Screed Line

Products for Floor build-up

• Linear Screed-Dec
• HBL-50 Hi-Build Latex

bespoke service available, delivered in 3-4 days

---

Three Way Fall

With the linear drain positioned against the wall, the gradient is formed in three directions towards the drain. Suitable for larger showers exceeding 2000mm and walk-through shower areas.

Products to achieve three-way fall Drainage

• Linear Screed Drain
• Linear Screed Line

bespoke service available, delivered in 3-4 days

---

Four Way Fall

With the single point drain positioned within the shower area, the gradient is formed in four directions towards the drain. Best suited for mosaic tiles.

Products to achieve four-way fall Drainage

• Solo4