CCL Wetrooms' range of wet room drains are suitable for a variety of wet room floors, including concrete floors, concrete slabs, screeded floors, planks, blocks and beam floors. We offer a choice of linear drains as well as a compact four-way fall drain – the Solo4.
You can rest assured that CCL's wet room drainage products are made of the very best materials, and combined with our waterproofing solutions, have maximum performance and longevity.
Our Wet Room Drainage Products for Solid Floors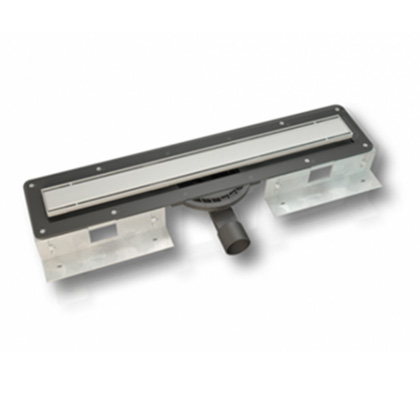 Linear Screed Drain
Concrete floors
Screeded floors
Concrete slabs
Planks, block and beam floors
Our Linear Screed Drain's key feature is its shallow drainage channel. It also features the market-leading Lo-Seal Waterless Trap at a depth of only 55mm.
Available with one, two or three traps and a choice of grill finishes, it will suit any application.
View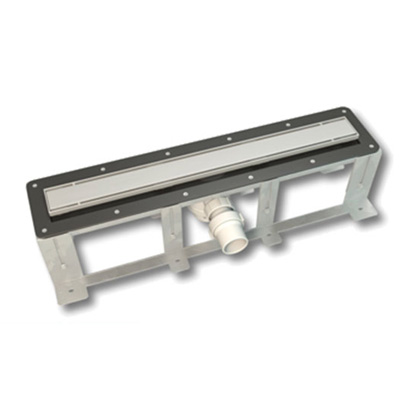 Linear Screed Line
Concrete floors
Screeded floors
Concrete slabs
Planks, block & beam floors
Linear Screed Line is our most versatile drain, as it can be specified with the option of one, two or three traps.
Incorporating a 50mm waterseal TR50 trap, our Screed Line drain is suitable for almost any wetroom application.
View
Solo4 Drain
Concrete floors
Screeded floors
Concrete slabs
Planks, block & beam floors
Our Solo4 Drain is available with either a horizontal or vertical outlet, and includes our TR-50 trap with a 50mm waterseal.
Designed for use with tiled floors, you can choose from a selection of stylish grill finishes.
View
Wet Room Shower Bases & Drainage Products for Timber Floors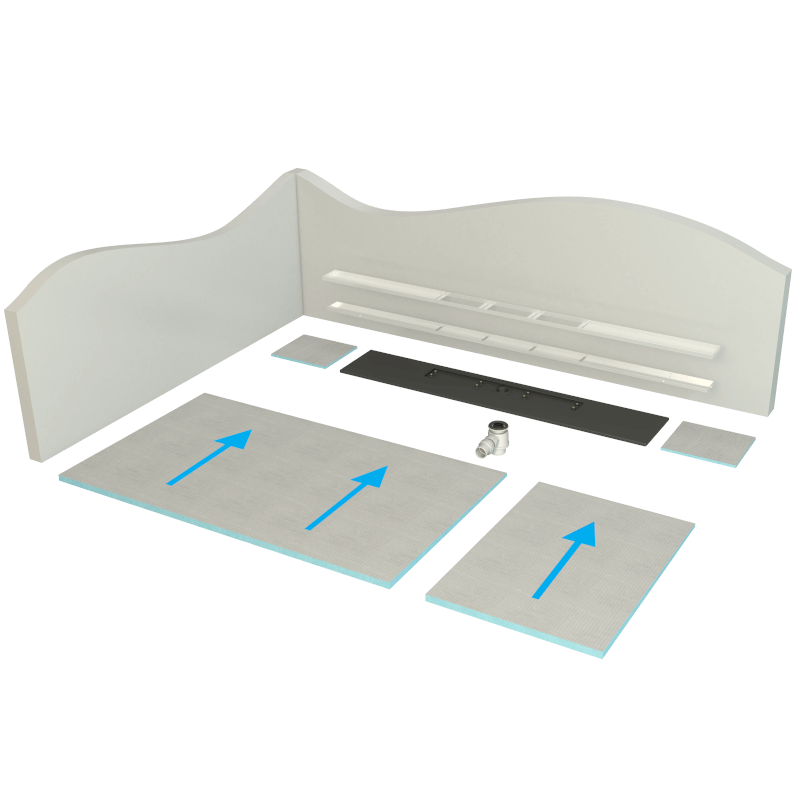 Modular Wet-Floor System
We pride our modular wet-floor system on being a totally unique concept in wetroom technology.
It can be used to create an almost infinite number of configurations using three core components. Simply add the required number of Tapered Boards you need.
View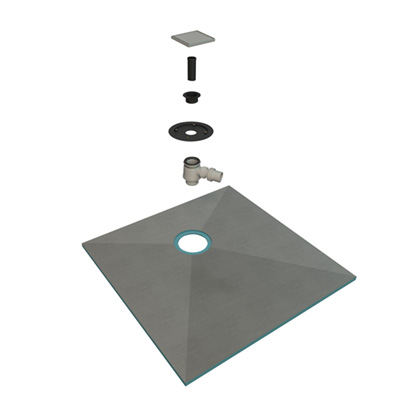 Wet-Dec
Our Wet-Dec preformed shower base has also been made specifically for use on timber floors.
It has a built-in gradient to direct water directly towards the drain, and is available in a range of sizes, making it ideal for mosaic tiles.
View
Linear Wet-Dec
The Linear Wet-Dec pre-formed shower base has been made specifically for use on timber floors.
Available in a range of sizes, our Linear Wet Dec shower base and drain has a two-way fall, meaning the tiling can be laid without diagonal cuts.
View
Wet Room Drain FAQs
How do wet room drains work?
Unlike traditional shower drains, which sit directly underneath the shower head, linear wet room drains are often positioned parallel to the wall opposite the entrance to the shower. This means that they draw water safely to an area that receives very little foot traffic and helps reduce the overall splash zone. The valve and head of the shower you have in your wet room will affect the flow rate, which means you will need a drain and trap that can cope with these specific rates.
How do you clean a wet room drain?
We recommend that you clean your wet room drain once a month to remove any mess that may cause a blockage down the line, such as a build up of hair.  You can clean your trap by removing the grating/cover and wiping the drain down to remove any residue or hair. Then you can wipe and clean your drain base and drain cover, being careful not to use anything that will scratch.
How do you build wet room drain?
For information on how to build a wet room on a solid or timber floor, take a look at our Construction Details page, covering build-up, gradients, drainage and waterproofing.
How do you choose the right wet room drain?
To choose the right wet room drain for your needs, you need to take into consideration aesthetics – for instance, do you want your drain to look invisible? A stone-infill grill is ideal. Are you considering mosaic tiles? A Solo4 Drain is a great option. You also need to consider the floor type you are building on, as well as the flow rates of your shower.
Have More Questions?
If you have any questions about our wet room drainage products, please don't hesitate to get in touch.