Tilesure is the new name for RIW Tilesafe.
Tilesure is a heavy-duty self-adhesive waterproofing and decoupling membrane designed for use onto timber and solid floors.
Developed specifically for use in bathrooms, wetrooms and similar wet areas, Tilesure is comprised of a 1.4mm butyl-based membrane, with a copolymer top layer, which provides an excellent surface for the adhesion of natural stone, porcelain and ceramic tiles.
Tilesure waterproofing membrane is quick and easy to apply, providing a consistent waterproof layer, guaranteed not to leak. Tilesure also acts as a decoupling membrane by uncoupling the floor tiles and accommodating movement in the substrate, within a thickness of only 1.4mm. This omits the requirement for a traditional decoupling mat.
Tilesure also provides an effective barrier to the transition of water vapour.
Want to Order our Tilesure Waterproof Membrane Product?
Our heavy-duty, easy-to-apply waterproofing membrane product is available to order. To learn how Tilesure can elevate your wetroom project, get in touch for a no-obligation chat.
Why Use our Tilesure Waterproofing Membrane?
Our Tilesure waterproofing and decoupling membrane is an optimal surface for the adhesion of tiles, whether you are working on natural stone or ceramic. Our self-adhesive membrane is heavy-duty, meaning it creates a super-protective, damp-resistant barrier in wetrooms.
Waterproof  Membrane Features
Lifetime Guarantee
Decoupling properties up to 12mm
Self adhesive – quick and easy to apply
Suitable for timber and solid floors including gypsum based anhydrite screeds
Ready to tile immediately
Suitable for use with electric and wet underfloor heating ‡1
1.4mm factory controlled thickness
Compatible with silicone sealants & stone sealers
An Optimal, Damp-Resistant Barrier
It's not uncommon for poorly installed wetrooms to suffer from leaks, which can cause structural problems if left unmanaged. As a versatile, damp-resistant barrier, our Tilesure Waterproofing Membrane is not only ideal protection, it's an optimal surface for timber and solid floors.
Tilesure Waterproofing Membrane Applications
Our Tilesure waterproofing membrane is versatile, offering efficient protection for a range of wetroom design projects, including:
Homes
Apartments
Hotels
Care homes
Leisure centres
Download our Tilesure Brochure or Watch our Installation Video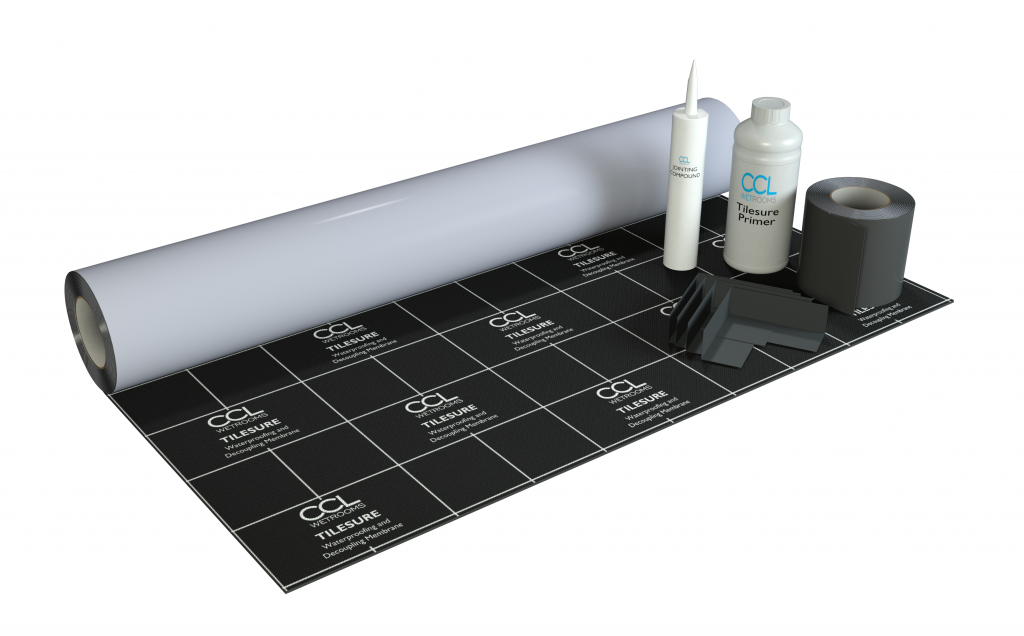 ---