Unique Low Level Linear Screed Drain with 55mm Lo-Seal Trap
The Linear Screed Drain with its unique Lo-Seal Trap has been developed for use in concrete floor depths of 100mm or below, making it an ideal choice for today's modern construction projects including hotels, high rise apartments and new build residential developments.
The key feature of the Linear Screed Drain is its height. The total height from the base to the top of the trough is only 55mm. Unlike other drains, the Linear Screed Drain can be mechanically fixed into shallow concrete floors whilst still maintaining the correct gradient for the waste pipe to the soil & vent pipe. The drain connects to existing pipework and has a DN40 outlet suitable for ABS and MUPVC pipework. The outlet rotates 360° to offer maximum options for waste pipe runs.
The Lo-Seal waterless trap provides peace of mind that the wetroom trap will not dry out during long periods of inactivity. The trap and hair guard are easily accessible and removeable via the grill for cleaning, and are covered by CCL Wetrooms lifetime warranty.
The Linear Screed Drain is BBA Approved, the drain is manufactured here in the UK and comes with the option of one, two or three waterless traps and a choice of grill finishes.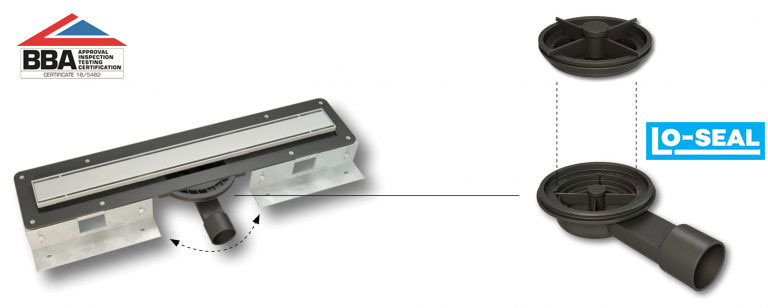 CCL Wetroom's Expertise
Having worked with M&E contractors, plumbers and tilers within the construction industry for over 30 years, we understand the importance of specifying plumbing and drainage products that not only offer practical solutions for UK specific floor build ups common in today's modern construction projects, but that have received proven certification, such as BBA Approval.
CCL Wetrooms have manufactured, supplied and installed in excess of 25,000 low level Linear Screed Drains into projects across London and the UK. Our proven track record of creating stylish contemporary wetrooms that meet UK building regulations is second to none. We like to think that our clients would agree.
Key Features
BBA Approved
55mm Depth with standard brackets
Suitable for < 100 Screed Depths
Easy access hair guard for cleaning
Outlet Rotates 360°
Manufactured in the UK
Lifetime warranty
The trap is also incorporated into our range of Timber Floor products
Height adjustable grill to match tile thickness
Did you Know?
Over 25,000 Linear Screed Drains have been installed into UK construction projects including The Shard, Pure Gyms, David Lloyd Leisure, St Georges Tower, Two Fifty One Tower, Chelsea Creek, Fulham Wharf, 275 Kensington High Street, Center Point & Blackfriars Tower.
We work with M&E Contractors such as Briggs and Forrester, Axis Group, Lorne Stewart, Haydon Mechanical and SEE to ensure that the correct certified products are specified, enabling projects to be delivered on time.
Our Clients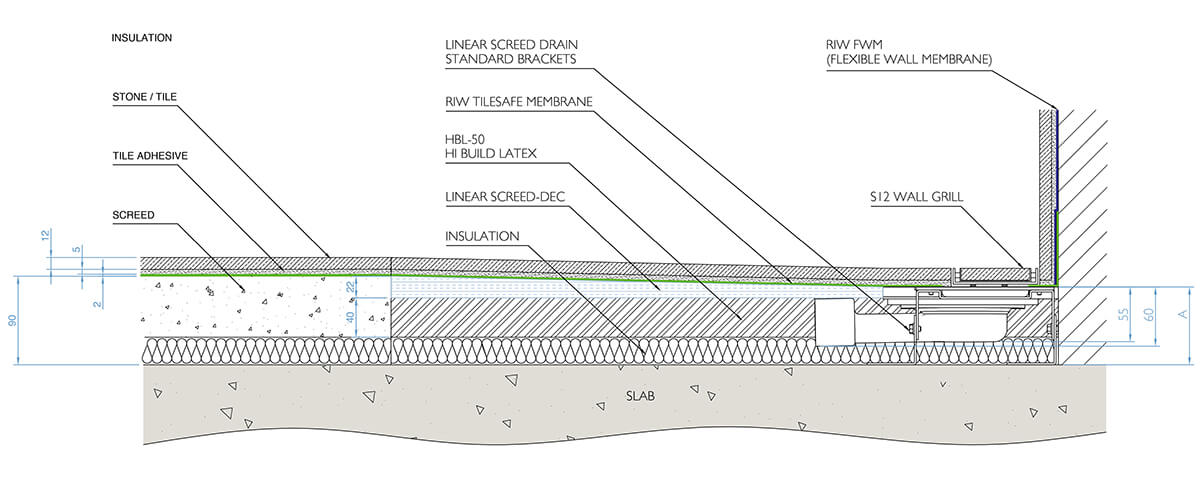 Call Now: 0844 327 6002