Floor formers, also known as wetroom trays, are essentially a floorboard replacement that allows for the successful creation of a wetroom on a timber floor.  
Once installed, these allow for tanking, flooring and finally, the completion of a wetroom floor. They come pre-formed, hence the name wetroom 'former', and can be easily installed and sealed. 
CCL's Wetroom Former Products
Wet-Dec
Our Wet-Dec floor former product is designed for a four-way fall, ensuring a consistent gradient, perfect for mosaic tiles. Coming in eight preformed sizes, it can be trimmed to fit any size floor.
Finished with either stainless steel or stone infill grill.
Flow rate up to 27 L/min
Flexible drain outlet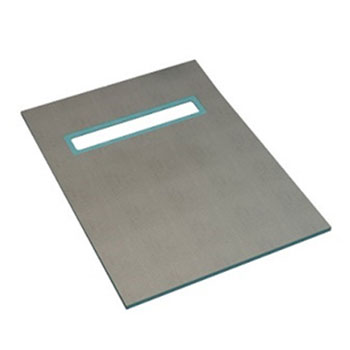 Linear Wet-Dec
Suited to large form tiles, our linear Wet-Dec floor former is designed with a two-way fall. Consistently providing a two-way gradient, it allows for far higher flow rates than other products.
Multi-directional outlet
Flow rate up to 60 L/min
Height adjustable, to 1mm, floor grill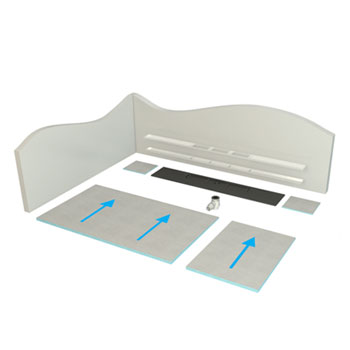 Modular Wet-Floor
A totally unique concept in wetroom technology, our modular system is created using three simple components; drainage, tapered board and wall or floor grill.
Unlimited choice of layout
Trimmable on site
Flow rate up to 70L/min
Wetroom Floor Formers FAQs
What is a floor former in a wetroom?
A floor former is a floor system that is used to help waterproof the floor on a timber base. They come 'pre-formed', hence the name floor former.
Can you use underfloor heating with floor formers?
Yes, you can, but it's best to use a lower watt system in the shower area, or simply use warm water from the shower to heat the floor.
Is a Wet-Dec the same as a former?
Yes, they're just different names for the same thing.
Will I need support under the floor former?
As our wetroom formers require the floorboards to be removed, additional support under the former should be used. This will help improve the longevity of the wetroom, regardless of the tiles fitted on it.