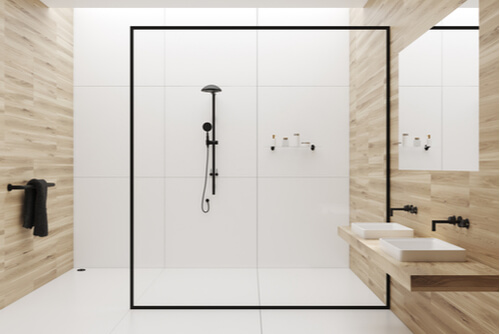 Slippery Bathroom Floor Solutions
There is a slipping and falling hazard in all showers and wetrooms, due to many contributing factors including soap, water, smoothness of tiled surfaces and hardness of tiled surfaces. Tiled showers are not always prepared against slip hazards and can remain a danger.
There are many additional ways to ensure your bathroom or wetroom is less slippery, we've compiled a list of the best injury preventative measures to put in place.
Who is Responsible for Monitoring Tile Slipperiness?
The pendulum test is used to monitor tile slipperiness and is the subject of a British Standard (BS 7976: Parts 1-3, 2002) and has is recommended by the HSE (Health and Safety Executive). It is the only test used in enforcement and prosecution in slips and trips.
The pendulum test assesses the friction offered by a floor surface when a foot meets it. It can measure slip potential of both dry, wet, and contaminated flooring. Ensuring you pass the pendulum test is essential for building safety.
How Do You Make Tile Floors Less Slippery?
Tile floors, while aesthetically pleasing, do require ant-slip methods such as grip solutions or slip mats.
The easiest method is to by an anti-slip mat from a local DIY store and simply lay it on the floor. This doesn't cover all areas so you may need to choose an alternative solution.
The most effective and long-lasting solution is to install an anti-slip formula on your tiles. This is long wearing and covers the entire surface.
1. Floor Grip Mats/Anti-Slip Shower Mat
Floor grip mats can work as a preventative way to avoid slips and trips in the bathroom. Materials used in grip mats commonly are rubber, vinyl or plastic floor grip mats and they consist of an underside with suction cups that stick on the floor and a textured, high-grip topside to stand on.
They are highly effective and simple at overcoming the problem of slippery tiles and can be used on virtually any bathroom surface like polymers, wood, or masonry.
Easy to find online or in retail outlets, floor grip mats can be a simple solution for slippery floor tiles.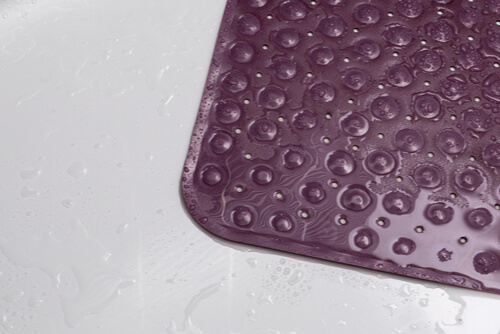 2. Grip Bars
Grip bars can be added directly to showers as something to hold onto when moving in and out of the shower. They're not to not make the floor less slippery as such but help make the chance of accidents less likely to happen. They are great for less mobile users but require professional work to install and they can be screwed into the wall structure of the shower. Common in places where users have poor mobility, grip bars are an option that may suit some showers however they're also not the most stylish looking feature.
However, there are rules and regulations around the installation of grip bars, according to Document M, in adaptable and wheelchair-accessible dwellings, any wall in a wetroom, washroom, bathroom or shower room must have "strong enough to support grab rails, seats and other adaptations that could impose a load of 1.5kN/m2."
3. Install a Bath or Shower Seat
By installing a bath or shower seat, you can avoid slips and trips in the shower. A shower seat is a freestanding stool or chair which has been specially designed for use in the shower. It can also take the form of a chair or bench which is fixed to the wall. If you have a shower over the bath you will need to look at a different type of seat. These help people when in the shower but paired with grip bars, can be the perfect way to assist someone while getting into the shower and then while showering.
4. Adhesive Strips
Anti-slip floor adhesive strips are strips of tape which can be stuck to the floor or tile surface. With simple application available, this is another quick and effective method of preventing a slippery floor causing injury in the bathroom or wetroom.
Although, there is less of an alteration to the surface than anti-slip mats meaning, they do not need removal and cleaning in the same way grip mats may require, however they do need frequent replacement.
5. Check your Drainage!
A proper drainage system is a must in a well-structured bathroom or wetroom. For more stylish look, you can choose a square or an elongated drain hole rather than the conventional round one. You might be wondering why good drainage is so important in particular for preventing slips and trips.  A safe, unblocked drainage system can avoid flooding or additional sitting water which will prevent you from having slips in the bathroom A blocked drain will mean that the system drains too slowly, causing sitting water and potential for grout rot, or mould to develop.
As tiles can be slippery anyway, wet tiles are even more of a danger when it comes to slipperiness, it's essential to try keep them dry, whenever you can. Or use other techniques like mats and strips to prevent them from becoming slippery.
It's also important to have the correct flow rate for your drainage system. If you have a monsoon shower, for example, you will need multiple traps to ensure the water does not sit on the floor and drains at the correct speed.
For expert advice or guidance on installing a wetroom for improved accessibility, get in touch with the experts at CCL Wetrooms today