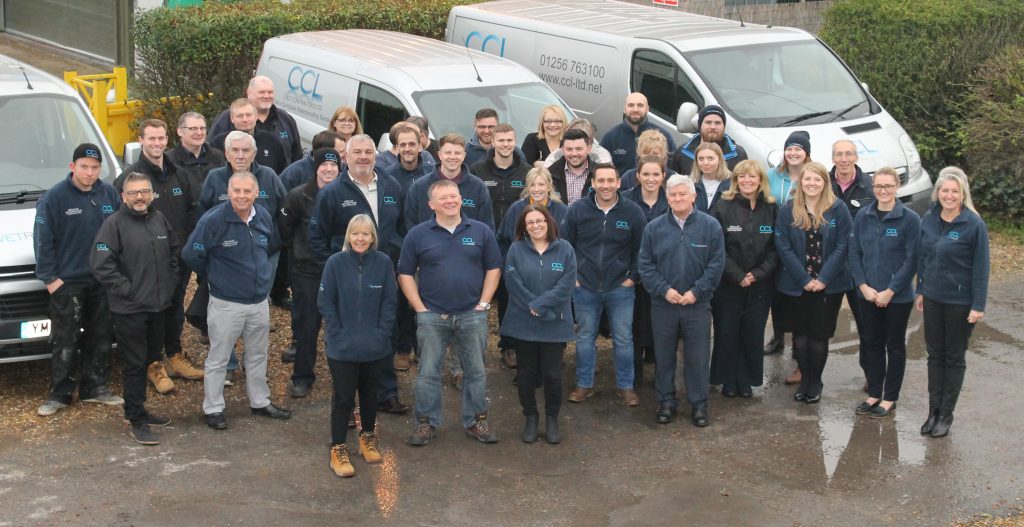 It seems like only yesterday that we were packing up our belongings and moving lock, stock and barrel over to our new larger premises at Lodge Farm in Hook. The large office and warehousing premises provide nearly 23,000 sq m of storage space for The CCL Group, and has been home to the growing portfolio of wetroom drainage, tanking & water management systems for the three specialist waterproofing companies – CCL Wetrooms, Wetrooms UK and Cast Contracting Ltd, since January 2014.
Thanks to a sustained period of growth, substantial changes have been made to streamline our manufacturing and assembly processes within the new premises. These changes not only embrace the demands of today's construction methods, but also provide further improvements to the service that we offer our customers.
In 2016 a new Brake Press was installed which facilitated the manufacturing of all metalwork requirements for our wetroom grills and brackets in-house, including all components of the Linear Screed Drain. The Brake Press has also assisted in the introduction of our new Fast Track Bespoke Drain Service, which allows wall to wall grills to be manufactured and delivered to site within only 3-4 days.
The large warehouse facility accommodates a new product assembly room, where air pressure testing for the BBA approved Lo-Seal traps is carried out in line with the robust guidelines set down by the BBA. The new assembly room facilitates the assembly of all wetroom and waterproofing components that make up the CCL Wetrooms product ranges.
To maximise the usable space within the warehouse and to accommodate the increased number of products being manufactured in-house, a new mezzanine floor was installed in 2017. The additional storage space that has been created, including substantial racking for all drain components, also provides accommodation for larger items of stock, including structural waterproofing materials and wetroom displays.
Upstairs in the purpose-built office space, the office staff comprising Contracts Teams, Sales & Marketing, IT, Accounts and Admin have also seen steady growth. This has resulted in the introduction of hot desks for the regional sales teams and the re-configuration of meetings rooms to accommodate greater numbers of employees.
Steve Blanchard, Warehouse Manager for the CCL Group of Companies has seen big changes over the last five years;
"Moving to Lodge Farm was the practical solution for meeting the demands of sustained sales growth. The scope and scale of structural waterproofing and wetroom installation projects undertaken has increased over the last few years, and the team of employees and specialist installers working for Cast Contracting Ltd, CCL Wetrooms and Wetrooms UK has also grown to meet the demand. There are now over 60 members of staff and operatives working within the CCL Group of Companies and the numbers continue to rise. We're hoping not to outgrow the premises over the next five years! "
For further information about any of the companies within the CCL Group of Companies, please contact us on 0844 327 6002 or email [email protected]