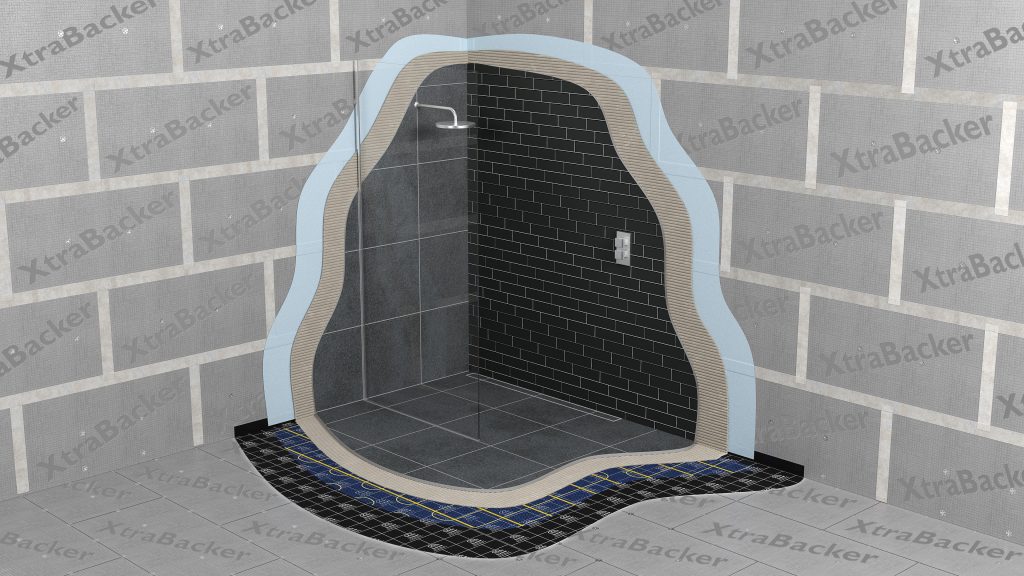 Changes to British Standards Tiling Regulations
The British Standards Institute recently made changes to the code of practice for BS 5385-1 (wall and floor tiling in normal internal conditions), recommending that all substrates in a wet area  (wet rooms, bathrooms, shower spaces, steam rooms & other locations prone to frequent water contact) should be waterproofed with a suitable proprietary tanking membrane prior to tiling, to protect the substrate below. The new regulations also went a step further, in recommending that "the use of sheets or boards that are subject to movement from changes in moisture content" (such as plasterboard and plywood) should be excluded from use within these wet areas.
For many years, the number one home insurance claim in the UK has been for the failure and debonding of tiles caused by substrate failure in the bathroom. The deterioration of substrates such as plywood can result in very costly repercussions for homeowners.
What are Tile Backer Boards?
As an alternative to using plywood or plasterboard in a wetroom, a water-resistant tile backer board could be used instead. Unlike plywood, tile backer boards do not deteriorate if they absorb moisture and form a water-resistant foundation upon which to lay your tiles and natural stone. Backer boards are being used more and more in wetrooms thanks to their versatility. They can be used on walls and floors and are often used as an insulation board in combination with underfloor heating. They can be fixed to timber or metal studwork or solid walls, as well as onto various floor types and provide a perfectly flat surface for tiling.
Backer boards can be split into three categories:- cement based,  gypsum based and plywood. Following the changes to the tiling code of practice from the British Standards Institute (BS 5385-1), the cement and gypsum based backer boards are the only two options available for use in a wetroom or other wet area. Cement based backer boards are formulated from lightweight concrete with mesh reinforcements and are suitable for use on the walls and floor, where they perform well when exposed to moisture.
There are two types of Gypsum based backer boards available on the market. Greenboard or Blueboard (due to its colour) is similar to plasterboard and has a water resistant paper coating.  It is suitable for use on the walls. Its lifespan is limited and will eventually fail due to moisture absorption. The second type of gypsum based backerboard consists of gypsum, cement and glass fibre. The enhanced moisture resistance and the smooth regular surface of this type of board makes them an ideal substrate for tiling onto on the floors and walls.
XtraBacker Tile Backer Board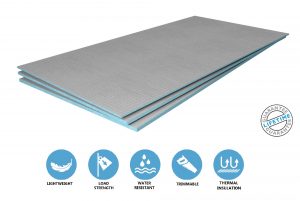 XtraBacker from CCL Wetrooms is a cement based, lightweight, water resistant construction board, with a high density XPS core and a specially formulated mineral coating. In addition to being water resistant, it has excellent thermal properties and compressive strength making it an ideal substrate for tiling onto, as it offers a dimensionally stable wall background.
XtraBacker boards are fixed to the internal studwork using the washers provided and can be trimmed down accordingly. To provide an extra layer of protection and prevent water penetration that would be result in tile failure, the wall mounted XtraBacker boards should be taped with a waterproof reinforcing tape before being waterproofed with FWM (Flexible Wall Membrane). XtraBacker boards that are installed onto the floor should be waterproofed using Tilesure Waterproofing & Decoupling Membrane to the top of the backer boards, to provide a comprehensive waterproofing solution.
Xtrabacker boards are available in 1200mm lengths in thicknesses of 6mm, 10mm and 12mm. 2400mm boards are also available in 10mm and 12mm depths.  All boards are 600mm wide and adhere to Class E fire testing regulations.
For further information on XtraBacker from CCL Wetrooms, click here or contact the technical team on 0844 327 6002.