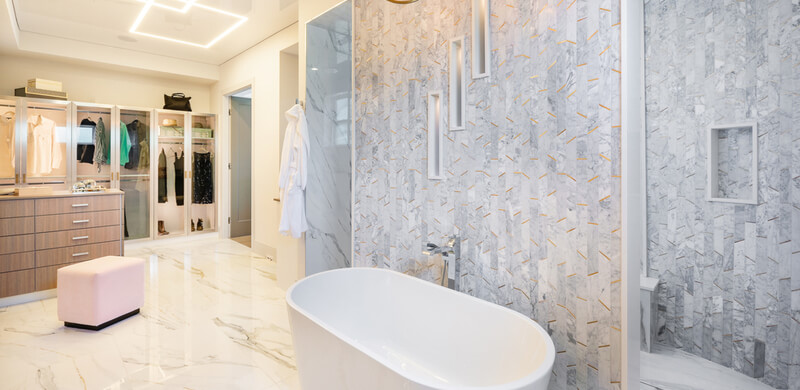 Creating or renovating an ensuite bathroom can come with challenges, but also provide a haven in which you, your family or guests can relax in a private space.
So, whether you've got a space you want to convert to a luxury wetroom, or an existing ensuite you want to upgrade, a wetroom could be the perfect option for you.
Can An Ensuite Be A Wetroom?
An ensuite can easily be a wetroom as long as the floor area is at least 1.5m x 1m as this is the smallest practical wetroom size. An existing ensuite can easily be converted into a wetroom, and full room waterproofing ensures the safety of the building's structure.
Ensuite Wetroom Inspiration
When planning your ensuite wetroom work, you'll need to think about utilising all the space possible, as well as capitalising on existing features.
Here's some design inspiration for you to optimise your ensuite.
1. Turn Sloped Ceilings into Built-In Storage Units
By utilising the most of your space available, even if it is a sloped roof, you can not only have a built-in storage option, but ensure that your ensuite has the best utilisation of space.
Ensuite rooms, especially those in smaller homes, often require you to be intelligent with the space available. By utilising the space you have, you can create an ensuite that offers optimal space, even in smaller areas.
2. Build Wall Inlets
In walls, such as those where you have plumbing or stud walls, wall inlets can help to create the perfect smaller storage spaces for shower essentials, towels, toilet roll holders and more.

When creating and designing your wetroom you can design a space that suits your style, whether it's square inlets in the shower area to keep items off the floor, or by the sink to hold soap and towels, you can optimise your space however you desire.
Some people also choose to embed lights inside the inlets, allowing for gentle secondary lighting and creating a spa-like effect.
3. Carefully Place Mirrors
Depending on the type of ensuite you have, whether adjoining the master bedroom or as part of your guest suite, placing mirrors carefully is important.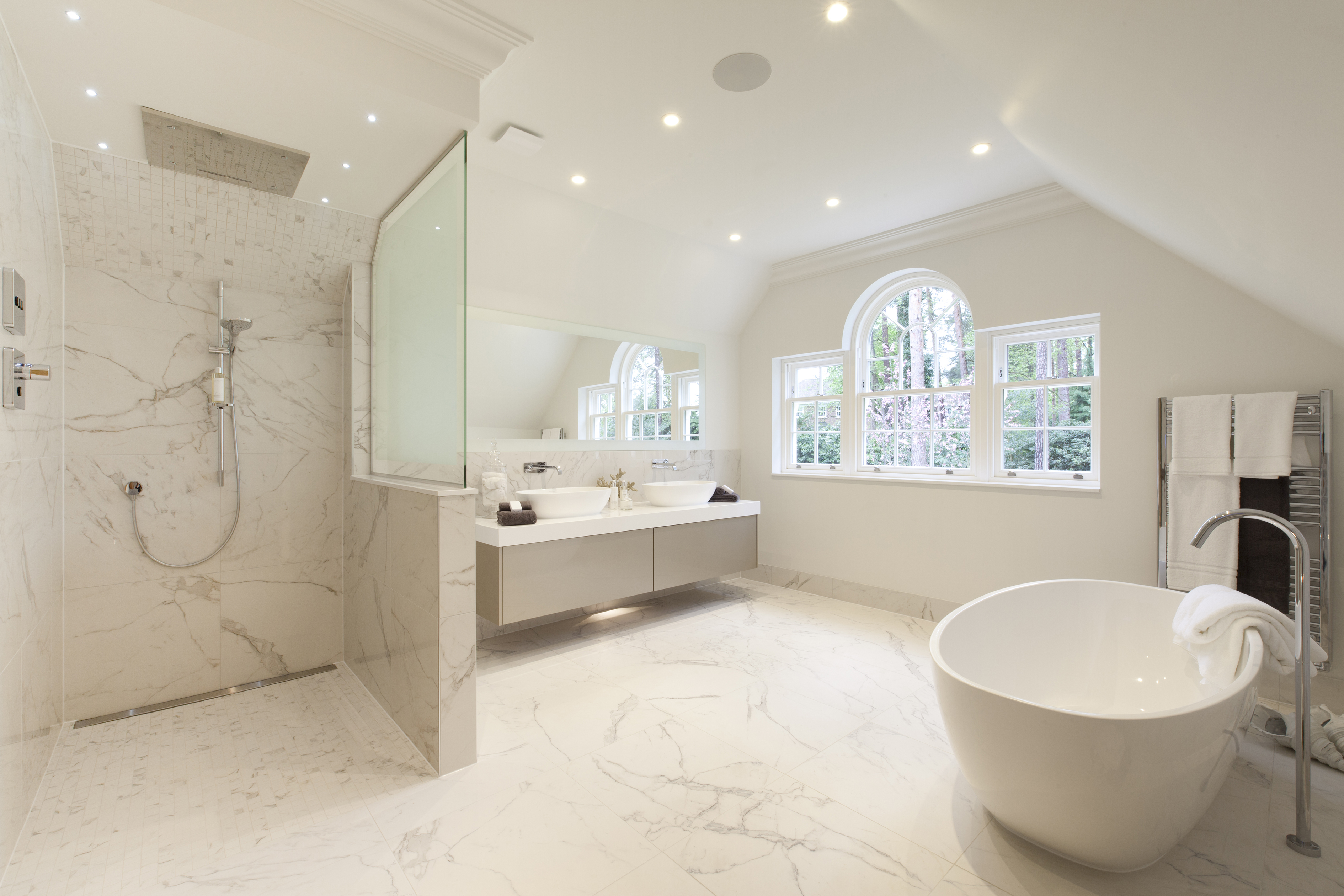 If you've left the door open while showering, a mirror placed in the wrong area could accidentally reveal too much to the other room or through the bedroom windows.
Therefore, consider placing a mirror where no awkward moments can happen. You may also want to choose a small mirror that can be embedded with the tiles to allow for a less exposing wetroom.
4. Specify Skylights
Skylights, especially in residential areas, are a fantastic way to add in as much natural light as possible without compromising on privacy. If you have a slanted roof, then you can add in Velux windows, for both natural light and ventilation.
While artificial lighting means you can choose and design your lighting, nothing can ever replicate the joy of watching the sky as you ponder in the tub, or for the beams of natural light that pore in as the sun traverses the horizon
5. Get a Double Sink
Ensuites become the preferred bathroom for the people in the adjoining room, but first thing in the morning, a smaller bathroom can get busy and quickly feel claustrophobic.
By adding a second sink, you allow for two people to use the room at the same time, and create a room that a couple can make their own.
Whether you choose to add a double sink, or two individual sinks, you'll soon relish the additional space, and the time getting ready together, whether as a couple, or with children.
Design Your Perfect Ensuite Wetroom with CCL Wetrooms
Our team of expert designers will create the perfect space each time, and our range of wetroom products will ensure your wetroom remains watertight.