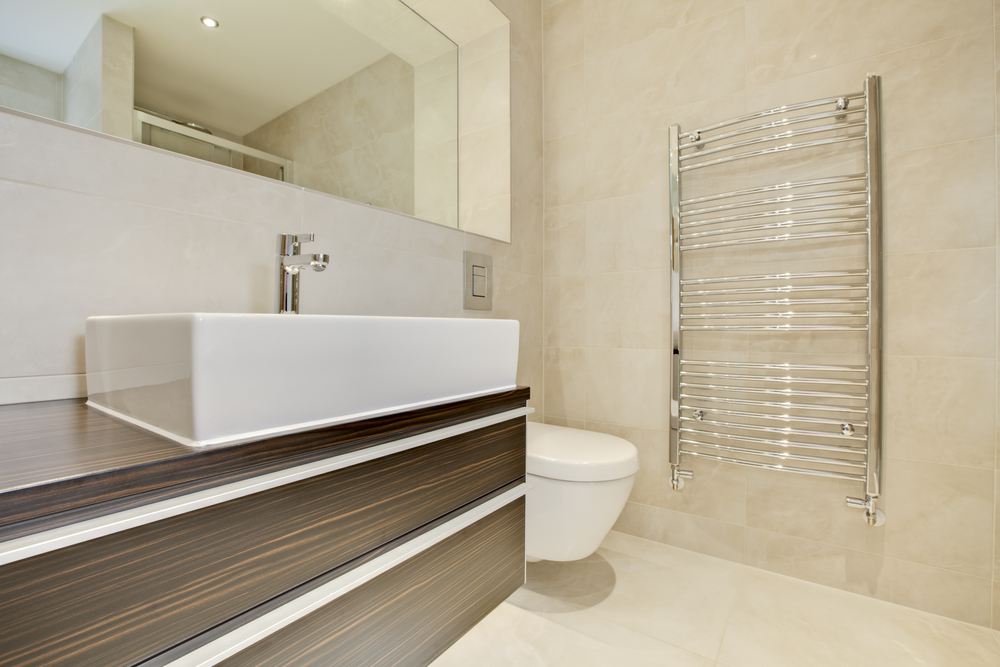 If you're looking to install a wetroom, then you will have no doubt considered underfloor heating.  
Underfloor heating is very common in all modern wetrooms, but some people don't enjoy the feeling of underfloor heating or don't want to incur the additional cost. While at CCL Wetrooms, we recommend using underfloor heating as it better complements the tile floors often used in wetrooms, we understand that not everyone will want to have underfloor heating.  
Instead, here's some ways you can heat a wetroom without underfloor heating.
How to Heat a Wetroom
1. Install a Small Radiator
While you'll have to plan installation carefully and cut tile around it, a small radiator can do wonders for a smaller wetroom. It's also easy to manage with your existing central heating and doubles up as a towel rail.
While you'll need to have gas central heating rather than electric for this to be safe, you'll also need to make sure you're being careful with when you have the heating on.
For example, having the heating on at the same time the whole family is showering means that there will be too much heat. This can be dangerous for young children, and it's also not environmentally friendly. Instead, turning it on at select points throughout the day means that you can be efficient with the heat in the room.
2. Have a Heated Towel Rail
Heated towel rails are an easy way to kill two birds with one (hot) stone. Not only do they keep your towels warm, but they can also throw some heat into the room.
While most people choose to have a single towel rail, it can be good in larger wetrooms to have a secondary towel rail, as they don't give out as much heat by themselves.
In fact, in some smaller bathrooms or wetrooms, you'll often find that a towel rail offers out more than enough heat, and may even need turning down, especially when it's shower time.
If you are going to use towel rails, only place items on there that are safe for heating, as no one wants to accidently singe their favourite t-shirt.
3. Use Bathmats
Soft furnishings such as bathmats help to hold heat in. They'll also stop your feet from having to touch the cold floor. They're comfortable, functional and aesthetically pleasing. And, if you're not a fan of the overly fluffy bathmats that shed, you can get easy to wipe down plastic ones, which are perfect for family bathrooms.
This is also a perfect intermediary if you're unsure of the design of your bathroom. Bathmats are inexpensive, meaning that whatever colour scheme or style you want to choose, you can find something that complements your bathroom perfectly.
4. Place Your Windows Carefully
The sun is a fantastic natural source of heat. If your bathroom is on the side of the house where you get more sun, consider adding in bigger windows to allow more sun in, and therefore more heat.
Or, if your wetroom is on the top floor, consider a skylight. A skylight will allow in lots of natural light while affording you some extra privacy, as well as providing a more consistent source of heat as the sun moves across the sky.
Are You Looking for the Wetroom of Your Dreams?
Speak to CCL Wetrooms, and our team of expert designers, installers and manufacturers can create a wetroom that works for you, however you plan to heat it.