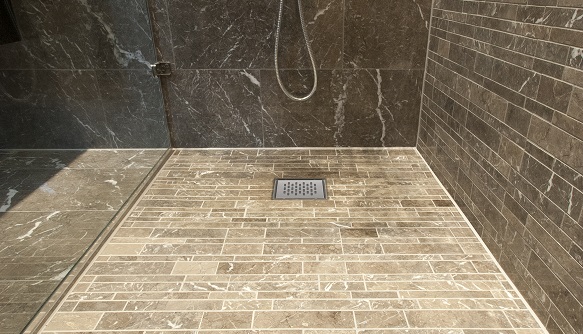 The Solo4 Drain is the latest introduction to our range of floor drains that are suitable for use on solid floors. It has been designed for use in screeded floors where a single point drainage outlet is required.
It allows the installation of a four-way fall gradient to a stylish 130mm square grill, incorporating adjustment within the body of the drain, along with separate high adjustment to the grill.
The Solo4 Drain is particularly useful in wheelchair accessible bathrooms, where level access, barrier free showering is required. It will also help meet the obligations of the Lifetime Homes Standard where the provision for a future drainage outlet is required.
Key Features
Height adjustable drain body
360° Rotatable waste position
Horizontal & vertical trap options
Height adjustable grill
Choice of stylish grill finishes
Lifetime Homes compatible
Grill Options
The square grill is available in a grained 316 marine grade stainless steel finish, ensuring a stunning high quality finish. The grill is available in a solid, slotted or Stone-Infill finish.
Grill dimensions: 150mm x 150mm. To cope with different tile thicknesses the grate is adjustable between 12mm-20mm.
Type A solid grill is supplied as standard unless otherwise specified.
Type A – Solid Grill:  Grained stainless steel with a 5mm gap around the grill for a sleek stylish finish
Type B – Oblong Grill: Rows of oblong slots in a grained stainless steel finish.
Type S – Stone -Infill Grill. Allows a section of tile to be inserted to provide a sleek continuous look. Suitable for 10-12mm stone/porcelain tiles.