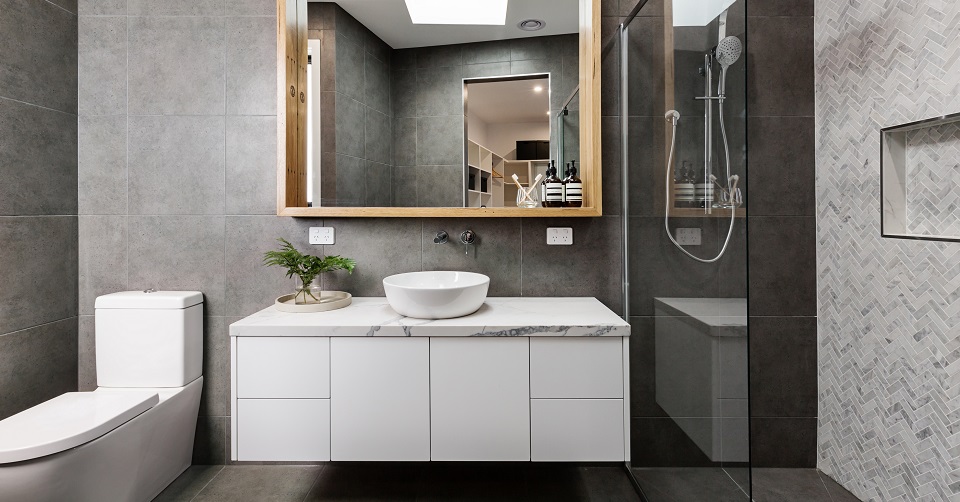 Bathroom design trends this year are leaning heavily towards rose gold, vintage vibes and pastel colours. But it doesn't have to be. If you're looking for something with more of a male gaze in mind, there are plenty of stylish and masculine ways to decorate a bathroom.
Whether you are looking to separate 'his & hers' spaces in the house or decorate your bachelor's pad, here are a few practical tips on how to add a man's touch to your bathroom.
Masculine bathroom design has become a popular style choice amongst interior designers. It's a style that incorporates dark moody tones, rugged woods, industrial metal accents, textured stone, and aged materials. It embraces modern design aesthetics as well as industrial and rustic, or natural, design.
This design style embraces clean lines and sharp corners, with large flat surfaces, very similar to what people imagine when they think about "modern "design. You can also get creative with combinations of stone and wood, which is reminiscent of rustic style bathrooms. Metal piping and fixtures that are popular in industrial design also work well in a masculine design bathroom.
Creating a masculine bathroom or adding bold touches is easier than you might think. Colours and tones play a crucial role too, alongside materials and accessories.
Go dark
When you think of a masculine space, darker colours and tones likely come to mind. You can choose to go with dark colours on the walls, or stick to dark accents, such as metro tiles with dark grout, a dark wood vanity, or dark tiles for the shower or floors. For the walls, consider dark blues, greys, or even black. Just be sure to keep the other elements lighter to offset the dark walls. You can also pull those darker tones in with the accessories, like towels and bath mats.
Bold darker tones are often used, all complemented and toned down with accents of warm wood to soften the rough edges. Geometric furniture designs will take the place of organic, baroque pieces whilst neutral shower curtains and blinds will replace floral choices.
Keep lighting to a minimum. Discreet LED spot lights and underlighting help create a contemporary atmosphere that makes great use of dark accents.
Choose materials wisely
The materials that you choose for the space will have a big impact on the overall feel of the room. If you are working with a tight budget, you may not be able to afford high end materials like granite and marble. However, a slate tile or top end vinyl is a good option for floors. You can also paint a vanity cabinet any colour that you want, so it may be more affordable to purchase a white or light vanity and then transform it into a bold piece with paint. Stone and marble tops create a durable and sophisticated look. Stone walls are a great way of adding texture and personality to a stark and plain design.
Concrete is a popular material because it's hard polished surface helps creates an industrial feel to your space. One of the most appealing traits of concrete is its ability to change colour tone when splashed with water, returning to the original colour tone once dried. Grey is the second most popular colour behind black in masculine-designed bathrooms, so concrete is a desirable material.
Tough and industrial materials such as copper, iron and stainless steel are great for taps, metal work and highlights. Masculine bathrooms want to avoid the overly ornate, but metal accents can be used to add an antique quality for even more sophistication.
A masculine bathroom can really make a statement, transforming the space into something grand. You can give it a more modern feel or keep it classic and vintage.
Keep it simple
Sometimes, less is more. A budget remodel means that you may not be able to get everything that you want in the design. Consider keeping it as simple as possible by selecting the elements that will make the biggest statement and have the greatest impact. If you stick with white walls, then simply put your money towards dark tiles and a handsome vanity.
With functionality being a priority, an abundance of space is a common trait in a male bathroom, but there isn't always a need to fill every space. Men being naturally larger than women, require more space to move around and perform basic activities such as getting undressed and drying off. While women tend to prefer cosy bathrooms, men are more partial to wide open spaces that allow freedom of movement. Again, less is more.
Even if you are working within a small budget, you can make some big changes that will allow you to remodel the room and achieve a design that you will love. Bathroom design is ultimately influenced by individual tastes. While masculine bathrooms can incorporate any of these common elements, the important thing is to be true to yourself and transform the space into the luxury bathing haven you desire.