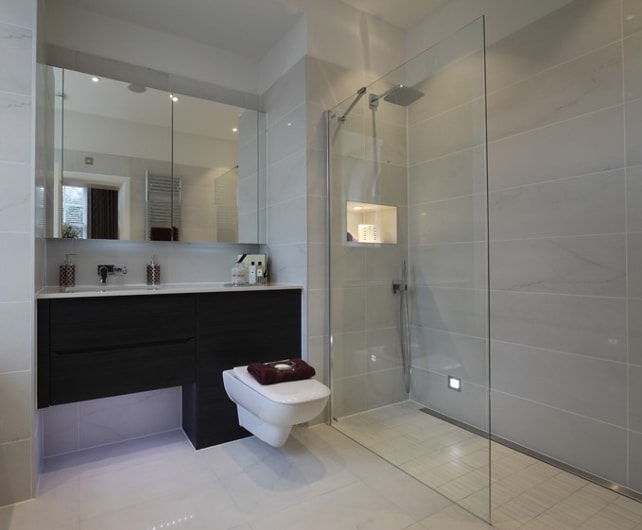 In a recent article published in the Northern Kentucky Tribune, a risk management expert highlighted the risks of using a traditional bathroom. Drawing on key studies and accidents of well-known public figures in their bathrooms, Keven Moore proposed loud and clear, that the bathroom is the most dangerous room in the house.
"Drownings, electrocution, falls… these are just some of the mishaps that lead to injury, and in rare cases, death" he says. Certainly, due to the wet and potentially slippery conditions of a bathroom, and the style of furnishings required, it could be classed as a hazardous environment. But exactly how dangerous are they, and can a wet room offer a safer and more accessible alternative to individuals of all ages and abilities?
High Risk of Injury in a Bathroom
According to a study conducted by the Centers for Disease Control and Prevention, Atlanta, USA, every year about 235,000 people aged over 15 need emergency help following an injury sustained in the bathroom. Of these, nearly 14% are hospitalised. Ultimately, on average, 640 people a day are injured in their bathrooms.
More than a third of these injuries are sustained whilst showering or bathing. Furthermore, whilst younger people tend to have more accidents in or around the bath tub, older people are more likely to sustain injuries on or near the toilet. In fact, the study indicates that injuries increase with age – peaking after the age of 85.
Overall, 80% of bathroom-related accidents involve slipping, falling and tripping – mostly when getting in and out of the shower or bath tub. Fractures, scrapes and lacerations are among the most common injuries sustained.
Wet Rooms for Maximum Safety
Wet rooms are highly versatile, and considered by many to be one of the best design features of contemporary homes. Built in accordance with the Lifetime Homes Standard, they offer a safe and highly accessible bathing environment for individuals of all ages and abilities. By eliminating the need for a bath tub and shower tray, wet rooms provide a level access showering area, sectioned into zones for easy bathing and maintenance. The installation of lighting switches outside of a wet room also helps to reduce the risk of electrocution.
Wet Rooms for the Elderly
As there are no tripping hazards with a level access walk in shower, the risk of an elderly user slipping whilst stepping in and out is greatly reduced. A fixed shower screen in a wet room can help to provide a more stable and secure structure for the elderly, increasing their independence. In many traditional bathrooms, sliding glass doors in showers are not designed to support a person's weight, and this can lead to injury if they come off the tracks.
Other Bathroom Safety Tips
Turn on the light – Trips and falls are more likely to happen at night or in the dark, so make sure you take care to turn the light on before entering a bathroom or wet room.
Install safety fixtures – Grab bars installed on the walls in a bathroom or wet room near the toilet and bathing areas will help to maximise safety for the elderly and individuals with disabilities.
Slip-resistant mats – If you have a bath tub that is difficult for you to get in and out of, buy some slip-resistant mats to increase safety underfoot.