Keeping pets pampered is a joy for countless owners across the UK. After all, their unconditional love makes them deserved of an enjoyable and comfortable life. This desire for our pets to be happy is reflected today in a number of pet-related 2016 home trends, 'dog showers' and 'dog wetrooms' being one of them.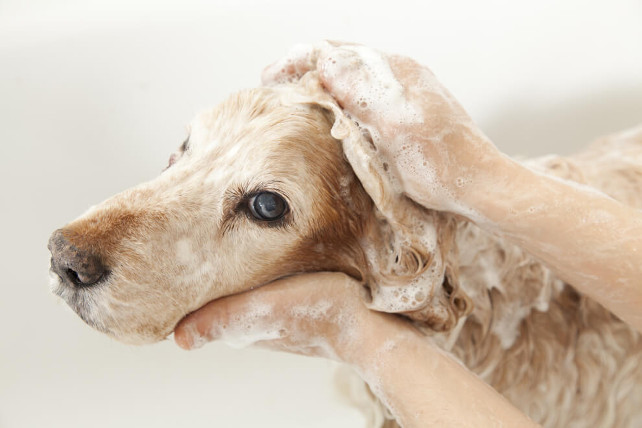 Luxury Bathing for Dogs – Showers & Wetrooms
If you own a dog, you'll understand the difficulty of keeping them clean, particularly in the winter months. With incessant lashing rain, muddy puddles and the infamous heaps of animal muck that dogs just love to roll in; it's a constant battle of suds vs mud.
Trying to transfer your mucky pup into a tall bathtub is difficult at the best of times, but this issue is exaggerated when your beloved pooch is slippery, slimy and on the larger side. Hosing them down isn't an ideal option either, with freezing cold jets of water in the chilly temperatures.
So, it's no wonder more and more owners are leaning towards the idea of incorporating an accessible bathing solution for their pet. A simple search online will highlight many large and invasive dog shower options that are something of an eyesore and raised from the ground.
However, the most efficient way to keep your dog clean whilst maintaining a sense of luxury and serenity in your home is by incorporating a wetroom for dogs.
Benefits of a Wetroom for Dogs
You can transform your everyday wetroom, or shower, into the ideal setting to groom and pamper your pet. With the proper considerations, and adequate safety measures and priorities, you can transform an everyday shower into your pet's perfect pampering station. With a specially designed wetroom, for example, you can ensure any bevelled edges or basins are smooth and hazard-free. Your setting will be waterproof, too.
1. Stylish
Unlike dog showers, a wetroom is completely level, with no trip hazards and, most importantly, is waterproof; it removes the need for raised basins or platforms. With clean lines and barely visible drainage systems, wetrooms make for the ultimate luxury addition to your home. With a stylish, new wetroom,  you can have the sense of luxury you want and your pooch can keep clean and remain content. You can take a look at some of our luxury wetroom designs in our gallery for inspiration.
2. Completely waterproof
No need to worry about your dog shaking its wet, muddy coat against the walls – CCL Wetrooms' waterproofing systems mean that you can get the room as wet as you like with no damage to the floors or walls or puddles that need mopping up. Our sleek drainage systems also effortlessly drain water away fast, meaning your pooch doesn't have to stand in mucky water for longer than needed.
3. Accessible and Easy to Clean
With no raised basins and levels, the days of lifting your dog into a bath or shower are over – you can simply walk straight in and let the scrubbing commence.
A wetroom also makes cleaning a breeze – with no awkward corners or unreachable areas, simply shower down the walls and floors after you've washed your pet.
4. Located anywhere
No-one wants to drag a dirty wet dog upstairs, so the beauty of a wetroom is that it can be installed anywhere within your home, such as downstairs in your garage or as part of your utility room. Simply ensure you choose the correct wetroom systems for the floor type you're going to install it on to.
5. Comfortable and stress free
As a wetroom is so open and spacious, stress is minimised for your pet – they don't have to clamber up and over any levels or withstand the sharp, cold blast of the garden hose outside. Instead, they can experience comforting warm water without feeling trapped.
Top Pampering Tips for Pet Owners
Using your wetroom to care for and pamper your pet can be beneficial to their health and wellbeing. Wetrooms are comforting and can encourage relaxation in your dog.
Yet, just as washing your pet is crucial to their health, you can use these tips in your wetroom to encourage a happier wellbeing, too. From massage techniques, to proper grooming etiquette, you can nurture your pet's full health from home with these helpful tips.
· Try a massage
"Bath time", a familiar favourite for many dog owners, is a useful opportunity to look after your pet's health. Massage, similar to stroking your pet, can help them feel comfortable and relaxed. Yet, a massage carries unique health benefits, both in nursing their physical needs and looking after their mental and emotional ones too.
· Skin & coat treatment
When it comes to bathing your pet, this an important opportunity to care not only of their general health, but also their skin and coat health. When washing their coats thoroughly, often through massaging motions, you remove loose hair, muck and debris and trapped odours that are hindering their coat's shine and condition.
· Proper brushing and grooming
If you notice any knots, tangles, or clumps in your pet's coat, it's proper grooming etiquette to brush these out before bathing. Using gentle gestures, you should make a fuss of their coat, nurturing its unique shine through both proper bathing and good grooming.
· Treating your pet
When is the right moment to treat your pet? Following a well-behaved wash, it's a good idea to reinforce this good behaviour with a tasty treat or reward both before and after their bath. A reward can come in many shapes and sizes, from edible treats, to chew toys and playing games together. Rewards should be structured into how you pamper your pet, because using treats will encourage good behaviour in the future.
Popular for pampering and general care, a wetroom can be a convenient, safe environment to both train and bond with your pet – whether you're using a wetroom to care for a dog or another pet. Equipped with these tips and hacks, you can encourage your pet's health and wellbeing by using your own wetroom. You can pamper your pet anywhere – but at home, in private, you have more opportunity to reinforce your bond, your familiarity, and connection with your beloved pet.
If you're interested in installing a wetroom for your dog or pet at home, we can help you through the specification process. Speak to one of our experts today.