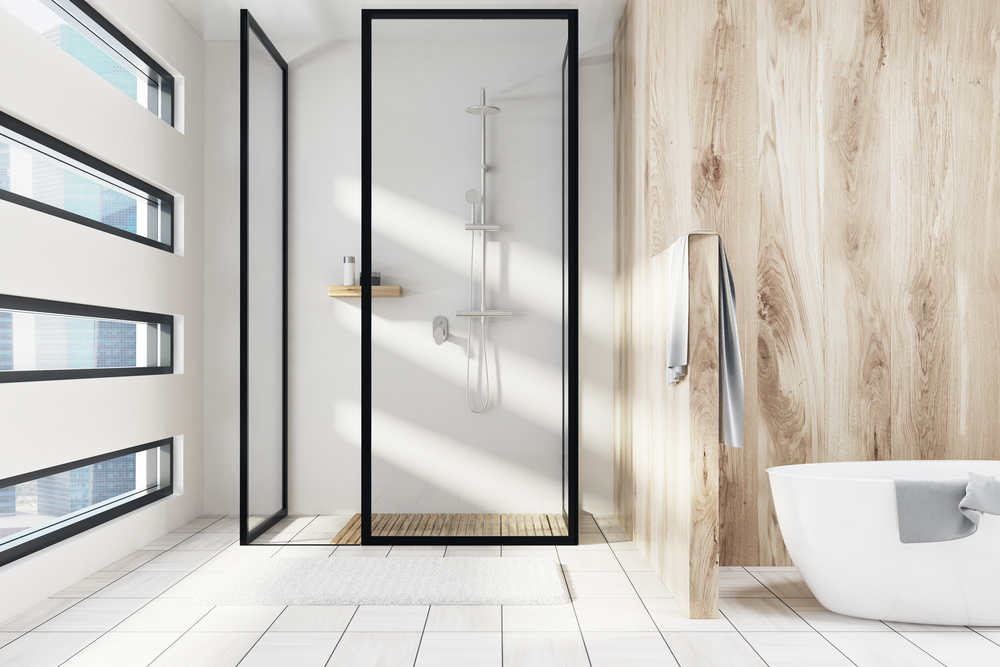 Home renovations and extensions are commonplace in UK households. Many homeowners choose extensions as a way of restyling smaller, often out-dated spaces in their home. For these projects, influence is discovered in magazine spreads, internet scrolling and research, and imagery.
These snapshots are all too familiar: modern, sleek lounges, or spacious kitchens with clean, crisp lines and colours. Yet, for those looking to benefit from added property value, style, and space in their home, they might want to consider a wetroom extension.
The Cost of a Wetroom Extension
Perhaps you're after a roomier bathroom setup, or keen for something new. You're likely curious about average wet room extension costs, or at least, retrieving quotes for a new one.
Typically, when costing a modern wetroom extension, the value is weighed in the cost of labour and materials required to extend it.
Depending on the scale, time, labour and materials, the cost of a wetroom extension can vary between projects. Start by consulting with a wetroom expert or specialist on design. Typically, a wetroom extension requires a minimum working budget of £5,000. This is, however, an estimated cost for the resources, parts, and installation that could be required. When deciding on a budget to build your wetroom extension, early research can help guide the best solution to keep your costs under control and your expectations high.
Many homeowners agree that a wetroom extension can, especially in the long run, ensure that you're getting the best value from your budget.
Reasons Why a Wetroom Extension is a Good Idea
For many UK homes, the appeal of a newly extended or renovated wetroom is becoming an increasingly popular and desirable choice for those looking to add value and style to their homes.
1) Increases your property value
Not only stylish and practical, wetrooms can add a lot of value to your property, which can be especially helpful for those planning to sell their homes in the future. If the wetroom extension is properly installed by an expert, you could gain value from this new addition to your property.
The advantage of a wetroom is that its waterproof design will last until another wet room replaces it. A newly extended wetroom can bring focus to comfort, style, and functionality in one place.
Yet, the value added by a new wetroom can introduce extra worth to your property, especially if it's on the market. One study discovered that its increase could be as high as 5% of the value of a home, which averages out as £12,000 against the property.
For many homeowners, the cost of a wetroom extension can be advantageous for how it attaches value to your property on the wider marketplace. A beneficial selling point, a new wetroom can quickly improve the value of a property.
2) Introduce more space (especially for families)
A wetroom is often desirable precisely because its designs can match up to nearly any space in a home, large or small. These can be transformative and turn a relatively dull, possibly unused, space into a valuable and functional extension for your property.
For those with families, a wetroom extension could provide a roomier solution to crowded homes that crave more functional space.
3) Greater mobility
For those finding their current bathing spaces cramped, unsuitable, or inaccessible, a wet room can offer greater mobility, especially for those who are elderly or disabled. Typically, mobility wet rooms offer easier access, improved safety, and design features that sets them apart from more traditional bathrooms.
Wetroom extensions aren't exclusive to high budgets or larger families – they can also be desirable additions for those looking to make their homes more accessible.
4) Become modern
Often, for houses with trendy designs, they lose relevance as fashions come and go. Yet, many wetrooms are styled with modern and timeless designs that can outlast changing fashion cycles.
When your home falls behind the latest trend, it can harm the market value of your property. And equally, for more traditional bathrooms, older designs can hint at possible damage.
5) Cost benefits
On average, those hopeful for a wetroom extension should expect a minimum working budget of at least £5,000. This is an estimated cost of a wetroom extension for the resources, parts, and installation. For a more accurate budget, it's worth getting in touch with a wetroom expert.
Yet, the lifetime value from a wetroom can actually save a household money. Wetroom designs are often focused around efficiency. Water spillages or general excess is often controlled, mostly through splash zones, as much as extra features like under-floor heating can create better thermal control. These efficiency features can limit wastefulness but help with long-term savings.
Getting a Modern Wetroom Extension
Before committing to a wetroom extension, it's worth consulting a specialist, because certain regulations influence the outcomes of a private or commercial wetroom, including ventilation and drainage regulations.
As regulations need to be carefully navigated, and design and style consulted to attract the most value from the project, it's recommended to involve a wetroom expert. With this kind of guidance, you can plan and design the best modern wet room extension for your property and lifestyle.
To get the most out of your plans for a wet room extension, get in touch today.