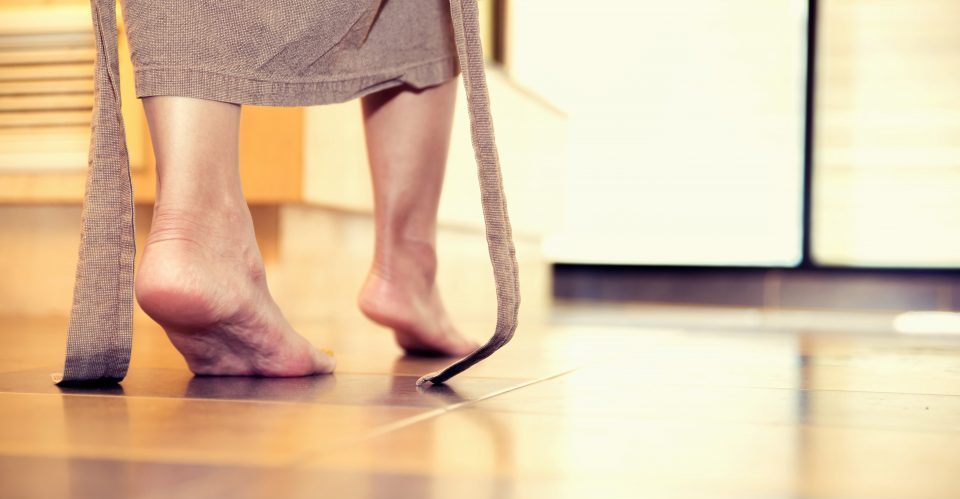 Nothing spoils the cosy feeling of your favourite dressing gown like having to dance across ice-cold bathroom tiles. In the winter months, our bathrooms quickly become the coldest room in the house.
The most common form of heating in a bathroom is a heated towel rail. Whilst great at heating towels, it doesn't do a great job of heating the rest of the room. Heat from a towel rail is all too easily pulled away by the bathroom's extraction fan before it can effectively warm the place up. But what if there was another way to warm your bathroom?
A way that starts by warming those ice-cold bathroom tiles…
Bathroom Electric Underfloor Heating
Underfloor heating comes in two main forms; electric systems and water systems. Water systems are similar to classic radiator systems. As such, they require some element of plumbing knowledge. Electric underfloor heating on the other hand, is the simplest and most efficient way to gently heat any room and any floor finish throughout your home.
Heat emits from a wire and spreads throughout the layers of your wetroom flooring just underneath the surface. This produces a very gentle uniform heating effect that warms the room from chilly bathroom tiles, all the way up to the ceiling.
When installed within a wetroom, electric underfloor heating is a cost-efficient heating solution that doesn't impact upon the layout, design or style of the build in the way a traditional radiator would.
Can Electric Underfloor Heating be installed in a Wetroom?
Electric underfloor heating can easily be installed in wetrooms. Our installation partners, ThermoSphere, recommend an earthed IP68 rated system for total flexibility and safety.
An electric underfloor heating system can be easily integrated into the construction of a wetroom without compromising the tanking process. Having installed the drainage elements within the wetroom, electric underfloor heating is then laid on top of the waterproof membrane prior to the installation of the adhesive and floor tiles. This means your wetroom will benefit from the addition of underfloor heating whilst the tanking process will ensure the wetroom remains watertight for the life of the tiles.
For the ultimate feel-good factor, the heating system can even be installed behind the shower wall tiles to provide an immersive shower experience!
If you're considering electric underfloor heating in your wetroom, we recommend that you don't go above 150 watts or 30°c per square metre. You'll also need to ensure that the drainage trap doesn't dry out by installing the underfloor heating at least 300mm away from the wetroom drain.
The Benefits of Underfloor Heating in a Wetroom
One of the key benefits of electric underfloor heating is its efficiency. Unlike water-based underfloor heating and convectional heating, homeowners don't need to leave electric underfloor heating on for long periods of time for it to provide warmth. Responsive on demand, it will heat up quickly when needed and turn off when not in use.
This plays into two homeowner concerns simultaneously. The rising cost of energy bills is a perennial concern to homeowners, but more recently, homeowners are also looking for ways to help combat climate change. Electric underfloor heating addresses both of these issues, since it is both cost effective and energy efficient.
In fact, it costs less than the average takeaway coffee to run ThermoSphere electric underfloor heating in a 2m2 bathroom for a month!
Other benefits include….
Beautifully comfortable underfoot: Need we say more?
Gentle heat: Unlike radiators, the heat emitted from underfloor heating systems is done so gently and consistently throughout the room. There are no cold spots and the surface never gets too hot to walk on.
Maintenance free: Correctly installed underfloor heating does not involve any regular maintenance costs
Energy efficiency: An electric heating element is 100% efficient at the point of use, meaning every watt of electricity is converted into heat energy.
Design flexibility: Installing underfloor heating does not affect the layout or overall design of a wet room and removes the need to install a radiator onto the walls.
Dries a wetroom floor: The even heat of an underfloor system helps dry a wetroom floor whilst providing a warm comfortable surface to walk on after showering.
Added value: Like wetrooms, underfloor heating can help to increase the value of a property.
Combining Wetrooms with Underfloor Heating
The latest Underfloor Heating Market Report indicates that underfloor heating is a market on the increase. Both domestic homeowners and commercial interests are seeing the benefits of this technology.
Whilst two-thirds of the underfloor heating market is in the domestic sector including new builds and retrofit projects, thanks to the growth in open plan living and minimalist design trends, opportunities are also arising in the care home, industrial, warehousing, leisure and entertainment, and commercial office and retail sectors.
For developers within these industries, the combination of a stunning wetroom with underfloor heating meets the demands of style conscious consumers, whilst providing maximum design flexibility for architects and designers.
For more ideas about how to heat, light and decorate your wetroom, check out our gallery.
This blog has been written in partnership with ThermoSphere. ThermoSphere manufacture and supply simple and efficient heating solutions to give you the control to create the perfect atmosphere.
Underfloor heating has never been simpler to supply or install thanks to their range of underfloor heating solutions that suit all floor coverings. Find out more about their heating solutions, as well as their latest innovations in smart thermostat technology.
NB: The image above is for illustration purposes only. For detailed underfloor heating installation instructions, please contact ThermoSphere.