In the UK, the summer season seems to always present difficulties in terms of water supply. In many areas, water shortages happen often during the hot months, leading to hose pipe bans and water restrictions that limit or completely prohibit water usage.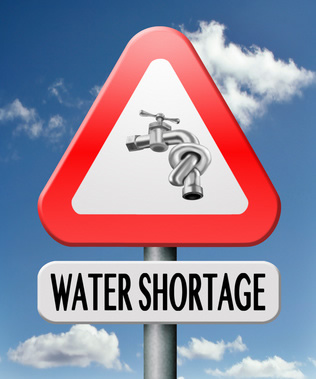 These sorts of restrictions make many simple things difficult, from filling a pot of water to cleaning around the home. Of course water restrictions also make personal hygiene a bit more complicated too Taking a bath, (some of which can hold upwards of 280 litres) uses significantly more water than showering. As such, when there are water restrictions in effect, it's best to take a shower. One of the most popular ways to install a shower in the home these days is with a wetroom. This is due to the fact that, along with making it easy to save water, (thereby saving money) wetrooms look great, are easy to maintain, and add value to the home. Let's take an in-depth look at why more and more homeowners and builders are choosing wetrooms over traditional shower trays.
Wetroom Aesthetics
If you've ever stepped into an en suite with a wetroom, then you know just how beautiful these rooms can be. Most wetrooms are lined with gorgeously coloured stone or natural tiles, fitted with glass screens with stainless steel accents, and finished with contemporary brushed aluminium or stainless steel drains. Wetrooms have an almost futuristic appearance, offering the streamlined and unobstructed aesthetics that have become very popular in modern home design. In summary, wetrooms can lend your en suite a modern look that is simply impossible to attain with a traditional shower tray. However, while wetrooms may make your home look like a luxurious hotel suite, they're actually quite affordable.
Wetroom Affordability
Wetrooms were once perceived as far too expensive for the average person to own.
Nowadays, however, wetrooms are within reach for nearly any homeowner. This is due to the fact that there are a wide range of quality wetroom suppliers, as well as do-it-yourself kits available. These kits and suppliers make it very easy to install a wetroom in your home cost effectively. In addition to the basic supplies, it is now quite easy to find quality fixtures and stone tiles at affordable prices. Also,as we mentioned earlier, wetrooms can save you money on your water costs – especially if you install a water conserving shower head – so this also makes them an excellent choice for those who are looking to cut costs.
Wetroom Advantage
Along with saving you money at the time of installation using affordable materials and less water – wetrooms also offer economic benefits when you decide to sell your home. Updating a kitchen or en suite offers the most return on investment for homeowners, which makes sense given that these are two areas of a home that absolutely must be functional. With a wetroom, not only does the en suite look stunning, but it is also much more functional and significantly easier to clean than an en suite fitted with a traditional shower tray. With its entrance set flush with the floor, a wetroom is much easier for everyone to walk in and out of
.
However, for the elderly and disabled, this benefit is particularly important. By adding a wetroom, you instantly make your home more appealing to those who are aging or contending with a physical ailment. In addition, with few moving parts, lack of joins, open design, and high-flow drainage systems, a wetroom requires a lot less maintenance and far fewer cleanings than a traditional shower tray.
And with few moving parts, there is less chance of anything breaking down. With the water being diverted from the shower area quickly and no joins for it to seep into, thanks to the waterproof membranes, there is significantly less limescale, mildew and rot with a wetroom. In short, aside from a complete kitchen overhaul, with new cupboards and top-of-the-line appliances, a wetroom is probably one of the best investments you can make in your home. Plus, it costs a lot less than fully refurbishing your kitchen. As you can see, wetrooms offer a plethora of advantages over traditional shower trays. So, if you're looking for an affordable upgrade, and one that can help you deal with those irritating water restrictions, consider installing a wetroom. Just make sure you seek out a reputable wetroom manufacturer that can offer you lifetime guarantees on their systems or wetroom installations.