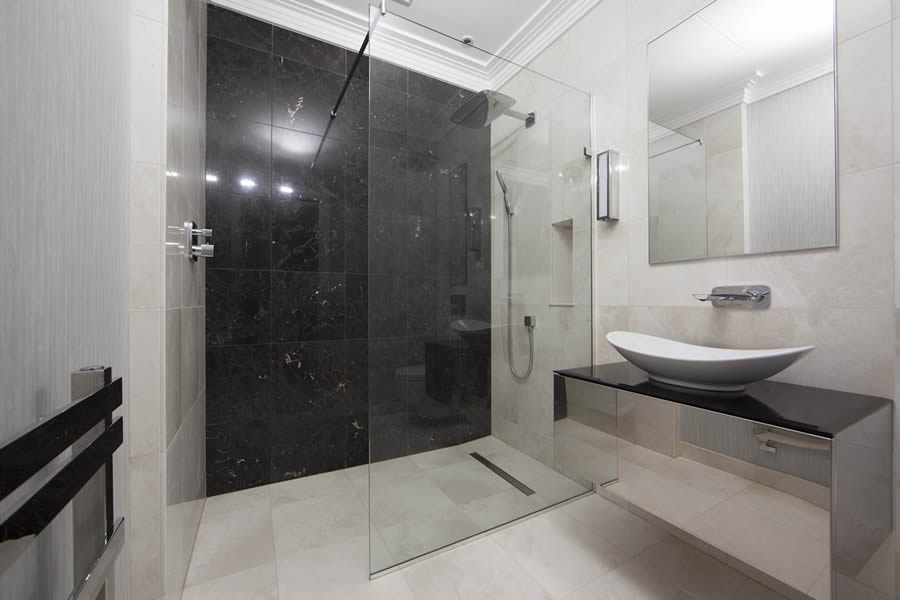 Walk in showers are ideal for those with mobility issues, a homeowner who wants a more modern, sleeker shower design, or simply someone who wants an open plan bathroom or wetroom. They're both aesthetically pleasing and practical.
However, some people find they end up with water splashing outside of the shower, creating puddles all over their wetroom floor after improper installation. How can you prevent water from getting everywhere while maintaining a walk-in shower entrance?
How to Stop Water Going Everywhere in a Wetroom
Before a wetroom is even built, you'll need to consider the space available and how you can add the main features of a wetroom to the area carefully. For example, a smaller shower area will need a steeper gradient to allow water to drain at the right flow rate.
Once you've decided on a floor layout, you'll then need to consider the products to be used such as tile size, drain type, shower head and the glass panels surrounding your shower. These all affect the excess water around your shower.
So, how can you stop water going everywhere?
You can:
Get a showerhead that points downwards rather than outwards
Choose the correct shower screen length
Consider getting underfloor heating
Get a pivoted glass door to complement your shower screen.
Ensure the drain has sufficient capacity to keep up with the shower head, including any body jets etc.
Design Features to Stop Water Getting Everywhere
When designing your wetroom, you can specify certain features that will help prevent excess splashing.
1. Showerheads that point downwards
By choosing a 'waterfall style' shower, which is one that faces towards the floor, or one that is less angular on the wall, you prevent the water shooting forwards. With a high-powered waterfall shower, you can experience the joy of a strong shower without water splashing everywhere.
2. Correctly Sized Shower Screens
Rather than the traditional boxy shower shape, consider a curved walk round style glass panel that allows for some of the spray to be caught without it getting round the side of the shower.
For those that don't want a curved shower screen, it's important to check you have the correct length shower screen. This should be at least 1200mm long, and a small return screen, where a panel of glass can be placed perpendicular to the main shower screen, can be installed to help prevent splashing.
3. Low profile floor tiles
If you're tiling your bathroom floor with smaller mosaic style tiles, then it is important to ensure an even, flat layout of these to prevent water pooling in the grout and causing mould and slipping hazards.
For a sleeker finish, and the reduction in pooling water, consider a large format tile. While some installers may say this is impossible with a wetroom, with our range of low profile and adjustable screed drains, CCL Wetrooms can work with any tile format.
How a Wetroom Can Be Constructed to Prevent Splashing
1. Install a higher flow drain than needed
If you are nearing the maximum flow rate of the drain you had intended to use, then consider a higher flow rate than needed to make sure the water drains quickly and doesn't pool.
With the correct gradient, and with the appropriate drain, the water won't pool and will quickly drain away.
2. Consider a pivoting glass door
With a glass screen present in most wetrooms, you may be able to specify a pivoting glass door on one side that encloses the space more.
This allows you to close yourself in, which captures any splash!
Stop Splashing Water Getting Everywhere in Your Wetroom
Wetrooms should not splash outside of the specified splash area if properly constructed, and any excessive splashing would suggest improper installation or incorrectly specified design.
CCL Wetrooms are experts in wetroom design, and can work with anyone, from architects to construction companies to provide consultation and advice on the correct construction of your future wetroom.