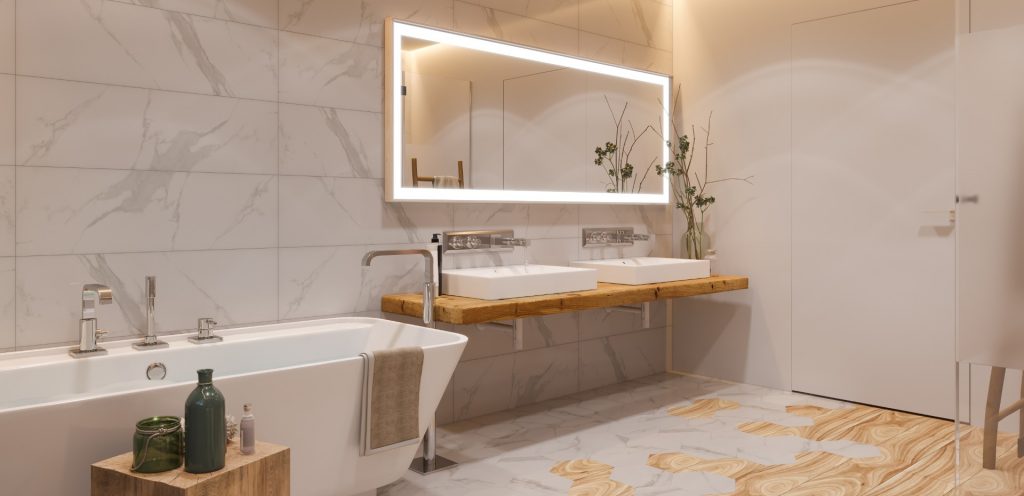 Anyone considering a bathroom or wetroom renovation in 2020 may wish to take inspiration from some of latest bathroom trends in the UK. As with many areas of interior design, 2020 trends are expected to centre around the juxtaposition of technology and nature. In bathroom terms, this equates to earth tones and natural stone with app-controlled smart showers. Why not read on for further insights into the bathroom trends for 2020.
Future-Proof Bathrooms
It's estimated that home-owners renovate their bathrooms once every 11 years, so for those carrying out renovations in 2020, many are said to be looking for 'future-proof' options. Multi-generational households are becoming more common place, and with that brings a new priority towards providing bathrooms that are suitable for family members and homeowners of all ages and abilities.
The most effective way to achieve a future-proof bathroom is to install a wetroom. Known for their open plan, ease of access, wetrooms are designed to embrace the principles of lifetime homes and help provide a safe showering environment that meet the changing needs of homeowners and families at different stages of their lives.
Eco-Friendly Options
There is a huge emphasis on sustainability this year, particularly with the increasing presence of Greta Thunberg, and new environmental initiatives being implemented all over the world. Individuals and business owners alike are looking for more ways to be eco-friendly, and this year this is likely to seep into bathroom design. From water-saving showers and infrared-activated taps that allow you to minimise water waste, to installing a shower screen instead of vinyl curtain, 2020 is likely to see the introduction of a number of eco-friendly bathroom ideas.
Raw Materials
With regards to aesthetic bathroom trends in 2020, raw materials such as wood, brick and metal are expected to continue to rise in popularity. In a wetroom, this simple yet stylish look is easy to achieve by using one style of tile throughout the room. Choices like Grecian-inspired marble or sleek granite effect tiles offer a modern, understated look.
This bathroom trend is also likely to be present in bathroom accessories. Expect to see more drift wood style mirrors, stone furnishings, and humidity-loving plants.
Scandi-Style Bathrooms
In keeping with the raw materials trend, Scandi-style wetrooms and bathrooms are also on the rise. For those who are unfamiliar with Scandinavian design, it often centres on natural materials, block colours and minimalism. In a wetroom, this means incorporating wooden features, stone tiles and overall simplicity; no clutter. Use wall-mounted furnishings, enclosed storage, and few – if any – bathroom accessories.
Another important aspect of Scandinavian design is lighting. Perhaps because of the long stretches of darkness during winter in Scandinavia, interior lighting has long been considered an art form in the region. Lighting is often the main feature in a room; it should be interesting, effective, and perhaps most importantly, forgiving. In a bathroom this could include candles, dimmable spot lights, and lit mirrors.
Clever Storage
As new build houses get smaller, the need to optimise space increases. Another bathroom trend in 2020 is likely to be the use of clever storage options. In a wetroom, this can be achieved using high level shelving, floating sinks with incorporated drawers and shelving, and full length mirrored cabinets. In addition to serving as a generous storage facility, large mirrored cabinets offer the illusion of more space, which is another plus in a small bathroom. Find out more about maximising space in small bathrooms.
Smart Technology
As with most areas of modern life, the latest technology is likely to be incorporated into bathrooms in 2020. There are a number of smart devices that can be helpful in a bathroom or wetroom, from app-controlled showers that can also serve to preserve water, to smart mirrors that can be used like a computer tablet. With coding being included in the school curriculum today, new technological developments are being driven forward all of the time. Therefore it should be no surprise to learn that smart technology is being integrated into wet rooms on a regular basis…
For further design inspiration, take a look at our wet room design gallery to see what styles you like the look of.