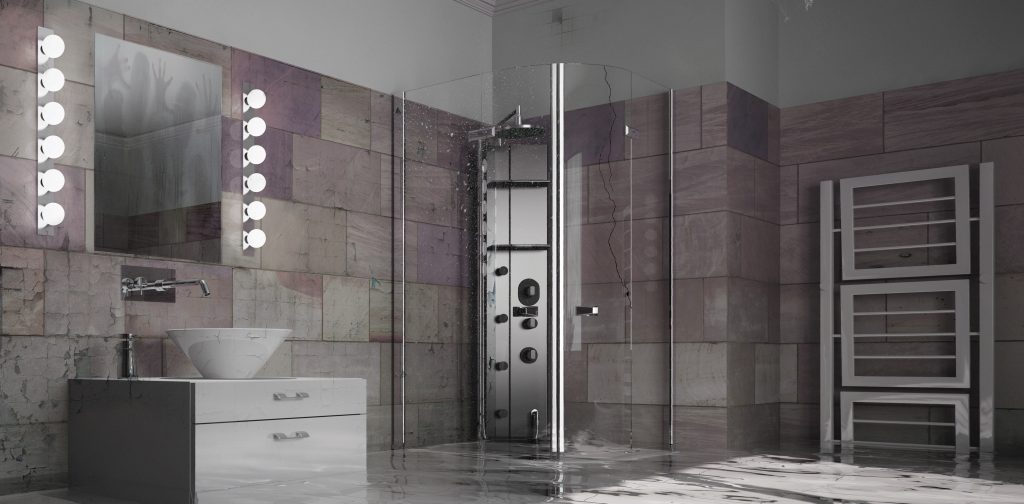 Wet rooms can be a great addition to any home. Not only are they stylish and contemporary, they're also practical and luxurious.  Looked after well, wet rooms can last a lifetime (or at least for the lifetime of your tiles).  That is, as long as you install the correct products, gradients and waterproofing….
Like many things, wet rooms can go wrong if not installed correctly and these affects can be devastating. At best, damp patches and unpleasant odours, at worst, loose tiles and flooding can occur. Fixing wet room problems can be costly, time consuming and disruptive. Due to the nature of the problems that can occur in a poor installation, the whole shower area and tiles will need to be lifted. This is highly inconvenient for customers and is likely to ruin their overall experience and faith in wet rooms. On commercial projects, the results can be even more costly…
But, fear not! Explore how you can prevent wet room disasters with our tips on installing a  watertight wetroom. These preventative measures will keep wet rooms functioning perfectly, well into the future…
1. Poor Drainage
Undoubtedly, one of the major causes of wet room leakages and issues comes from poor drainage. This could be the result of a drain that hasn't been correctly fitted within the floor or a drain that can't cope with the volume of water produced.
A drain that is unable to handle the correct water flow rates can lead to leakages if the water backs up and reaches untanked areas. It's important to consider flow rates when designing and installing a wet room in order to install the appropriate number of traps necessary. High performance showers with high flow rates will need up to three traps to help cope with the volume of water.
The position of the drain is also important. Many people prefer to install a drain against the wall that doesn't need to be stood on whilst in the shower. Not only is this more comfortable under foot, but also wont slow down the flow of water as it drains away.
2. Inconsistent Gradients
When you install a wetroom drain, it's important for your water to drain away efficiently. There's nothing worse than standing in a shower cubicle as the water rises around your feet! In a wetroom, a consistent gradient is required to ensure water drains away efficiently, particularly if a glass shower screen isn't installed. Without an accurate gradient, the water will not drain away efficiently and this will lead to pooling within the shower area. Not only will this ruin your showering experience, but it could prove to be a safety hazard as the chance of slipping is increased.
Fortunately, there are products you can use to ensure a consistent gradient. Whilst it's possible to form your own gradient or falls in the screed if you're laying a concrete floor, this is best left to the professionals. For those not confident with creating falls within the screed, our linear Screed Dec with a built in 12mm fall can be installed with a wetroom levelling compound (HBL-50) on to a concrete floor. On a timber floor, our Wet-Dec and Linear Wet-Dec floor formers with a built-in consistent fall, do the hard work for you. Installing a one or two way fall with our Modular Wet-Floor system, will also ensure an effective gradient in your wetroom.
3.  Incorrect Floor Depth
The floor depth must be considered when choosing a suitable drain for your wetroom. This is because a sufficient gradient within the waste pipe needs to be achieved in order for the water to drain away. In shallow floors below 70mm, this can be resolved by using a low-profile drain. Our Lo-seal trap is a perfect solution in instances like this, with a total height of only 55mm.
4. Waterproofing
The main cause of leaks is down to improper waterproofing. Before you lay down that beautiful tile or install the amazing new monsoon shower head, you will need to waterproof or "tank" the wet room. This involves encasing the entire shower area in a waterproof membrane. CCL Wetrooms recommend installing Tilesure Waterproofing & Decoupling Membrane onto the floors of a wetroom. Tilesure is a self-adhesive waterproof sheet membrane that is used prior to the application of ceramic tiles and natural stone onto timber and solid floors. The floors should be waterproofed to at least one metre beyond the shower area in all directions to ensure that water spray is fully contained. Splash from a standard shower head can reach up to 1200mm from the centre of the showerhead and an open plan wetroom without a glass screen or half height wall will do little to contain the water. Therefore, it is important that the floor is waterproofed beyond the shower area to prevent water escaping into the bathroom. The walls should also be waterproofed using FWM (flexible wall membrane) to a minimum height of 2200mm on all wall surfaces within the shower area.
At CCL Wetrooms, our wetroom drainage products come with a lifetime guarantee for added peace of mind. Our drains also come with a handy grill key, which can be used to lift the insert of the grill for cleaning. Our Linear Screed Drains come with Trap Guards, to help prevent a build up of hair from blocking the drain.
________________________________________________________________________________
There you have it! Prevent any nightmares happening with your wet room installation by following our top tips. Why not treat yourself to a wetroom this Halloween… For help with your wet room waterproofing and drainage needs, speak to CCL Wetrooms team of experts today.