Scandinavian style can quickly turn your small wetroom into a stylish haven and turn your wetroom into your favourite room in the house. Scandinavian interior design seems to be going nowhere in terms of popularity. Private homes, luxury hotels, cruise ships and leisure facilities all over the world continue to channel the Scandi style to create warm yet simplistic spaces. Find out how you can implement some Nordic bathroom ideas in your home, to achieve a new look. 
Nordic Bathroom Ideas: What is Scandinavian Design?
In general, Scandinavian design can be described as naturalistic. Think raw materials such as wood, stone, and metals. You'll find uncomplicated patterns, smooth lines, bold colours and feature lighting. Applying this in a wetroom setting should result in a very attractive and inviting space. We've taken inspiration from Scandi-styling and applied it to wetrooms, so learn how you can implement them simply. 
Feature Lighting
An important aspect of Scandinavian interior design is lighting. This should be soft and well thought out. In keeping with Scandinavian bathroom ideas, consider how to incorporate lighting that creates a comforting, warm atmosphere, while being practical at the same time. You should also consider how best to use the natural light in the room, such as with the presence of a big mirror, to reflect that natural light. 
View this post on Instagram
View this post on Instagram
Lighting should be a high priority in small bathrooms because it can be used to create the appearance of more space. The inclusion of a well-placed, large mirror will help natural light to flood the room, even if there is only a small window. 
Light, bright, and bold colours
Another common feature in Nordic bathrooms is to use light colours with bold features. This is especially useful for those who don't have a generous amount of space to play with. A useful Scandinavian small bathroom idea is to use a lot of white, creams, or understated neutral tones in order to make the space look bigger. This way, you can incorporate some exciting bold features in a way that doesn't make the room look chaotic. 
View this post on Instagram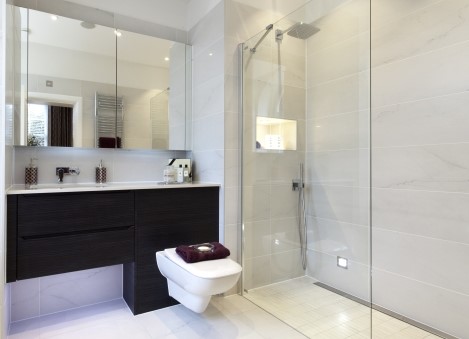 White and cream will also create a sleek and clean look, however, the wetroom will need regular cleaning to maintain this. Read our tips on cleaning a wetroom to make sure this doesn't become a dreaded task. 
Using natural materials
Throughout Scandinavian interior design, in any room, you will see elements of natural materials. In a bathroom or wetroom, this aspect works very well in the form of stone flooring, natural tiles, concrete walls and wooden ceilings. Just make sure that whichever materials you decide on are properly waterproofed.  
View this post on Instagram
View this post on Instagram
Thorough waterproofing is a vital part of wetroom design, and so if you do want to incorporate some natural materials be sure to carefully consider how this can be achieved. For further advice regarding suitable wetroom materials, see our guide to the best tiles for bathroom floors, and how to achieve a leak-free wetroom. 
Natural hygge accessories
In Scandinavia, the word 'hygge' refers to anything that engenders a feeling of cosiness, contentment, and wellness. Hygge is evident in a whole array of Scandinavian cultures, from interior design and fashion to food and party planning. In a bathroom or wetroom, incorporating the idea of hygge could mean adding accessories that simply make you feel good, such as plants, candles, and other decorative items.  
View this post on Instagram
View this post on Instagram
All you really need to do is think about what items make you feel happy or cosy. Do you have a favourite painting that could go on the wall or a prospering plant that makes you smile? The presence of these accessories will not only enhance your Scandinavian style bathroom but will also provide added comfort when bathing or showering. 
Small wetroom ideas
Those who only have a modest space to play with can still create an enviable small wetroom, complete with luxury Scandi-style design and fittings. In many ways, a small bathroom makes an ideal wetroom, because no space is required for bath and shower enclosures. Using clever storage solutions, slim-fit appliances, and design features such as mirrors and light colours, it's simple to create the illusion of space. See our small wetrooms guide for further inspiration. 
Big wetroom ideas
On the other hand, those who have plenty of space for a new wetroom or bathroom will find that the options are almost endless. Whether you choose one of the above Scandinavian bathroom ideas, something more traditional, or even go for the monochrome look, it's possible to turn your large wetroom into a relaxing space that you don't want to leave. You could even consider adding a bath to your wetroom – as unconventional as that may be – or some useful furniture. This can be especially useful for family homes. 
Scandinavian bathroom ideas are generally quite simple to incorporate into a wetroom design. While installing feature lighting or retiling walls will likely require the help of a professional, repainting, hanging mirrors, and finding space for some comforting accessories can be done by almost anyone, and will quickly make a big difference. If you like the idea of incorporating interior design ideas from other cultures, but you're not sure if Nordic bathroom ideas are the way to go, take a look at our Japanese Wetroom Ideas for further inspiration.