When planning a bathroom or a wetroom renovation it's important to think about what you want to achieve – what do you want the new space to look like? Whether in a private home or in a customer-facing environment, you need to thoroughly plan every detail. As well as sleek and stylish fixtures, a clean, luxurious look can be achieved with well-thought-out flooring tiles. Learn how to choose the best tiles for bathroom floors.
Choosing the best bathroom flooring
There are a number of things that are likely to cross your mind when choosing the best bathroom flooring option for your needs:
Cleaning. Most people want a bathroom floor that's easy to maintain and keep clean, especially if it's a wetroom that has a substantial footfall.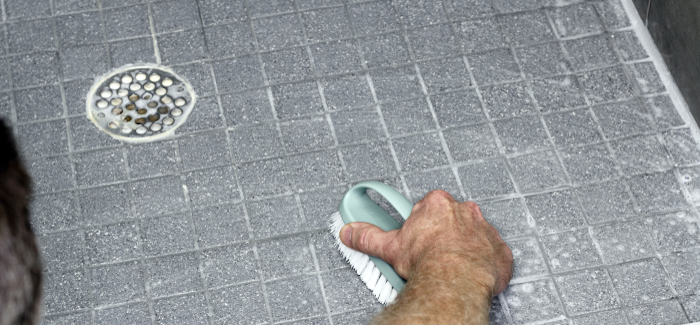 Aesthetics. It goes without saying that when choosing a bathroom floor, you'll want something that matches the style and décor of the room.
Durability. For wetrooms and bathrooms in the commercial sector, such as in a hotel or leisure facility, it's important to choose a floor that will stand the test of time.
Comfort. In addition to looking good, the flooring should be comfortable to stand on and ideally be non-slip.
Best tiles for bathroom floors
Tiles create a luxurious atmosphere, especially when the same style or look is used on both the floor and walls. This uniformity creates a sense of opulence with minimal effort, which goes hand in hand with the sleek appearance of a wetroom.
Types of tiles for bathrooms and wetrooms
 Natural stone tiles
Natural stone tiles are by far the best tiles for bathroom floors, for a number of reasons including their durability and their heat conductivity. Some of the most popular options are:
Marble
Granite
Limestone
Slate
Sandstone
Onyx
Shell Stone
Quartz
CCL Wetrooms' sleek Frameless Grill is particularly suited for use with natural stone tiles because this kind of grill has no metal border surround. This means that the edges of the natural stone tiles will be visible, thereby completing the elegant style of the wetroom.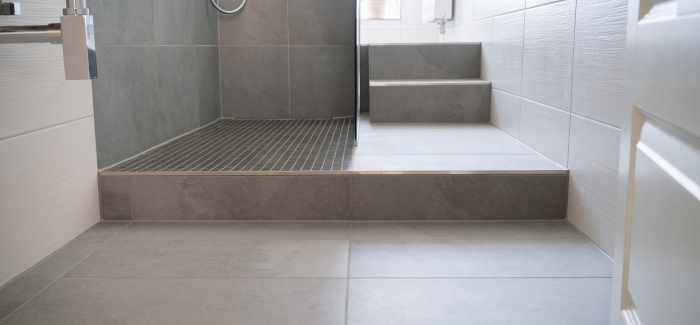 Benefits of Natural Stone
Aside from their opulent look, natural stone tiles also have a number of other benefits which make them an ideal option for bathrooms and wetrooms.
Natural stones are durable. They're heavy and can withstand a significant amount of wear and tear, which means they will last for many years without being damaged.
They're conducive to heat, which means that if underfloor heating is installed below, the temperature can be set relatively low and the tiles will still stay warm.
Natural stones are unique. Because they are made of naturally-occurring material, each stone is 100% unique, displaying its own pattern.
Once sealed they require little maintenance. Natural stones are easy to wipe clean or sweep, and because of their durability, they rarely need replacing.
Porcelain tiles
Porcelain tiles are much harder wearing than ceramic tiles and absorb far less water, typically less than 0.5%, making them suitable for both domestic and commercial applications. They offer a more precise finish, often with square edges that give a modern and sleek look.
They are generally harder to cut, however, the effort is worth the reward. There is an array of sizes, styles and finishes available, to complement any design. We recommend avoiding polished porcelain in a wetroom and look for a natural finish instead.
Ceramic tiles
Ceramic tiles, made with natural clay, sand, and water, are often a cost-effective wetroom or bathroom tile option which can still create a stylish and luxurious look. As man-made products, ceramic tiles come in a variety of colours and patterns. This means that the designer of the wetroom is able to dictate a more precise design specification.
Non-slip tiles for wetroom floors
Because of the volume of water, non-slip tiles for a wetroom or bathroom floor are essential. Mosaic-style tiles are often favoured because the grout lines help offer a non-slip attribute, plus the flexible, mesh backing of the tile helps if you need to create slopes around drains. Otherwise, it's possible to purchase anti-slip tiles made with textured materials. Find out more about picking the right wetroom materials.
Underfloor heating in a bathroom or wetroom
Another luxury to consider is the installation of underfloor heating, especially in a wetroom. Bathrooms can often be one of the coldest rooms in the house, but underfloor heating can quickly remedy this. It's subtle, yet effective, and often surprisingly affordable. Read more about the benefits of underfloor heating.
Choosing the best tiles for wetroom or bathroom floors involves a thorough consideration of the design you want to achieve. Is the main focus comfort, durability, or aesthetics?  Natural stone tiles are often the favoured option because of their beneficial features and luxurious look, which vastly complements the general sleek style of a wetroom. It should also be noted that it's possible to install a wet room on any floor type, so there's no need to compromise on style in favour of functionality.