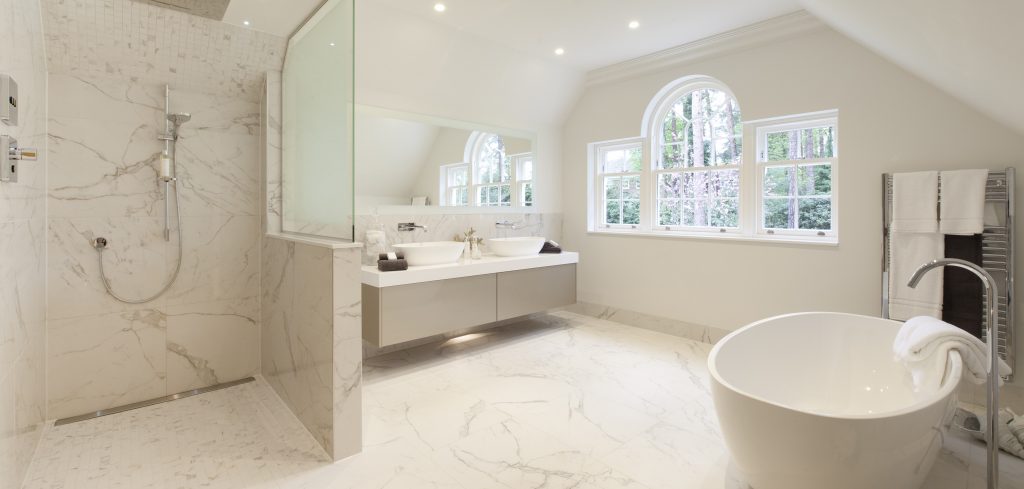 Having a home with a wet room has become increasingly desirable and adds a real sense of luxury to any bathroom space. With so many different wet room design options available, it's no wonder that interior designers are increasingly planning contemporary and stylish walk in showers into their wetroom design projects.
Wet rooms have soared in popularity for a number of different reasons. Not only can they be designed to complement all bathroom styles – from traditional ones through to fashionable, contemporary designs – they're also extremely functional. Contemporary wetrooms can be designed to make the most effective use of the available space, and can even incorporate architectural features, whilst delivering suitable drainage solutions that suit the floor build up. The simplicity of a wetroom means that they are also easy to maintain. With so many of us leading busy lives, a minimalistic wet room saves us those precious minutes in the mornings. Easy and quick to clean, a wet room is a seamless modern addition to any home.
Achievable Luxury
Having a small piece of luxury in your home that gives you a "boutique hotel" feel, is very popular nowadays. For an interior designer, this kind of style can be captured through the installation of a walk-in wet room shower. High quality fittings and fixtures, ambient lighting and stunning natural large format tiles, all help to create a high-end, luxurious bathroom space. Whilst the aesthetics of a wetroom may feel out of reach for many homeowners, the beauty of a wetroom is that installing one in your home is now an affordable option.
When designing the layout of a wetroom, interior designers have creative freedom to tailor the design to the exact needs of their clients. Rather than feeling limited by what they can achieve within a bathroom space, a wet room opens up options to combine functionality with aesthetics.

Maximising Space
For an interior designer looking to maximise space in a bathroom, a wetroom can be the ideal solution for transforming the room. The majority of wet rooms make use of a simple glass screen which removes the need for a shower curtain and helps open up the space. In addition, wet rooms provide level entry showering and without barriers or steps to have to manoeuvre, a wetroom is accessible to all. This creates uninterrupted lines and floor space, helping to push the walls out and create the illusion of space.
Inclusivity Approach
Installing a wet room also ensures that you're adhering to the principles of the Inclusive Design Standards. Especially in modern builds, this means that bathrooms should be designed for use by anyone, regardless of age or mobility. For an interior designer, the inclusion of a wet room ensures that these standards are met and upheld.
The Disability Discrimination Act (DDA) is vital to consider when constructing any kind of public space or building. With wetrooms helping compliance with the DDA, interior designers will often include them in such projects to ensure the standards are met.
Added Value
The addition of a wet room within any kind of living space is a sure-fire way of adding value. For an interior designer, the desirability of a wet room makes it an obvious choice when designing a contemporary bathroom environment. A wetrooms' ease of maintenance, accessibility and stunning aesthetics will certainly add to its saleability.

Beautiful Functionality
A wet room is the perfect balance between design and function. At CCL Wetrooms, we specialise in the design, manufacture and supply of contemporary drainage and waterproofing solutions to create your ideal wetroom. We have wet room solutions to suit every floor type. Our Linear Screed Drain is perfect for concrete or screeded floors, whilst our Modular Wet Floor System enables any size or shape of wetroom to be created on a timber floor. Both systems are available with contemporary linear drainage including Stone-Infill Grills and stunning Frameless Grills, to give a stylish finishing touch to your wetroom .
Take a look at our gallery for more wet room inspiration!