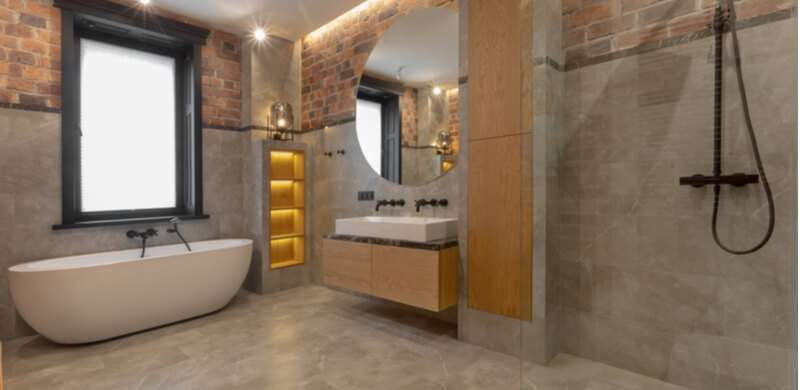 When looking for ways to upcycle or improve your home, a bathroom can be a tricky room to garner inspiration for. After all, this space is most often about function over fashion, and they can be one of the harder rooms to redecorate.
If you want to gain inspiration for your bathroom or wetroom renovation this year, look no further, as we've rounded up some of the most popular trends, and some new breakout ones you can expect to see in 2022.
What Are the Trends for Bathrooms and Wetrooms In 2022?
There are some key trends in wetroom and bathroom trends to keep in mind for 2022, including:
Marble surfaces, especially walls
Natural materials
Plants and connections to the outdoors, also known as 'biophilia'
Gentle lighting that feels calming
Dark colours
Use of tiling on walls to create features of interest
Retro features with a modern twist
#1. Marble Surfaces and Walls
Marble tiling or marble texturing has been an upcoming trend for a few years, but it's now considered as one of the most popular bathroom and wetroom features for a luxe finish. From celebrity hotel suites to penthouse wetrooms, marble in its many forms is used for the ultimate wetroom experience.
While some designers use marble as an all over feature to create a fully formed space that feels encapsulating, others are using various tones of it to highlight different features. Some designers are even using a dark toned feature wall made of marble tiling to add some clean but interesting colours and features to bathrooms.
Marble is no longer just for floors in 2022; it's being used in large tile patterns across every surface in wetrooms and bathrooms.
Take a look at this idea of using complimentary marble tiling across a bathroom to add light and shade without seeming overly complicated.

#2. Natural Materials
With an international growing focus on sustainability, it's no wonder that natural materials are one of the top trends, and have been for the past few years.
Whether using driftwood for a bathroom cupboard, glass shower screens instead of a shower curtain or wood panelling or natural stone on walls, there's many ways you can add in natural materials to your bathroom or wetroom. And, most importantly, it doesn't always require a full rework, as you can retrofit many aspects of natural design.
Natural materials cover such a breadth of options, can also complement any kind of taste, whether contemporary, futuristic, minimalist or maximalist; it's an incredibly versatile material.

#3. Biophilic Design and Outdoor Connections
In perfect harmony with natural materials, plants and outdoor connections are a growing trend, which is partly in response to the several national lockdowns and people spending more time in their homes. Having plants was a perfect way to have something to care for and watch grow for those who can't have pets or children, and bathrooms are the perfect place for plants to grow.
As well as adding something visually exciting to look at, plants, whether in your shower, placed on surfaces or of the larger floor plant variety can improve air quality and absorb excess moisture.
Nowadays many people are even choosing to connect their bathrooms with the outdoors by using bi-fold doors protected by high walls and hedges or similar. It's a great way to naturally ventilate, while providing a deep connection to the outdoors.

#4. Gentle Lighting That Feels Calming
Thanks to technological advancements in lighting, especially LEDs, you can reduce the kWh usage of your home while creating a more ambient space. With the clever placement of light strips and by choosing a comfortable temperature, you can create ambient lighting that makes for a relaxing space.
Rather than the traditional bulb at the centre of a room, consider multiple smaller light sources around the room. For example, a room of LED strips around the sides of cupboards and the edge of the room, you can light the room from multiple sources, allowing for gentler light but still full visibility.
#5. Dark Colours
Using darker colours, whether as the main palette or as a contrasting colour scheme, is becoming more popular. Retro colours like blush roses and avocado greens are still popular, but so are deep navy hues, blacks, and dark browns. These darker colour schemes feel almost contemporary and futuristic, but complement metals like brass and golds, both of which are becoming ever more popular.
To add colour into your wetroom or bathroom, you have a few options. You can add tiles into a specific area, use dark accessories or add dark metals in, such as brushed chrome, or coloured metals. Think outside the box when it comes to design, as the striking contrast of the dark tones added to an often-white suite will stand out. Maybe consider laying tiles in a different pattern, with a variety of matte and gloss or going for a dark purple, red, blue or other rich tone.
#6. Use of Tiling on Walls to Create Features of Interest
Tiles are no longer a simple one colour pattern. In 2022, tiling will be about shapes, patterns and multiple colours.
It's a way to add core focal points and create visual variation in a room that can otherwise feel uninspiring and simplistic.
Terrazzo tiles, where multiple flecks of colour are included with a background of a block colour, are becoming more popular and have moved from the living room into the bathroom.
Uniquely shaped tiles are also being used not just as flooring but decorative splashbacks, shower walls and to create sectioned wetrooms. Especially in wetrooms, contrasting unique tiles can be key to a holistic finish.
#7. Retro Features With a Modern Twist
As popularity in renovations grows, especially with many people now working and living in their homes, many retro trends are coming back into fashion. Homes that were 50 or more years old are being turned into modern, family friendly homes, whereas others are choosing to retain the original features, leading to a growing trend of retro bathrooms, but with a modern twist.
A key point of this is the blush pink and green colours that have become increasingly popular. The shade is reminiscent of the late 30s into the early 50s, with tiling and colour schemes similar but not without a modern spin, such as biophilia, or wetroom additions.
Are You Looking to Create Your Ideal Wetroom in 2022?
Speak to the team at CCL Wetrooms, and with our wetroom design service, we can create a wetroom that is on trend and to your specifications.