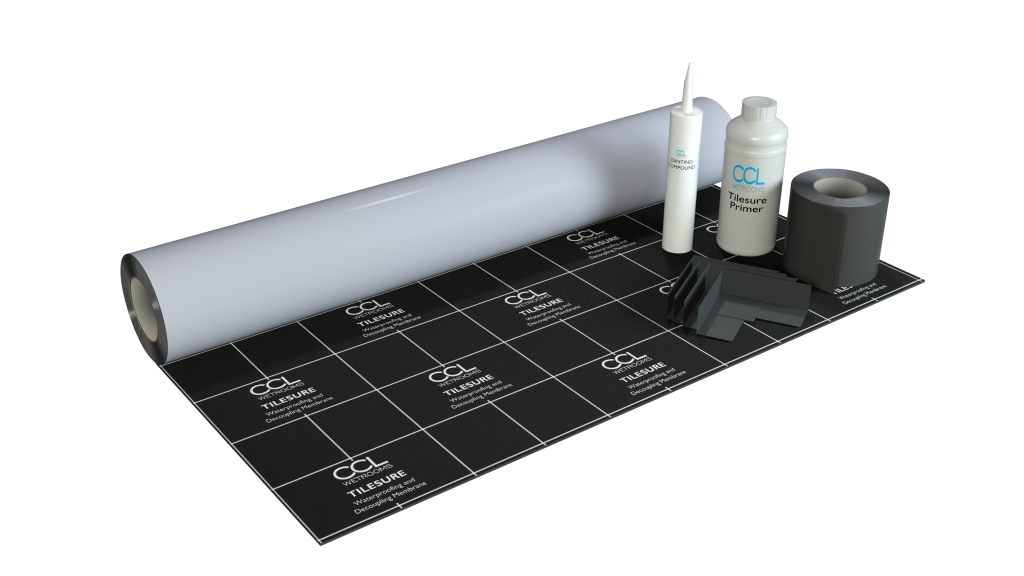 CCL Wetrooms are proud to introduce Tilesure Waterproofing & Decoupling Membrane – our latest innovation in butyl wetroom tanking membranes. Tilesure is an evolution of the market leading RIW Tilesafe bitumen based membrane, which has been developed to provide a comprehensive wetroom tanking solution on solid and timber wetroom floors.
Developed specifically for use in bathrooms, wetrooms and similar wet areas, Tilesure is a 1.4mm butyl based membrane with a copolymer layer, providing an excellent surface for the adhesion of natural stone, porcelain and ceramic tiles.
The new Tilesure membrane has superior decoupling properties of 12mm, ensuring that any movement in the floor substrate is accommodated, thus preventing the grout and floor tiles in the wetroom from cracking.
Tilesure is supplied in kit form and can be installed simply and easily on site at all temperatures. The easy peel release liner aids its installation and allows the top layer to be walked upon prior to the application of floor tiles. As Tilesure comprises a sticky layer on the underside of the membrane only, more efficient working practices for following trades can be employed onsite.
Tilesure is supplied in kit form for easy ordering and is available in 5m2 and 10m2 kits to suit your needs.
Features of Tilesure
Features of Tilesure include:
1.4mm self-adhesive butyl membrane with a copolymer layer and polypropylene top fleece
Decoupling properties of 12mm
Quick and easy to install
No curing time – ready to tile immediately
Suitable for timber and solid floors
Supplied as a kit
Factory controlled thickness
Lifetime Guarantee
Benefits of Tilesure
Benefits of our new butyl membrane include:
Creates an entirely waterproof barrier across the floor to guard against potential leaks
Compatible with epoxy and solvent based sealants and adhesives, including silicone
Decoupling properties bridge the tension from the substrate and ensures they are not transferred to the tile covering
Compatible with underfloor heating
Provides a lifetime waterproofing guarantee for the life of your tiles
Suitable for use in all wetroom situations
Highly durable & flexible
Can be successfully installed in warm or cold environments
More malleable than bitumen at low temperatures
Butyl FAQs
What is butyl?
Butyl is an ideal product for use in wetroom tanking. It is flexible, reliable and when installed correctly, is entirely waterproof. The main component of hot melt, pressure sensitive butyl adhesive is butyl rubber.
Butyl rubber is an elastomeric copolymer of isobutylene and a small amount of isoprene. This polymer has unique low air, moisture and gas permeability, as well as good chemical and weather resistance.
What is butyl made of?
Butyl is a non-toxic composition of calcium carbonate (chalk) and synthetic, manmade rubber. The hot melt butyl membrane is made of butyl rubber, modified with tackifiers, plasticisers, fillers, additives and pigments.
How is butyl manufactured?
All components are mixed together at a high temperature and milled, before extrusion. The hot melt butyl used in our membrane is produced using a continuous twin screw extrusion process, before the non-woven polypropylene fleece membrane is applied.
Environmental benefits of butyl over bitumen
Butyl is solvent free and is therefore less flammable than bitumen-based products. It also has better age resistance than bitumen-based products, resulting in the membrane having a longer life. The use of clean polymers in the production of Butyl ensures less environmental impact.