The right layout for a small bathroom can turn a cramped space into a cosy, practical one. Depending on the shape of the room you're working with, you can get some fantastic results and prove that size isn't everything!
The best bathrooms have the perfect mix of practicality and atmosphere. They provide the light levels you want (whether soft and cosy or light and airy) and give you a sense of practical space.
Top tips for small bathrooms
There are a number of style options available to make the most of your small bathroom. Thanks to modern technology, there are also a wide range of technical solutions that help overcome the challenges of a small bathroom, too.
Add mirrors
Mirrors create the illusion of space, which makes even the smallest bathroom look larger. The problem with mirrors, however, is that wall space is at a premium in a small bathroom. You need to balance the practical benefits with the visual appeal. Alternatively, you could combine the two.
Bathroom cupboards with mirrored doors can double up as space-creators and space-savers. This makes them ideal for many small bathrooms.
Use space-saving utilities
Wall hung toilets that are mounted on the wall and floating sinks are two essential modern conveniences for small bathrooms. When the toilet cistern is built into the wall, your bathroom layout gains several more inches to work with. The same goes for a floating sink or basin that doesn't eat up any essential space on your floor plan.
Lose the bath
Baths take up more than twice as much floor space as a shower. If you're designing the layout for a second bathroom, consider putting a bath in the main bathroom and a shower in the small bathroom.
If you must have a bath (particularly if you have a young family), the best location for it will depend on your bathroom shape. It you're working with a long and thin space, try to position the bath at the end of the room. If your room is more evenly proportioned, make sure your layout makes the best use of space and can be as economical as possible.
Use glass
Instead of walls or opaque partitions for showers, use glass. The continual view emphasises the size of the room, while providing the practical necessity of a shower screen. Other considerations include a sliding glass screen to allow easier access and retractable shower curtains.
Make use of walk-in showers
Just like glass, a continuous floor helps emphasise a sense of space. Having the option to include a walk-in shower helps make a small bathroom appear larger. The lack of a shower tray also gives you more flexibility in your bathroom layout and enables those with reduced mobility to manoeuvre into the shower more easily without the worry of trip hazards.
Many shower trays are prefabricated, meaning they only come in standard sizes. Removing that restriction allows you to make the most of unusual bathroom layouts with unconventional shaped walls and alcoves.
Turning your small bathroom into a wetroom is an ideal way of creating a seamless floor and a larger-looking space, whilst not to mention, the benefits to the whole family of providing an accessible contemporary showering space
Think vertically
As mentioned, the walls are ideal areas for towel rails, shelving or mirrors in a small bathroom. If you do have a bath as part of your bathroom design, remember to use the walls around the bath.
The same goes for the space over the toilet and your shower partitions.
Be smart with door space
Opening a door uses up a huge about of space. Make better use of that space by installing a folding, sliding or pocket door. This gives you far more flexibility when it comes to your bathroom layout.

#1 Vertical Space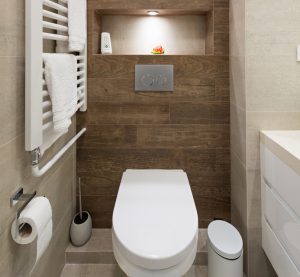 This layout demonstrates the use of vertical space in a small bathroom. A wall niche or shelves over the toilet provides opportunities for storage, whilst the heated towel rail occupies a space that's often wasted in a bathroom.
The toilet is wall-mounted, which allows for more floor space. This gives users great accessibility and more of a sense of space.
This is further demonstrated in the choice of storage. Choosing drawers without handles might seem like a small thing, but in practical terms, it does a great job of creating space through minimalism.
#2 Remembering What's Important
This layout is for a main bathroom and as such, the walk in shower takes centre stage. The level access continuous floor creates a sense of space, while the rainfall shower head makes the most of a modest shower area.
A simple basin and mirrored cupboard supply the other essential components. The floating basin also provides additional room for a small drawer, increasing storage.
#3 Using Awkward Space Effectively
Glass partitions create a generous sense of space. However, solid walls allow for additional structural support and storage options.
This galley bathroom layout positions all of the essential components on the left, which creates an open space on the right.
By combining this layout with white walls and clever lighting, you get more mileage out of your bathroom space than using both walls would.
---
Choosing the right layout for your bathroom is certainly a challenge. When space is at a premium, it's important to make the most of it. Explore our gallery for more inspiration.