The question of whether or not to remove your bath and install a full wetroom is often controversial among estate agents. Depending on the market you're selling into, the decision to renovate your bathroom can certainly have an impact on the sale of your home. Families with young children might prefer a bath over a wetroom, while young professionals and older buyers may favour a wetroom.
Does a wetroom add value to a house?
Wetrooms add a luxury feel to your home, which will increase its value. To maximise this, wetrooms are ideal as an en-suite or second bathroom. It's estimated that adding an extra bathroom can increase the value of your home by up to £15,000 and offer lots of room for flexibility.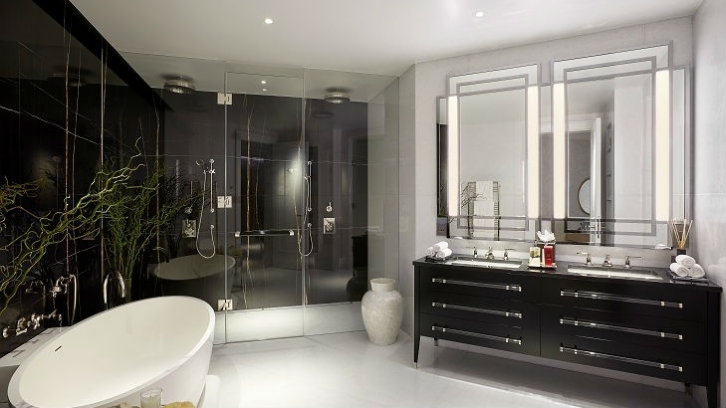 Wetroom Renovation Options
Some people have a preconceived idea that a wetroom will always look clinical, or like a generic hotel bathroom. The fact is, however, there are a number of options you can consider when designing your perfect wetroom.
Keeping it simple
The trick with bathrooms is simplicity. Less is more and space is king. Optimise your storage options and maximise wall space by using floating shelves and rails. This will create more floor space, making the bathroom feel larger and more luxurious.
Elegant features
When it comes to renovating, you don't need to do a lot with a wetroom, but you can be clever with your features. Fitting a rainfall showerhead and wall-mounted spray nozzles to your shower can easily make your wetroom appear much more attractive to prospective buyers.
Atmospheric Lighting
Carefully appointed lighting also creates the feeling of luxury and grandeur, which in turn boosts the value of your property as a whole. Use a mix of lighting, such as LEDs and spot lamps to create ambient moods and highlight bathroom features.
The Plumbing
Old bathroom pipework can become furred up, leading to poor hot and cold flow, knocking or rattling sounds. At worst, this can lead to burst pipes. If you're renovating your bathroom into a wetroom, consider a pressurised plumbing system – rather than gravity fed – as this eliminates the need for a header tank. This will free up space and ensures good pressure on both the hot and cold supplies. Renovating the plumbing is a job many homebuyers dread to have to undertake, so doing it yourself can make your property much more attractive.
Benefits of a Wetroom to Homeowners
Everyone can enjoy maximum usage from a wet room.
For those with young children . . .
Young families will love the convenience of having a wetroom in the home. It will be smiles all round when the little ones can have fun getting washed without any hassle from Mum and Dad about soaking the bathroom floor!
For those with mobility issues . . .
Homeowners in retirement, or anyone with mobility problems, may find bath time a struggle – especially when it comes to getting in and out the bath. With a wetroom, you can enjoy the simplicity of being able to wash in a space that is all on one level. The convenience of the open area is ideal for wheelchair users too.
For those who prefer showers to baths . . .
For anyone who is simply not bothered about having a bath, you will be amazed at how much bigger your bathroom looks without a tub taking up all that unused space. A wetroom is perfect for bringing a contemporary look and feel to your bathroom.
For those who hate cleaning . . .
And if you still need some convincing, think about how much easier wet rooms are in general to clean: with the addition of wall-hung toilets and sinks, the entire floor can be mopped in a matter of seconds. You can't beat convenience like that!
Making the Decision to Install a Wetroom
There are benefits to having a wetroom for both homeowners and those selling their home. In addition to being stylish and easy-to-clean main second floor bathrooms, they are also ideal for smaller second bathrooms, ensuites or even for larger downstairs toilets. For more ideals on bathroom renovation, check out our gallery