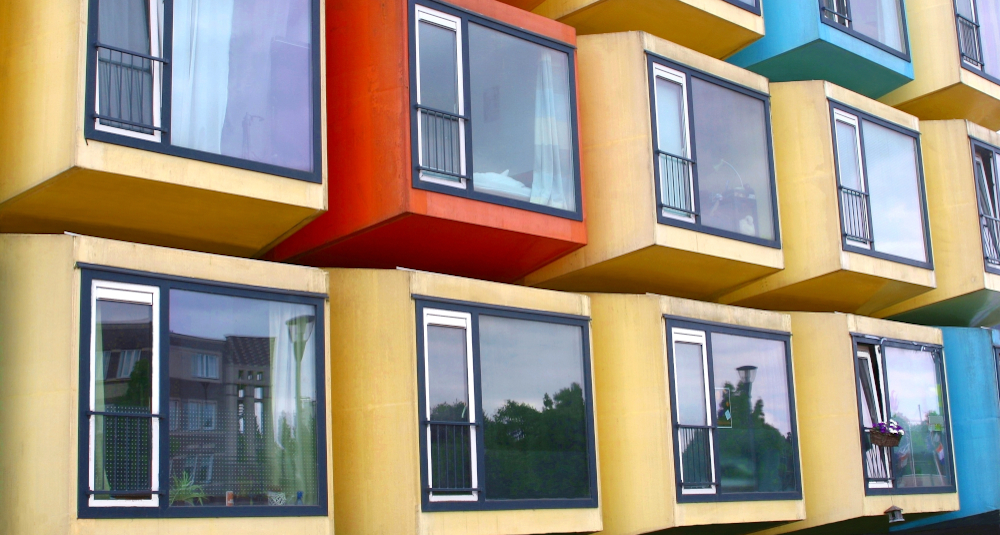 Offsite modular construction could be considered the answer to an increasingly expanding population and  limited housing stock. Improvements in design and adaptability of modular building as a construction method is making modular build properties more attractive to developers. They save on labour shortages and rising material costs, too. As such, offsite construction is on the increase and brings with it some key benefits.
What is modular building?
Modular building can take many forms. Off-site manufacturing can range from the more traditional, flat-pack, pre-fab house, through to fully finished components or pods (for example, a fully-fitted bathroom pod), as well as panelised systems and facades.
The broad range of techniques means there is no uniform way to undertake offsite modular construction. This flies in the face of the criticism that modular buildings mean homogenised cities and "identi-kit" housing stock.
Modular buildings are extremely versatile – they can be used instead of conventional methods on a huge range of different projects. Today, modular buildings are commonly used for the construction of temporary, long term and permanent buildings across a huge range of different sectors, including:
Education
Healthcare
Housing
Public sector
Apartment blocks, offices and mixed-use buildings
Hotels
Industrial facilities
Commercial buildings
Benefits of Offsite Construction
1. Low build times
Modular building projects can be completed 30-50% quicker than traditional construction methods. By choosing to build modular, the indoor construction process can take place simultaneously alongside site and foundations work, and there's no need to worry about weather delays. Specific rooms or pods, like the kitchen and bathroom, are delivered to site and slotted into place when they're ready.
In one example, in California's Napa Valley, 1,300-square-feet structures are being assembled in a mere four hours—from foundation to turning the lights on.
2. Minimal impact on site
The beauty of building modular is that it removes 80% of the construction activity away from the actual site location. This makes it ideal for renovations to working/lived-in properties. You can continue most of your regular activity while the build goes on without disruption.
3. Flexible designs
One of the main advantages of modular construction is the bespoke design, which means that each building is tailored to your needs. Modular buildings can be custom-made to fit with your exact space and budget requirements.
Thanks to the bespoke design, modular buildings are extremely flexible. Whether you need extra space for a garden room, office, studio, school classroom or music room, modular buildings can meet your requirements with the perfect flexible extra space.
4. High-quality construction
The nature of indoor construction means that quality and safety is guaranteed and the building materials are protected from moisture and weather during the construction process.
Modular buildings are kind to the environment – they are usually built with eco-friendly building materials and are leading the market with the use of recycled materials. The off-site construction process ensures less waste, too. One of the benefits of modular construction is that you can be sure that you are investing in a sustainable construction process from start to finish.
5. Durable materials
Modular buildings are constructed with the most durable building materials to ensure that your modular construction is built to last. The materials used for internal walls improve sound insulation and fire-proofing, and modular building structures are extremely airtight which ensures their energy-efficiency.
6. Cost-effective builds
Modular constructions are very cost-effective, with flexible payment options available and a shorter construction time. The design service is often included too so you don't need to worry about architect costs on top of building expense.
Offsite Modular Construction today
These factors have made modular construction well suited to larger scale projects such as hotel and build to rent schemes that allow rental income to be realised as quickly as possible. Last year, the Mayor of London approved plans for a 21 storey building in Croydon using modular construction and offering 100% affordable housing.
The government's enquiry into off-site manufacture for construction is currently underway, exploring how the construction industry productivity can be improved. It will also consider how the governments public procurement policy may need to change to encourage economically and environmentally sustainable practices facilitated by off-site manufacture. Offsite Modular Construction is the future.