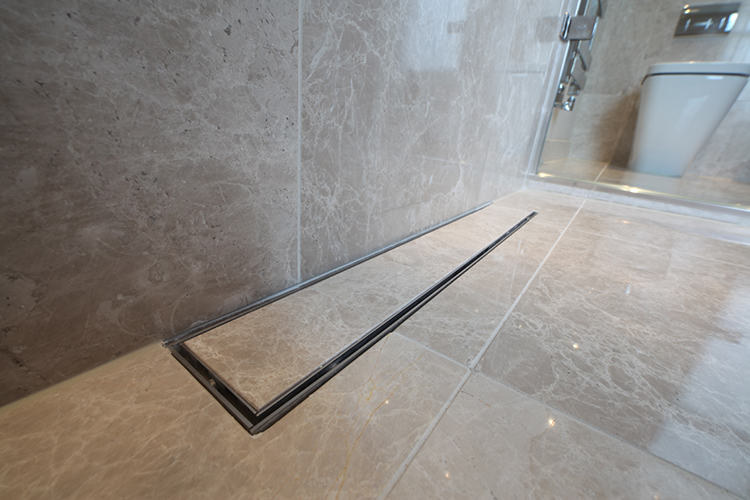 Creating suitable drainage for a wetroom constructed on a concrete floor is easy to achieve with the Linear Screed Drain from CCL Wetrooms. The Linear Screed Drain with Lo-Seal trap technology, comes with one, two or three traps to cope with flow rates of up to 70 L/min. Now available with a floor drain or wall drain option, the Linear Screed Drain comes with a Lifetime Guarantee and creates a stylish contemporary finish to your wetroom. The market leading drain features the shallowest BBA approved waterless trap on the market and comes with a choice of five stylish grill finishes to complement your wetroom tiling scheme perfectly.
Advantages of Linear Wall Drains
The Linear Wall Drain is installed flush against either of the shower walls to create a stunning unobtrusive finish. It is the perfect option for homeowners who would rather not stand on a drainage grill in their wetroom.
The one way fall to the drain is created directly into the screed or by installing a floor former with a built-in gradient such as the Linear Screed Dec. The beauty of installing a wall drain is that it is simple to tile (especially with contemporary large format tiles) and requires no difficult or unsightly tile cuts around the drain.
The Wall Drain is available in standard lengths up to 2000mm, whilst bespoke wall to wall grills can be manufactured using our Fast Track manufacturing service and are designed to be installed along the full length of the shower wall.
Today's modern wetrooms aim for a minimalistic look, with elegant clean lines and lots of space. Wall drains are a simple way of achieving a contemporary stylish finish with a practical drainage solution.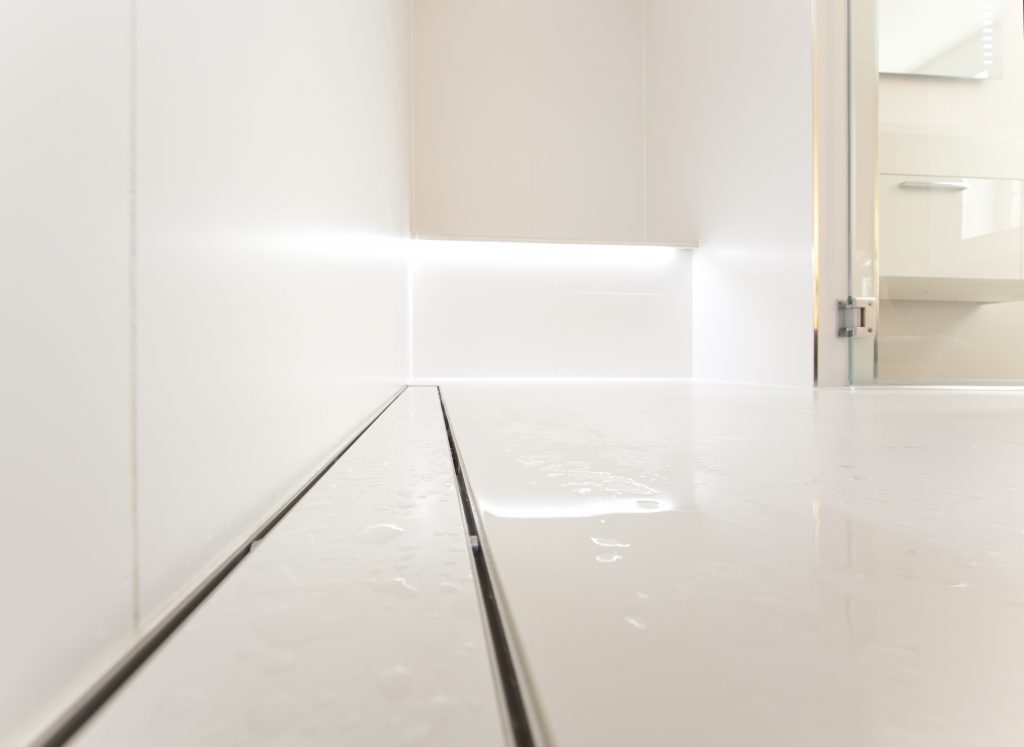 Wall Drain Grill Specs
The drainage grills fit to the drain body using 8 pre-set fixing points and are independently height adjustable in 1mm increments to suit different tile thicknesses.
The final position of the wall grill is also independently width adjustable by up to 38mm, allowing the grill to be neatly positioned up against the wall after the drain body has been installed, for a perfect unobtrusive finish every time.
Wall grills are manufactured in 316 grade stainless steel, ensuring a stunning high quality durable finish.
The Wall Drains are available with five stylish grill finishes – Solid, Oblong Slotted, Square Slotted, Stone-Infill and Frameless.
There are 15 standard lengths of wall drains available up to 2000mm. Bespoke lengths are also available using the Fast Track Bespoke Drain Service, which enables a bespoke grill up to 2000mm in length to be manufactured and delivered to site within 3-4 days of placing the order.
To find out more about our Linear Screed Drain, including technical specs and sizes, why not get in touch on 0844 327 6002.