When you have a baby or young toddler, having a hazard-free bathroom or wetroom is essential. Reducing risks around the home is often a top priority for parents, especially as babies start walking. Babyproofing your bathroom will change both how you envision this space and how it gets used. Cluttered counters, slippery floors, hard and potentially dangerous objects and surfaces – babyproofing starts with the realisation that your bathroom might be teeming with all types of hazards.
There are some babyproofing essentials that should take a high priority. Everything from reducing the likeliness of slips to greater temperature regulation, there are changes that you can make to ensure your bathroom or wetroom is a safer environment for a baby.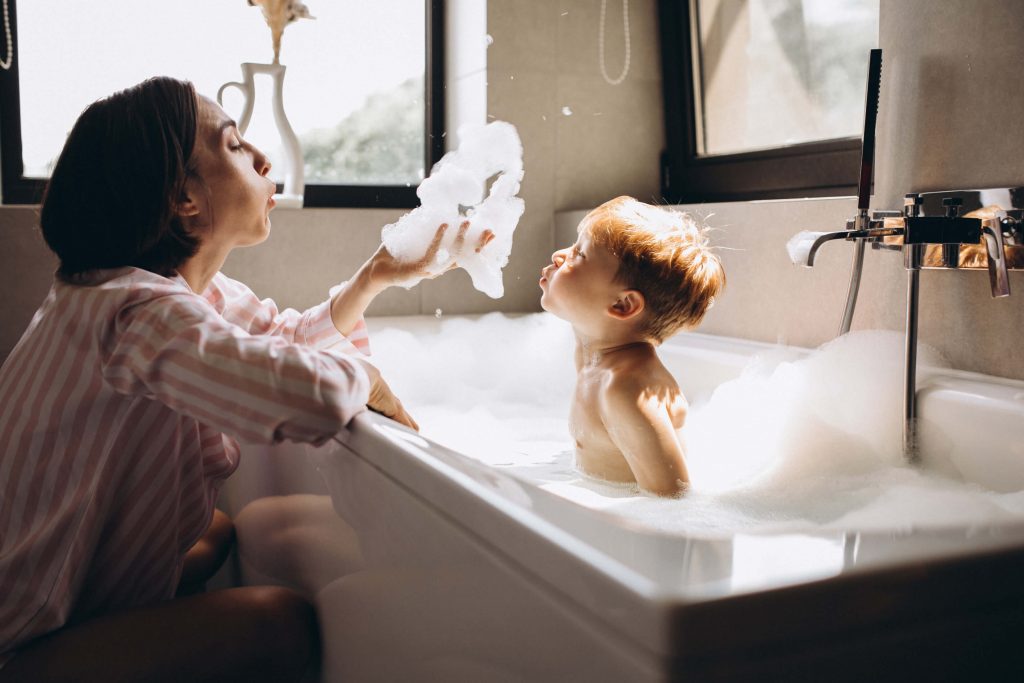 Babyproofing Wetroom Ideas
As a high-risk area, babyproofing a bathroom requires creativity in strong measure. Optimising for safety in a bathroom is easier when you know where to focus your attention.
Aside from obvious risks, like electrical items and sharp corners, babyproofing should consider the hazards that are unique to bathrooms.
1. Non-slip tiles (and mats)
Bathrooms are often associated with slippery surfaces. If it's not properly drained, runoff water can spill and become trapped, causing surfaces to become dangerous. This increases the likeliness of slips, trips, and falls.
Wetrooms, however, are designed to mitigate these problems, and have sophisticated draining that helps remove water. Amongst its many features, wetrooms often use higher traction flooring, such as textured ceramic tiles, which helps reduce the likelihood of an accident like slipping.
How can you avoid slippery floors and surfaces around the bathroom?
There is a resolution to slipperiness, and, with some proactive planning, parents can make their bathrooms even safer with non-slip tiles. Choosing the best tiling for your bathroom is no easy feat. To make it simpler consider more than style and understand how durability and non-slip can make your bathroom last longer and feel safer.
Try using non-slip tiles to reduce overall risks, and non-slip mats to target areas that typically get the slipperiest. With wetroom designs, features like clever drainage and ventilation solutions means that water and moisture content is better managed than in a conventional bathroom.
2. The Role of Radiators
Radiators are a key area of your bathroom. Not only do they help regulate temperatures, but they can be covered to soften or hide obtrusive or hard surfaces. Even common issues like overheating can be avoided when parents know what to look out for.
· Regulating temperature
Bathrooms can quickly become uncomfortable for a baby if steam is trapped. That's where ventilation can regulate temperature, even if that's as simple as an open window. Try keeping your wetroom cool and comfortable, so your baby learns to enjoy bath time.
Overheating can become a health and safety risk, especially if it can cause burns. This applies to bath time, where parents will want to check the temperature of the water, too. You can use the 'elbow test' by dipping your elbow into the water to test if it's appropriate for your baby. Focus on creating a pleasant atmosphere and this will encourage them to enjoy bathing.
· Cover Metal or Hard Radiators
Hard radiators, such as those made from metal, can be safely covered to protect from unwanted accidents. Blocking a radiator can reduce airflow, so it's worth investing in one that creatively solves the issue of hard-surface covering.
Identify hard surfaces and edges and plan to buffer these zones, so you're wandering toddler can explore and be curious without these risks. Buffering edges should go beyond radiators and parents should also consider shower screens too.
· Creative Radiator Solutions
In terms of heating solutions for wetrooms, you can nominate a range of creative solutions that mean you don't have to worry about hard protruding surfaces. The likes of underfloor heating, or towel radiators can mean that your design is less cluttered and features fewer potential hazards.
Towel radiators, for example, have higher ground clearance and can be run more efficiently than conventional heating solutions. Meanwhile, underfloor heating is a creative way to introduce heat whilst reducing risks. Think about how you heat your wetroom because this will impact how you baby-proof. Underfloor heating can also help to dry up any excess water on the bathroom floor that could be a potential slip hazard.
3. Declutter Your Space
Creating greater ground clearance, fixing (and reinforcing) furniture to walls, and then general organisation can help limit the role of risk in your bathroom. Creating ground clearance, for example, is helpful to buffer edges and reduce clutter. With a more organised space, your baby can more confidently roam with fewer hazards.
Babyproofing should entail regular clean-ups, which goes beyond hygiene and becomes a task of organising your wetroom.
Clean, uncluttered wetrooms will not only make your aesthetic look better but minimizes tripping and other hazards.
With a focus on these three areas – reduce slips, regulate temperatures, and declutter time and again – parents and households can narrow in on hazards and better babyproof against them.
When is it Time to Babyproof Your Wetroom?
As babies tend to crawl, and they can be kept and looked after in different rooms in your home, it may seem tempting to babyproof your bathroom last.
Parents are encouraged to begin babyproofing before their baby arrives. There are several reasons why this is the most effective time to babyproof your bathroom or wetroom.
Busy Households
On the arrival of a new-born, parents will be busier than before. Most of your energy and focus will be caring for a child, so you may miss the opportunity to prepare your home for children.
Extra Time Helps
Generally, the more time available to babyproof, the less stressful the experience is for parents. The sooner that parents can babyproof, the less likely you are to miss any areas, ensuring your home is safer.
Research, Learn and Plan
Babyproofing a bathroom or wetroom is no small feat. This is because a baby can get into all sorts of places that parents don't expect. You should plan to cover the basics, including adding safety measures in creative ways that prevents injuries or accidents.
You may need to revisit the kinds of safety measures you use after the baby arrives.  It can be effective to babyproof when you understand your baby's habits and the places they're likely to get into.
If you're looking to switch your bathroom into a safer environment, like a wetroom, you can get help from the specialists. Get in touch with CCL today to discuss your needs.