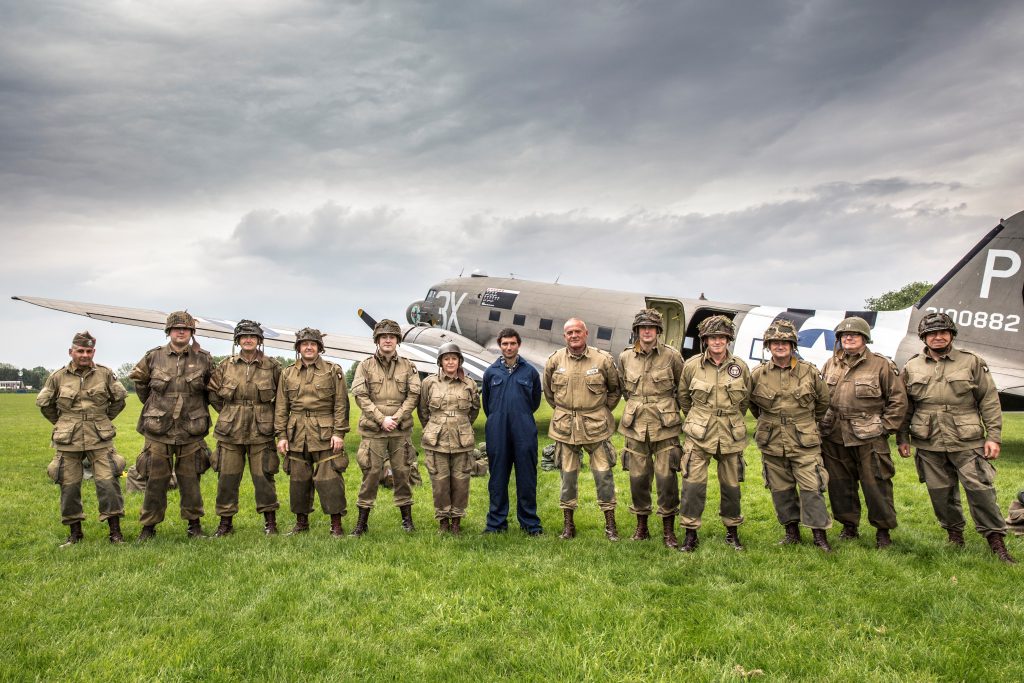 In case you missed it, Jim Langdon, Contracts Manager for Cast Contracting (CCL) parachuted out of a WW2 Dakota over Utah Beach in Normandy in May, the culmination of his Round Canopy Parachuting qualification and the climax to Guy Martins' Channel Four TV documentary "Guy Martin's D-Day Landing."
We interviewed Jim to understand what is was that inspired him at the grand old age of 55, to board a war time Dakota, take to the skies and parachute onto a drop zone in Normandy during the 75th Anniversary Year of D-Day…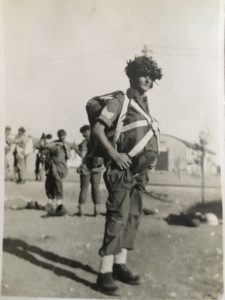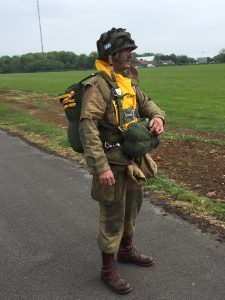 "As a 17 year old private in the Black Watch, my dad landed on Sword beach upon a landing craft during the Second world War. He was injured during the battle at The Falaise Gap, and was evacuated to Southern Ireland to recover. Following his recuperation, he went through para selection at Hardwick Hall and rejoined the war as a paratrooper. The photo above of Dad (left) was taken during the conflict in Palestine in 1948, and it's one that gives me great pride whenever I look at it.
So how did I come to follow in his footsteps you might ask?  Well it was just over a year ago that my eldest son Will (who's 15), who's been passionate about Airborne Troops in WW2 for many years, joined a local Living History Group (the 326 Engineers). The group takes part in living history events across the south of England, where the network of re-enactors we meet is vast. Last year we were asked to be involved as ground crew for the commemorative parachute jumps into Carantan by the RCPT UK  (Round Canopy Parachute Team) which was taking place at an airfield in Upottery, Devon. This was the exact airfield that the US paratroopers had taken off from 74 years earlier on their way to war in France. The experience of meeting British, French, American and Dutch parachutists who would be completing the parachute jumps from a Dakota into Normandy, really blew me away. The guys (and girls) were really welcoming, and spending a couple of days with them made me realise that it was something I wanted to do, although I'm not sure my wife was quite so keen…
Myself and a couple of friends from the 326 Engineers were keen to carry out the qualification process and joined an RCPT UK group that began training in the autumn.  During our second training weekend we were made aware of the possibility that Guy Martin, the ex motorbike racer turned tv presenter, may be joining our training in order to qualify as a Round Canopy Parachutist. He was shooting a TV documentary which was to be broadcast in the run up to the 75th Anniversary of D-Day. To be honest, it just added to the excitement of the whole experience and as it was top secret, we didn't hold our breaths that it would actually happen! We also couldn't tell a soul.
Training continued every month and in order to qualify to jump with a round canopy parachute out of a Dakota, we would need to carry out five qualification jumps out of a small Cessna plane in France. The parachute jumps were booked in to take place in Le Havre during April and if everything went to plan, Guy Martin was due to join us there to qualify with us.
Jump School, Le Havre
It's really hard to explain the emotions of the four days spent in Le Havre earning our parachuting wings. We spent a day going over everything we'd learnt in training before our first real jump could take place. The weather wasn't on our side to begin with and the strong winds stopped us taking off until day 2.  The mixture of excitement, nerves and exhilaration were also tinged with sadness, as Remi, one of the young French lads, passed way from a cardiac arrest in front of us before even completing his annual qualification jump. It transpired that Remi had an underlying heart condition that he had been treated for since a youngster. He just loved to jump. His death hit us all so hard, but his fiance who is also a parachutist, was adamant that the qualification jumps should continue just as Remi would have wanted. To say it wasn't easy, is an under statement. Our first jump was particularly emotional, especially for Remi's close friends and we were privileged to wear black armbands in his honour.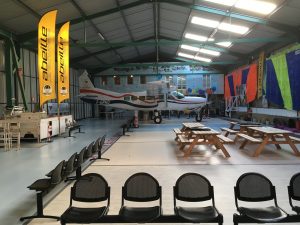 Seven of us were crammed onto the floor of the tiny Cessna. I was behind Guy Martin, and waiting to jump for the first time was pretty daunting – a mixture of nerves and excitement. We literally had to drag ourselves to the door of the plane before pushing ourselves off from the ledge and remembering the drill we'd learnt: count, look up and check the canopy. Luckily it had opened and I didn't have any twists in the parachutes' lines. Within 40 seconds I was coming in to land on the tarmac of the runway – not quite on the grass drop zone (DZ) as planned! Now to remember the parachute landing fall. I bent my knees and rolled as taught, so the impact wasn't as hard as it could have been. The windy conditions had blown some of the other more experienced parachutists further off course than me, with a few of them landing onto a roof, a ditch, a fuel pump and almost onto a greenhouse in a nearby garden! I felt relieved that I was still in one piece..
The following four jumps improved every time as I gained in confidence, and I landed almost perfectly on my fourth jump. On Sunday afternoon after our fifth jump, we were delighted to be presented with our jump wings, having qualified as jumpers with the RCPT. What a buzz. Guy Martin qualified with us and the experience was one I'll never forget. How Guy managed to jump with his girlfriend and daughter watching I'll never know. I know for me, that would have been difficult – my wife and sons just had wait to hear back in England that I'd landed safely five times…
Whilst in Le Havre we learnt that the documentary that Guy Martin was compiling for Channel Four was to culminate in a parachute jump out of a Dakota onto a drop zone near Utah Beach – the flight path taken by the pathfinders on 5th June 1944, in the early hours of D-Day. Having qualified with Guy, we were privileged to be asked to take part in the once in a lifetime flight from Membury airfield as part of the documentary – I don't think I've replied to an email so quickly in all my life!
The WW2 Dakota 'Night Fright' that Guy and his team had been restoring was unfortunately not going to be ready for the flight on 20th May, but another one , 'Drag em Oot'  that had flown on numerous missions during the Second World War was kindly made available for us to use instead.
The Flight – Monday 20th May 2019
Having spent the weekend at Membury airfield going over everything we'd learnt in Le Havre, packing the parachutes, filming footage for the show and familiarising ourselves with the Dakota 'Drag em Oot', I was as prepared as I'd ever be for the biggest flight of my life! The film crews' helicopter would be following us to the drop zone near Utah Beach to film the flight and our jumps into France.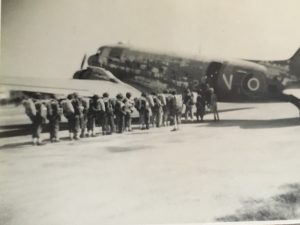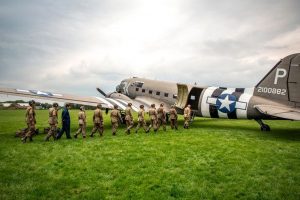 We kitted up with all of our parachuting gear and Jump Master Hubert Achten (RCPT) checked our chutes for a final time before lining up ready to board the Dakota. Just as my dad had done 71 years earlier (above left), we lined up in two sticks of jumpers – the name for two lines – ready to board the veteran plane. I'll never forget the roar of the engines as the propellers started up – it was the sweetest sound to my ears and very emotional at the same time. This was actually happening – I had to pinch myself to make sure it was real!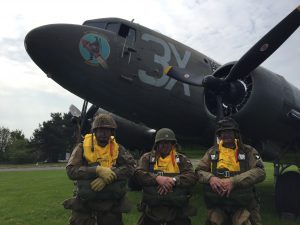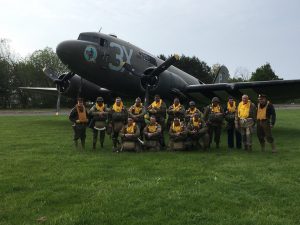 One by one we boarded the plane and sat down on the floor in our sticks in the order we were going to jump, Guy Martin first. There wasn't a door on the plane, so the sound of the engines was deafening. I'll never forget the roar of the engines as we set off down the runway and the sheer exhilaration as the 75 year old plane slowly and majestically took to the skies and soared into the clouds. The 70 minute flight to our drop zone was unbelievable and whilst the nerves and excitement were building, I tried to enjoy the experience of such an historic flight – the first time an aircraft had taken off from Membury airfield bound for France since D-Day.
As we drew closer to our destination near Utah Beach, and the drop zone started to come into view, Jump Master Hubert started to give the jump commands to the first stick, culminating in "Jumper, stand in the door."
Guy Martin stood in the door awaiting orders and before I knew it, the first stick of six men had all jumped. It was our turn! I remember touching the photo of my dad that I'd placed in my pocket, before hooking up my static line and preparing to follow my friends out of the open door. I had very little time to admire the view as I stood there, ready to jump into the French air.
1, one thousand, 2 one thousand, 3 one thousand – before I'd even counted to 4, I felt my chute opening and looked up to see all was good. For the first time, I was able to relax in the knowledge that my parachute had opened and there were no twists or malfunctions. I could see the drop zone, a small area of grass hurtling towards me as I ran through the landing procedures in my head. The slight breeze had pushed me over further than planned, but I managed to land safely on the grass about 50 metres away from Guy and the rest of the group.  I was safely on French soil. Wow, what a rush.  Having landed on the other side of a stream, I had a long walk to cross over the bridge and return to the rendezvous point. I was helped by a passing frenchman, who emptied his car boot to give me a lift back to the ground crew and volunteers, before man hugs were the order of the day!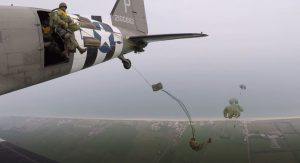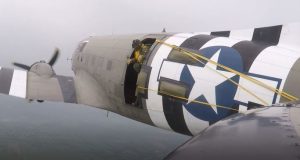 The RCPT community in St Germain de Varreville had kindly put on food and a welcoming reception for us in the village, a stones throw away from the Pathfinders memorial which is dedicated to the paratroopers who had landed there 75 years ago. It was an amazing reception.
We were privileged to be able to fly back to the UK across the channel and directly over London in the Dakota, a flight I'll never forget.  Our photos from that flight are awesome – massive smiles were definitely the order of the day!
There are so many people to thank: from the RCPT and RCPT UK teams, to Amy and James at North One TV, the teams from both Dakotas 'Drag em Oot' and 'Night Fright', and all of the jumpers and ground crew. Not forgetting my two amigos Dave & Chris, with whom I shared every step of the journey. And lastly, I can't help but mention my wife Jo for putting up with me and supporting me throughout this amazing experience. I'm now looking forward to the commemorative jumps next year..!"
For anyone who missed Guy Martin's D-Day Landing which was broadcast on Sun 2nd June , it can be found on More4.