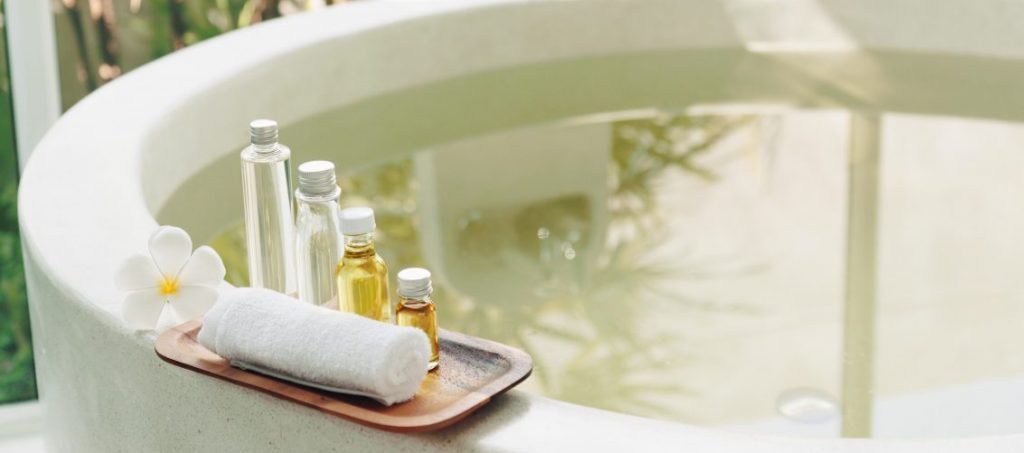 A spa bathroom is the dream of many homeowners. Designing a bathroom that has the luxurious feel of a spa, creates a space where you don't just wash, you luxuriate. A space where you can relax, let go of your troubles and be free from the stresses of everyday life… (for half an hour or so!)
Creating a spa bathroom is all about making the best use of your space. Space, or the feeling of space, is something to aspire to when creating a spa bathroom. It gives you the freedom to move around at your leisure. You can wander, or linger, just like you would in a spa.
Materials are another key consideration for turning a bathroom into a spa. A Swedish-style spa involves lots of wood and other natural materials, soft ambient light and a cosy atmosphere. Traditional spas might opt for a Grecian-Roman feel that uses mosaics, clean lines and lots of natural light.
In order to make the most out of your spa bathroom, transforming it into a wet room should be a high priority. A wet room allows you to make the most of the floor space and gives you more flexibility when it comes to laying your tiles. Installing a wetroom allows you to create a continuous tiled or natural stone floor, just like you'd find in a top end spa.
Creating the ideal spa bathroom
1. Keep things discreet
You won't find bottles or toothbrushes scattered around a spa. Everything is neatly tidied away. Start by clearing out your bathroom of anything you don't need. Make sure everything you do need has a place and that place is kept out of sight. The emphasis of a spa bathroom should be upon relaxation, rather than actually doing whatever you came into the bathroom for.
2. Focus on storage
Discretion requires storage. Get creative with floating shelves and storage boxes, but keep colours and materials in mind. Everything should match and work well with the look and feel of your zen bathroom. Natural materials, such as wood or stone work really well with a spa vibe.
3. Update your fixtures
Whilst spa bathrooms focus on the look, you should keep the practicalities in mind too. One of the easiest ways to give your bathroom a spa feel is to update your taps and showerheads. Rainfall showerheads are a must for a spa bathroom.
You can also add body spray nozzles for that extra feeling of luxury. Rather than a traditional square drain, a discreet linear drain provides a stylish solution that doesn't spoil the spa feel. With up to three traps as an option, a linear drain will also be able to cope with all of the water generated by the increased number of shower heads and jets.
4. Underfloor heating
Underfloor heating allows you to stay warm without the need for an unsightly radiator. It can also help you dry your floor if you decide to go for a wet room. Underfloor heating can be adjusted to the perfect temperature. So whether you're wearing a robe or nothing at all, you can stay comfortable.
5. Calming colours & scents
A spa bathroom is a space where you want to be calm and relaxed. That means using a muted colour palette of neutral tones. Avoid statement walls or colourful shower curtains. A spa bathroom also appeals to other senses. Scented candles, potpourri and fragrant bubble bath make your bathroom smell nice, emphasising the spa feel.
6. Have a natural look
A Swedish-style spa uses a lot of wood to create a natural, cosy feel. If you're more interested in something lighter, marble and other stone materials are a good choice. The whole idea around a spa is that you're enjoying a natural, invigorating experience. You can create that atmosphere by avoiding synthetic materials and cold metals.
7. Choose big tiles
Large format tiles on the floor and walls make your bathroom look larger and create a luxurious feeling of space. Fussy details and patterns distract your eye and your mind, disrupting the relaxing feeling of a spa. Seamlessly matching your tiles with a stone infill grill creates a natural flow that is easier on the eye.
8. Be clever with lighting
Good lighting will take your bathroom to the next level. A considered combination of brightness, bulb types and positioning, create the perfect spa atmosphere. To create a warm and cosy space, soft ambient lighting is a must. If you're looking for a light and airy feel, use as much natural light as possible by fitting windows or skylights.
Spa bathroom ideas
Spa bathrooms come in a surprising variety of styles. We've already discussed the Swedish-style spa and the Roman bath-style spa, but there are so many other variations. The common themes you need to think about when designing a spa bathroom are:
Creating a relaxing atmosphere
Clean lines
Space
Natural look & feel
A muted colour palette
Finally, don't forget the finishing touches. Update your tired old towels for fluffy new ones. Invest in some high-quality beauty products to really pamper yourself. Create a relaxation playlist on Spotify and hook it up to a Bluetooth speaker to complete the spa feel. And relax….
For more ideas on how to design your own spa bathroom, check out our gallery.